Weekly Horoscope November 17-23: Check astrological predictions for all Sun Signs
Get most accurate astrological predictions and weekly horoscope for all 12 zodiac signs for November 17-23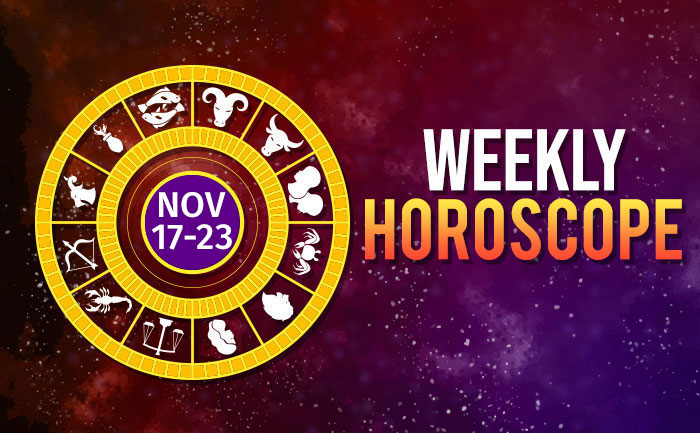 Planets have a big influence on our life. They affect each individual in a different manner as per their Sun Sign. Sometimes they have a positive influence and sometimes it is not so. You must be wondering how this first week of September plays out for you? Do not feel jittery read our weekly horoscope. Follow it, and relax.
Here is your weekly horoscope as per your Zodiac Sign:
Aries:
An Aries with zero confidence is a rare occurrence. There's also a buzz of tension which could be channeled for better or worse. You must concentrate on what you need and want. You may even seek out drama and conflict just to feel  a sense of feeling alive. Try to take one step at a time.
This week you need to work in close coordination with your team members to see better results.  With good team efforts, you are likely to complete your projects on time.  Your mate may not find it easy to discuss certain issues with you.  This lack of understanding is likely to cause some minor problems. But situations like these are temporary.
This week your skin will positively glow this week and any blemishes that appeared on your skin last week will all but disappear. You may find people commenting on how wonderful you look.
Taurus:
Love and relationships are an area where plenty of problems can arise if we are not careful. They can also show us our most vulnerable spots and wounds. Lately, you may be having a laid-back attitude and may not be ambitious enough in your work or studies.Sit up and take notice of the remaining as you are capable of achieving more than you think is possible.
Job security will be your foremost concern this week. You will think about sticking to your present job.  Those of you who are looking for a change in career may not meet with success this week. This is a mixed week for you as far as your love life is concerned. Though you will get to spend some excellent times with your partner you might have quite a few disagreements as well
This week avoid overeating at all costs as indigestion is indicated.  Make sure that you stick to a healthy diet containing fresh fruits and vegetables.
Gemini:
There may be failures in your planning that can lead to depression. Try to surrender to things as they are. Learn to let go when you can. Life is easier when you do so. Your mind is a tightly wound instrument, both your greatest asset and your greatest enemy, depending on how you use it.
This week, you need to complete your tasks on time and try your best to meet deadlines ahead of time.  You may even bag that promotion you`ve been waiting for. Great opportunities to further your career are indicated. This week will be a special one as you`ll see a past love interest make a comeback. Your love life will become much more exciting.
Those of you going on a long journey may suffer from problems of the stomach so, you must be a bit wary. Also, you need to be extremely careful while handling any kind of equipment, as this week is an injury-prone period for you.
Cancer:
This is a wonderful period for career-related changes.  Trust your gut, integrity and intuition. Your energy levels may be low so take some time to go inward. This is a time of growth and transition and you are more than ready. Your natural leaning towards sentimentality and nostalgia will always make it harder to let go, but you are prepared.
People in the fashion business will really have a great week.  People who want to get into a teaching career it is a good time to begin. You need to be fast on your feet or else the opportunities that you have now will be lost. Your romantic thoughts would take you to hitherto unexplored places, and you would derive much joy from the same.
This week you may take on a lot of stress, whether related to work or home. BP and sugar patients at any age need to be careful. Generally, a good week for getting rid of minor ailments.
Leo:
You are full of energy and embracing an action-packed month.  Life feels exciting and you are truly in the cut and thrust of life. Reflect on what you want to happen in life and understand that you have the power to make it be. Try to use some of your fixed nature by keeping yourself in check.
Don't bite off more than you can chew. You have exhausted your energy and now have a long list of pending work. Later in the week, there will be a fresh burst of energy that will help you accomplish any challenge. You are very happy with the way things are going in your love life and couldn`t have expected things to be better.  Married couples need to make a bit of an extra effort to keep the spark alive.
This week your body will push you to utilize your energies and leave you stressed out.  Keep control on the excessive energy this week through meditation, exercise, massage or yoga.
Virgo:
You are at your best when you are practically applying what you've learned to situations in your life. Your ability to impart logic and work through what needs to be done in a step by step, a methodical way will be a winner all the way.   It is important to take stock of just how far you've come in this world and how much farther you'll go.
This week you will get lots of opportunities to prove your mettle in front of your colleagues and supervisors.  For people in the teaching profession, this is an excellent week.  Do not let any good opportunity pass you by. Communication is the most crucial element of this week's developments. Love will brighten up if you stay in a good mood.
This week older people may have to be patient about your health issues as it may take time to get better. If you are dealing with a weight problem you need to continue to work at their exercises.
Libra:
Typically, diplomatic and pleasant, you may need to practice a little more self-control this week.   Not everything you think or feel needs to be voiced. Find another outlet or platform that is less destructive and transfer the energy. You can astound others with natural charisma, magnetism and a sense of fairness that inspires them to have faith in you.
Students who have been planning to go abroad to pursue higher studies will get a suitable opportunity this week. Do not trust anyone blindly, be it a colleague or supervisor when it comes to work as they might betray you. This week will be a special one as you`ll see a past love interest sail into your life. Your love life with your new partner will be very exciting and will also keep you in great spirits throughout the week
You will be attracted towards a healthier lifestyle this week.  You will feel fit and energized once you make your mind receptive to good ideas. Some of those who have been suffering from a disease for a long time now will finally find a cure.
 Scorpio:
There is a natural sense of confidence and integrity that gives you the trust and faith in yourself to get things going and completed. People can certainly call on you when something needs doing. You are deserving of self-worth anyway regardless of what you do or don't do.
Singles, you have a good week ahead of you as you may be introduced to your next partner. Married couples will spend quality time with each other.  This week, you will not only reap the rewards of all the hard work you have put in for the past few weeks but you will also get due recognition from all quarters.
Healthwise, this will be a week where the problems that you face will mostly be due to stress. Skin related issues are likely to trouble you. Those of you suffering from blood pressure problems will feel much better.
Sagittarius:
Fire signs are naturally gifted with self-confidence, but yours may take a knock this week. You may feel immobilized, passive and uncertain. This week you may not have the get-up and go that you usually do.  Despite this lack of oomph, you'll still be fairly proactive, and things will go well for you.
Couples will find peace and stability with each other.  Singles will have new romantic encounters on the cards.  Beware of a people who may try to flirt with you but may not be really serious about you. You know that you are capable enough, and no matter what, you always achieve what you set out to do. Exercise restraint and let your work do all the talking. Your hard work will pay off soon.
Health-wise, this will be a great week for most of you. However, try to minimize work-related mental strain. Teenagers may suffer from acne-related problems.
Capricorn:
Your confidence is sky high this week which puts you in a fortuitous position. Tasks that you completed in the past will benefit you in the here and now.   You are driven by the need to meet challenges. Although you tend to operate as a lone wolf, you are supported well by your colleagues.
This is a good week for you.  If you are planning to apply for any service related to the Navy or shipping, go ahead, for it will be good for you. Efforts made this week will bear fruit sooner than you think.  Married couples to avoid stagnancy in your relationship should pay attention to and follow your spouse`s advice.  This is not the right time to accept a romantic proposal.
There are indications that those of you who are ailing, should seek help from a well-versed doctor.  Working mothers must not overwork; there are hints that you may just come down with a fever.
 Aquarius:
You do not seek appreciation or validation. You can operate perfectly well without both. This is a lucky time for Aquarius natives and things will begin manifesting for you. You can sometimes seem cold and aloof because you operate from a higher perspective, but inside there is plenty of heart, even if it doesn't show in traditionally warm ways.
The wait for a good job will be over this week. You will fare well in interviews this week which will get converted into sure shot positions. People looking out for growth in their career will be lucky also. This week communication will help you have a better understanding of what your partner wants and expects. This is a good time to be a little bit generous towards your partner and make some compromises.
This week, your attitude towards life is positive and you feel relaxed and happy. You will feel much better by taking better care and avoiding certain food items.
Pisces:
This is a great period for your relationships. They will truly flourish and expand into something powerful and meaningful. In wider society, your powers of gentleness and delicateness will be respected and honoured. Perhaps society is ready for someone like you now.  Your attitude is calm and composed and this has a strong effect on how you are received.
Those employed in sales and marketing will think of starting their own business this week. Human resource managers may find themselves getting transferred to a new department, This week some problems may ruin the relationship that you share with your partner.  To make sure that there is harmony in your love life you have to trust your partner a bit more.
This week you are very much conscious about your eating habits as some digestive problems seem to trouble you. Take precautionary measures and strictly follow your doctor`s advice.
Also Read: Perfect Pet For You, Based On Your Zodiac Sign