Weekly Horoscope October 20-26: Check astrological predictions for all Sun Signs
Get most accurate astrological predictions and weekly horoscope for all 12 zodiac signs for October 20-26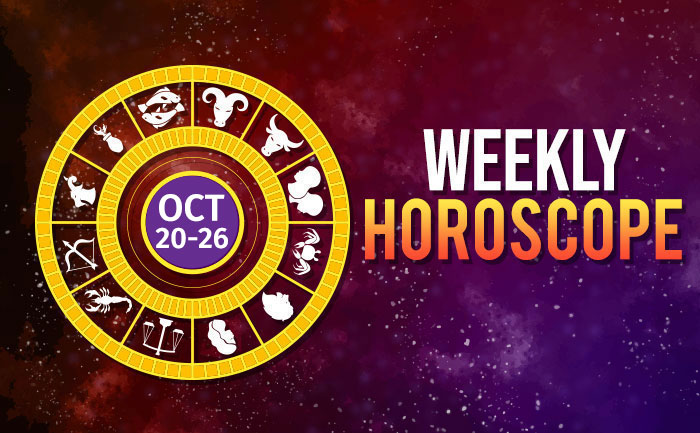 Planets have a big influence on our life. They affect each individual in a different manner as per their Sun Sign. Sometimes they have a positive influence and sometimes it is not so. You must be wondering how this first week of September plays out for you? Do not feel jittery read our weekly horoscope. Follow it, and relax.
Here is your weekly horoscope as per your Zodiac Sign:
Aries:
Slightly hot-tempered, you should be cautious not to argue mindlessly with those you love. Misunderstandings and delays may upset you this week.  Learn to roll with the punches this week and you'll fare just fine.
This week, a transfer will show positive results. Opportunities are indicated for those of you who are in the tourism sector.  Working well under pressure comes easily to you. This week will turn out to be quite an exciting phase of your love life. Some of you after making a few mistakes regarding your choice of partner will ultimately bump into someone who is just perfect for you.
This may be a mixed week for you health-wise.  Some of you may face digestive disorders, so do avoid oily foods. Fever may plague you, so be careful.
Taurus:
Taurus natives tend to over-indulge, either in place of comfort or pleasure. Try to moderate yourself. You can still enjoy these temptations, but sparingly. This week is a good one for you. You're in a sociable mood and enjoy being around others, enjoying the finer things in life.
This week you will finally see things getting better at the workplace. The questions and confusions in your mind regarding where your career is going will now be answered. Keep patience this week you will soon be rewarded. A good week for romance as you feel much closer to your partner now. Some of you will think of getting married. This week plan something fun with your mate to have a good time.
This is a week when you`ll need to be a bit careful about your diet. Stomach related ailments are indicated for those of you who tend to overeat. Start working on a new fitness regime to keep healthy..
Gemini:
People respond warmly to your expansive, joyful spirit. You long to travel and it is important that you do so. As you need variety and to experience new things constantly. This feeds you. Make time and space for what makes you happy and you'll truly blossom.
This week on the career front you may have to face some hurdles and problems with your new assignments. Meeting deadlines may become a tough task for you.  Don`t be stressed out and try your best to calmly resolve these problems.  You will feel the need to connect with your partner on a more emotional and spiritual level.
This week your health may be affected by the excessive work you`ve been doing.  You need to find a balance to prevent ailments at this time. Backaches and joint pains are indicated for some of you. Take special care of your health.
Cancer:
You may feel a restless sense of tension surrounding something important to you. It might be impatience overgrowing a business or frustration surrounding a relationship. Either way, there's the sense that something isn't quite happening fast enough. Keep giving your all, pouring your energy into whatever the project is. You might find things start to happen faster than expected.
This is the perfect time for you to start preparing for future projects so that you can reach your goal easily in the shortest span of time.  Businessman dealing in exports, imports or metals will have a good week as well.
This week expect a wonderful surprise towards the weekend. Your love life will be better than ever before this week. This week you may have to face some sort of mental and physical discomfort. But you must remember that at the end of the day, nothing else is more important than your mental well-being.
Leo:
This is a very active week for you, dear Leo. You enjoy surrounding yourself with people, hustle and bustle. When you are at the centre of things, you shine. Your positive, happy spirit wins you many friends and admirers. Reigniting old connections is highly likely at this time.
This week you move beyond your familiar comfort zone.  If you get any new job offers, don`t say no in haste. You may regret your rash decisions.  This is a very good time for fashion designers, as you will see your work being recognized. This week you might be attracted to one of your colleagues at work. This is actually good for unmarried people as this might be the start of something good for you. Married people should avoid an extramarital affair at any cost.
Your positive attitude and strong immune system keep you in good spirits throughout the week. Skin problems for teenagers will finally come to an end.
Virgo:
You've got plenty of money coming in but saving and investing may prove difficult. Take a look at your finances and make sure that they are in order. Go over things with a fine-toothed comb if need be. Planning for the future is a sensible idea and will make you feel more comfortable about what is to come.
You may feel disheartened by the trials and tribulations which concern your professional domain this week. Those born in the first decade will have to defend themselves against comments made by an unhappy co-worker. Singles waiting to mingle must not despair; hope and love are just around the corner. Those of you in love must spend time with each other. It has been long since you two had a heart-to-heart about issues that matter.
This week there will not be any major health trouble for you. You will have a quiet week more or less and you will be in a good mood most of the time.
Libra:
This week, you may suffer from lower confidence than usual. Something has given you a knock. You may struggle to concentrate and fear a loss in your life, in particular, what to replace the loss with.  Pouring your energy into some cause or passion is recommended as this will revitalise you.
Interviews attended this week would be expected to go well, and you will surely make a favourable impression. Alternatively, you may make a presentation at work this week that will also go exceedingly well.   You will soon come across someone who fits your bill of the perfect partner. For those who are already committed, pay a little more attention to your partner`s needs to avoid any kind of trouble.
A better lifestyle will be on top of your mind this week.  Exercise and increased outdoor activities are indicated to increase your fitness levels.
 Scorpio:
You may have many opportunities and options and but you will not be quite certain of which to pursue. Take your time. There is no need for immediacy or urgency. You can always seek the advice of experts if you are truly at a loss.  It's better than you are sure before you start rather than having to turn and make a change halfway through.
This week you will get many opportunities to exhibit your talent. Your ideas will be unique and will help you stand out in the crowd. This is a good time for achieving the impossible in your workplace.  Those of you waiting to fall in love, please hold on for a little bit longer; a new person may just be around the corner but not ready for love yet.
Those suffering from skin problems will find a solution to their ailments this week. Heart, blood pressure and diabetes patients will find relief this week.
Sagittarius:
This week, your partner will help you to feel supported, appreciated, loved and cared for. This is a great time to foster understanding between couples, healing rifts and quarrels.  You want to enjoy the finer things in life with someone that you hold dear, and this is the week to partake in all of life's wonders.
The good news this week is that interesting work proposal is likely to turn up, especially towards the middle of the week. This weekend is particularly good for writers and those in the communication field.   Your love life with your new partner will be very exciting and keep you in great spirits throughout the week. However, you need to make sure that what you are feeling now is love and not infatuation.
Healthwise you will feel much better and will get cured of a recent ailment. All will be well if you strictly follow your doctor`s advice. Eat carefully and include yoga as a part of your daily routine.
Capricorn:
When it comes to your professional life, you'll need to work hard, fortunately, you have it in you to do so. You'll need strong will power. If single, you'll be in a romantic mood and long to connect with a special someone. Capricorns work well in traditional partnerships where their longevity can be both utilised and appreciated.
This week, tough situations at work will give you the opportunity to grow and learn new things. This is a good week to sign up a new business proposal.  Some of you who feel that your romantic relationship is not going anywhere might decide to give up on it.
The week ahead will be perfect for those of you complaining of frequent aches and pains. You will get some relief and will feel better health-wise.
Aquarius:
This week you are at the peak of good health on all fronts (physically, mentally and emotionally.) You are robust, fit and strong and others admire you as a specimen. In love, you may be moving towards marriage. It feels natural for you to do so, even if typically your approach to relationships is somewhat unconventional.
This week you succeed in carving a niche for yourself on the professional front. You are likely to get some exciting offers and take your career to greater heights.  This week you may run a risk of running a fever which will make you weak and irritable. Do take the advice of an expert physician if you find anything amiss. Young adults should relax and avoid stress as much as possible.
Pisces:
This week your mind may feel somewhat scattered, so don't make any big decisions. Explore your options. There is plenty of time for all that. Think and feel things through and the answers will come to you intuitively.  Don't stress about anything too much.
The week promises to be a good one for those of you who are Jobless, as you would finally be offered a good position in a reputed firm. Those who job hop are advised not to do so. A few of you are likely to go abroad for some company-related work.
This week, you are likely to have a radically romantic week. Expressing your feelings is great provided you are sensitive to your audience according to the situation and people.
This week your eating habits will be much better and will also help you deal with your weight problem. A good diet and positive thinking will make a huge difference to your overall well-being this week.