Weekly Horoscope September 1-7: Check astrological predictions for all Sun Signs
Get most accurate astrological predictions and weekly horoscope for all 12 zodiac signs for September 1-7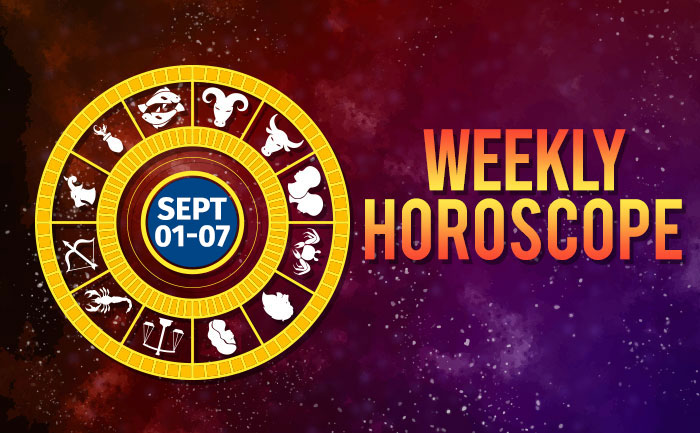 Planets have a big influence on our life. They affect each individual in a different manner as per their Sun Sign. Sometimes they have a positive influence and sometimes it is not so. You must be wondering how this first week of September plays out for you? Do not feel jittery read our weekly horoscope. Follow it, and relax.
Here is your weekly horoscope as per your Zodiac Sign:
Aries:
In the starting of the week, the situation will be good. Great focus allows you to fine-tune your goals and make clear plans for the future, a strategy to reach your goals.  Your influence will increase manifold in marital and familial life. There will be a rise in the experience of luxury and comfort.
Socially this could be rather a conservative time – you'll prefer traditional entertainments and you could even relish a dose of nostalgia. Relationships in your private, social and professional life should be pleasant and relatively stress-free.
Your child's health issues will make you upset. Do not worry all will be well by the end of the week. Take care of your mental health as you will feel a little stressed out so relax, enjoy some moments of solitude  This is an excellent time for physical activities like exercise and competitive like sport and business
Taurus:
Your patience will be tested many times.  You will face obstacles in your professional path. You may have to do a lot of running around for work for the business for making any gains. You might have to deal with the financial loss. You can also plan to migrate from one place to another.
Your conjugal life will be harmonious. The best indication for a happy life is that Venus is still encouraging your partners to take a generous line – just as long as you agree that they're right!  New relationships are possible but you will not be interested in one night stands.  A teacher-student type relationship is possible, or there may be a marked age difference.
Taurus sign people will have to deal with health-related problems. Take care and try to avoid spicy and oily food.
Gemini:
You will feel nervous and anxiety will make you upset.  Business people will be stressed as the gains will not be as per their expectations. Do not work in partnership with anybody.  It may become difficult to make sense of everything you may have trouble expressing yourself clearly. This could lead to misunderstandings or arguments.
This is an excellent time for socializing, making friends and dating. Increased charm and social skills make this a good time to ask for a favour or loan. This week will bring some much-needed fun and excitement to your love life.
New love could be with someone from a different age group and would likely be a long-lasting, soul mate union. Existing relationships will enjoy closer bonding and stability. Take care of your health though as stomach related problems may bother you.
Cancer:
Cancer sign people may have to travel for work. The employed people may get a higher post and there will be chances of a change. You may remain worried about your mother's health. You must recognise that you will achieve none of your aims without practical assistance from partners. Accept help when it is given, and don't let your pride get in the way.
This is a good time for intimate relations due to your increased desire for love and affection. A mysterious type of sexual attractiveness with a strong karmic pull is ideal for dating. Chance encounters are possible and you will be attracted to unusual types of people. Be open-minded about new opportunities.
This is the perfect time to make changes in your life because they will happen quickly and fairly smoothly. The extra initiative, inspiration, and motivation are ideal for making a start on difficult tasks or things you have put off.
Leo:
Leo sign people will be full of energy and excitement to work this week.  You will have the respect and support of almost everyone because they will appreciate your drive, initiative, and courage. Students will have to put in the extra effort. Take care of your child's health. The time for talk is over and  I advise that you recognise the virtues of hard work and realise that you won't get something for anything?
This is an excellent time for making new friends and improving relationships with existing friends, partners, and family. A strong woman may be an important influence in your life for assistance and advice. Existing love relationships should flourish or you could find your true soul mate.
Take some time to bond with loved ones who can help you in keeping your stress at bay.
Virgo:
Virgo sign people will make sincere efforts to improve their financial condition and will get success as well. It's a positive phase socially, so go out and create those longed-for opportunities. All your hard work will pay off. This week is about happiness and celebration. You are about to see some results for your hard work and efforts. Give yourself a break or treat yourself in some way.
This is an excellent time for starting something new or reenergizing something. Follow your intuition and step outside your comfort zone with confidence. Decide what you really want and go for it. Expect the unexpected, even with routine activities like shopping. There is also the chance of a financial bonus or windfall.
Things will be moving along well, and you'll be feeling hopeful about the future – with good cause. You may have to decide whether to put your energy into the things, people, and situations that you are already involved with, or whether to spend your energy trying to bring more into your life. Choose wisely.
Libra:
Libra sign people might make significant gains this week. Your condition will strengthen in the workplace. Your seniors will bless you. But take care by the end of the week as you might be a little bad-tempered.
Close romantic and family relationships will soon become much more enjoyable, and you could begin to appreciate a new union. This is the perfect time to take the initiative to deal with any recent relationship problems.
So this is an excellent start to the week for dating, making new friends, entertaining and also for creative work.
Scorpio:
Scorpio sign people will get positive and good results in their job. You will make gains on account of a father figure in your life.  You will be driven to succeed with a strong sense of purpose and initiative. You can achieve a lot of work in a short amount of time, with your courage and fighting spirit.
If single you may become obsessed with someone and not be able to get them out of your mind. Any new romance now would be a whirlwind experience and greatly change your life. Existing relationships will enjoy closer bonding and stability. Shop for party needs, fashion, cosmetics, jewellery, and art.
You will enjoy a good health this week. So go out and have fun without worry.
Sagittarius:
Sagittarius sign people will get success in several fields as a result of a positive stroke of luck. Also, Students trying to make a breakthrough in higher education will get good results.  However, problems will arise if you need to attend to more serious matters in which a responsible or conservative attitude is needed.
You will get good results in your love affair. But you may experience difficulties in your married life. This is a good time for sharing your deep and serious emotions with a loved on. This is also a good time for discussing commitment, loyalty and the family home.
Take care of your health as erratic food habits might give you stomach-related problems.
Capricorn:
Capricorn sign people will get excellent results in their workplace. This is a good time to complete serious or difficult tasks. On the other hand, have you ever considered the fact that what you normally consider to be a success may not be what you really need?
This is the perfect time to make changes in your life because they will happen quickly and fairly smoothly. You will also have the daring and sex appeal to make the first move with someone special. . Your daily routines may take a detour in new and unexpected directions.
Be careful about your health as there are chances of getting injured.
Aquarius:
Aquarius sign people might get new job offers this week. Your financial condition will neither be bad nor be excellent. Don't be unduly concerned by the occasional delay, for a postponement might give you the chance to take a much-needed second look.
This is a good time to sort through any recent personal or relationship problems. Your intimate relationships can grow through strong emotional bonding and mutual respect. It is likely someone who is younger than you, is coming your way before long with a message for you.
Conquer your fears, control your impulses, and never lose patience with yourself or what you are doing.
Pisces:
Pisces sign people may have to cope with difficulties in their job. But for some it is full steam ahead making way for the future. But it may also mean that you have to wave goodbye to an emotional tie which has been keeping you in the past. But, then, sometimes it feels good to move on.
Although you may not be feeling particularly sociable, this is a good time for making important decisions and for serious discussions. This is a time for respect, moderation, and self-discipline. Don't take on too many projects at once.
With an existing partner, you will want reassurance or more commitment. New relationships are possible but there may be a marked age difference. Health will be fine this week.