Weekly Horoscope September 15-21: Check astrological predictions for all Sun Signs
Get most accurate astrological predictions and weekly horoscope for all 12 zodiac signs for September 15-21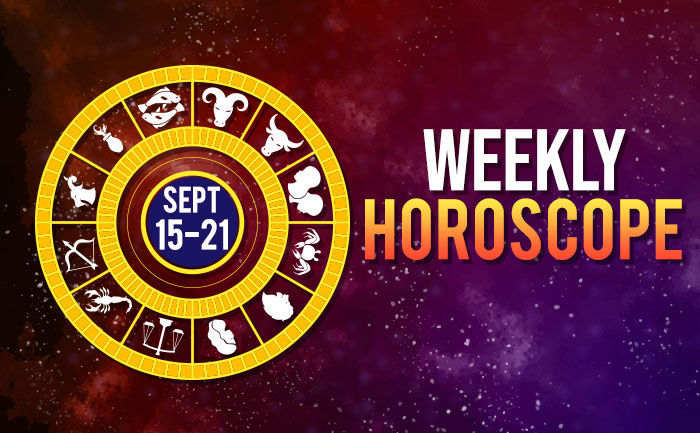 Planets have a big influence on our life. They affect each individual in a different manner as per their Sun Sign. Sometimes they have a positive influence and sometimes it is not so. You must be wondering how this first week of September plays out for you? Do not feel jittery read our weekly horoscope. Follow it, and relax.
Here is your weekly horoscope as per your Zodiac Sign:
Aries:
Upheavals early in the week could knock you off course, but you'll soon steady your nerve. Efforts put in now are bound to fetch you very good returns in the days ahead. Letters, email, and meetings of all kinds will contribute to good news, and new contacts will establish rather quickly.  In case you get a chance to go abroad, do not hesitate.
Life will look different and everything will appear fresh and new as the week begins. Give proper care and attention to a special person in your life and this is going to bring both of you closer to each other and your relationship will prosper. For the married, your life partner's health may be a reason to worry.
Your strong immunity will shield you from airborne diseases and keep you in good health all through the week. An enhancement in business and professional status is highly likely. The working conditions will improve a lot and support from colleagues will boost your spirits.
Taurus:
This is a week to expand physically and tangibly.  Some of you might purchase a new home or redecorate. For the married, it can signal a move into parenthood for some of you. Your marital life will be blissful and harmonious. This is a week which brings good news to your horizon.
The week has never been better for Taureans with professional ambitions.  It is an excellent week for securing a new job or, achieving respect for your accomplishments so far in your present position. Just remember not to oppose certain new ideas that may float around; doing this may just hamper your own progress.
Your romantic relationship will require you to be strong. The problems are not as bad as they seem and you will see love blossom again when these problems subside.  You will feel fit and energised once you make your mind receptive to good ideas.
Gemini:
Make the most of opportunities that come knocking at your door this week. Also, you need to make quick decisions to get things done faster. This week will be productive if you work in close coordination with your team members. Projects will get completed much faster as you are willing to listen to the ideas of your colleagues at work.
Those of you who have been quarrelling a lot of late with your partner must talk. But you are likely to face some disappointments in your love life as your beloved behaves strangely. Those of you who are unhappy in your romantic relationship need to get out of it; there is no point in being in a relationship that constantly demands sacrifices from your end.
Some of you are advised to maintain a balance between work and home and not run after your goals at the cost of your health. Falling sick at this time may lead to complications later on, so take care
Cancer:
Your emotions are deep, intense, almost mystical and expressing them helps others to understand you more authentically. When you find appropriate release, you can flow like a river, which ebbs and flows, you cannot become stagnant like a pool of unattended water.
Some of you find new opportunities; even if they are not exactly in your line of interest, do give it a serious thought and due consideration. Cancer sign people will make significant gains on account of a newly made friend or alliance.
Singles will have a great time making friends and will have fun and not think about getting into a serious relationship. You will enjoy great mental peace this week. Positive thoughts will help you find a balance in life. Your health will benefit from active participation in outdoor games/activities
Leo:
Fame. Glory. Recognition. Leadership, all four of these adjectives have been rife in your life. You have been able to focus and exercise great foresight and others are inspired by your ability to merge warmth with authority.
This week your leadership skills will help you handle tough situations at work much better. Teamwork will help you complete your projects on time. Avoid any delays and negligence in your work. Unhealthy habits are likely to have a very bad effect on you this week and could lead to problems that may trouble you for a very long time.
Married couples will see most of your problems being resolved. Singles may come across someone you really like, and you`ll not hesitate to express your feelings. Spend your free time with your mate to feel a balanced flow of energy.
Virgo:
Professionally and personally, things are moving at a beautiful pace, your confidence will go up another notch all thanks to the positivity.  You will move from a place of lack (lack in self-confidence, self-worth, and motivation) to a place of strength and abundance. You will find things more favourable.
As far as career is concerned, some pleasant surprises are in store for you, which will make you grow by leaps and bounds, professionally. This week your health will be fine for most of the time and you will be in excellent spirits.
Your love life will also go quite smoothly and you will not face any problems in this regard. Your relationship with your partner will flourish at this time and you will feel closer to them than ever before.
Libra:
Conquering challenges gives us all a sense of worth and value, and as you achieve your goals, you'll naturally become more productive. This is a wise time to make financial investments. Explosive outbursts are not appreciated.
In spite of your communication skills and innovative ideas, there may be a lull in the professional front as the week begins. But don't lose your heart as your efforts will not go in vain; they will bring fruitful results later.
This week you must be extra cautious that you do not hurt your partner`s feelings in any way. The slightest criticism from your side may make them defensive and it may even lead to a big quarrel between you two. You are likely to feel a little agitated this month
 Scorpio:
A confident Scorpio is so powerful, partially because your intensity enables you to get things done. You are in the mood to be challenged and won't shy away from a confrontation or a debate. In fact, you may find yourself consciously seeking them out.
This week you will not only be able to meet all your targets but will get the chance to be part of an exciting new project too. Avoid getting into any ego tussles with your superiors. Generally, your health will be satisfactory, but you would need to keep a check on your diet.
Those of you who may have fallen in love with a married person need to immediately give this up; there is no point in agonising everyone involved. One other point to bear in mind is that emotional ties could prove costly.
Sagittarius:
Your personal life and your home environment are booming with celebration. You create a space of joy and prosperity wherever you go because you take life lightly. You like to move, flow and roam and this brings you tremendous contentment.
This week some unusual and challenging situations are indicated at your workplace. Your self-confidence and presence of mind help you come out of this situation without difficulty. Some great overseas opportunities are indicated this week.
This is a mixed week for you as far as your love life is concerned. Though you will get to spend some excellent times with your partner you might have quite a few disagreements as well which might spoil the romantic atmosphere. Steer clear of alcohol and unhealthy food as there is a high probability that you may end up with a major health ailment.
Capricorn:
Not known to rush your way through life,  the week gives you a sense of urgency and restlessness that has been hard to ignore. Your strong capacity for accomplishment can make it difficult for you to sit still. You will find that you can complete tasks with great precision even though faced with obstacles.
This week will give you enough opportunities to chalk out your plans for the future so that you can have your priorities in order.  Healthwise, this week will be excellent for you with no major issues to trouble you.
Those of you who are planning to break off your relationship are advised to think about it seriously. Those of you who are still single despite your efforts to meet someone will see the situation changed for the better. There are excellent chances of your meeting someone interesting who will fascinate you.
Aquarius:
Joyful expansion are two words that will resonate with you today. You are aligning with abundance and finding that life gives to you in a bountiful way. There is plenty to go around and this extends to your friends and family who seem to absorb your good luck via osmosis.
Those of you who are looking for a job must not rest all your hopes on a single interview. Take advantage of any opportunities that you get while you wait for your dream job. Your health might receive a set back as you tend to fall prey to the temptation of eating delicious but not very healthy food this week.
Romance is revived, refreshed and exciting again. This might be because a number of you either trade one set of circumstances for another, thereby raising the excitement level in your relationship – or move on and find someone new!
Pisces:
This week you may be worried or tense, but ultimately things will go well and be fine. You need to remind yourself of this at every opportunity. Have faith, trust and let go.
You need to build up your confidence and hone your decision-making skill. Have confidence in yourself and join hands with creative and like-minded people to achieve your efforts. Breakaway from spent methods, old networks and other relics.
Health wise some of you could find yourself getting annoyed due to some recurring skin problem. Yet some others could find themselves suffering from insomnia.  Romantic encounters are indicated. For those of you in a relationship, instead of resorting to arguments, relax and give your beloved a chance to redeem themselves.