Weekly Numerology Predictions From June 25 to July 1, 2021
Check out weekly numerology predictions (from June 25 to July 1, 2021 ) by renowned astrologer and business strategist, Hirav Shah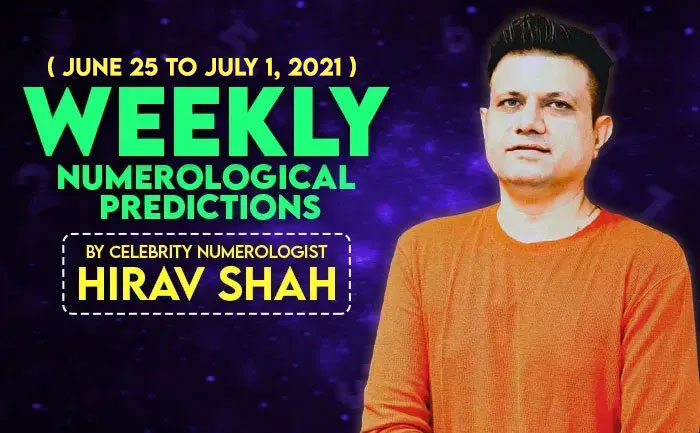 Numerologists specifically study the birthdates and timings to make such predictions. The study includes the analysis of specific numbers to find the magical relationship between humans and the universe. Renowned astrologer and numerologist, Hirav Shah makes interesting numerology predictions for this week. Check out the weekly numerology prediction from June 18 to June 24, 2021.
Weekly Numerology Predictions By Hirav Shah:
1. Weekly Numerology for Number 1 (SUN): Those born on the 1st, 10th, 19th and 28th in any month
This week will be very favorable and productive. You will also contribute to political and social work. This is an excellent time to increase your dominance. You will have a good time in spiritual and study activities and you will also experience peace of mind. There will be sweetness in marriage. Health can remain good.
Avoid wearing cream color
Lucky days: Thursday
Lucky color: Pink
2. Weekly Numerology for Number 2 (MOON): Those born on the 2nd, 11th, 20th and 29th in any month
Your positive attitude will tell you how to be happy in every situation. Your advice will be given more importance in discussions on any important topic in the family. Economic matters require reflection and contemplation. This will be an excellent time to bring out the talent, especially for women.
Avoid wearing violet
Lucky days: Wednesday
Lucky color: Brown
3. Weekly Numerology for Number 3 (JUPITER): Those born on the 3rd, 12th, 21st and 30th in any month
If you believe in yourself, you will succeed. New offers can be found in trade. This time it can also lead to a bad relationship with a close friend. Husbands and wives can argue big for a small problem. There may be some relief in starting the process of sending children abroad. Knee pain can occur.
Avoid wearing yellow
Lucky days: Saturday
Lucky color: Blue
4. Weekly Numerology for Number 4 (URANUS): Those born on the 4th, 13th, 22nd and 31st in any month
Suddenly there may be a new introduction with an influential person. Practicing good and positive speaking at work will bring lots of favorable things. Don't make any decisions based on emotions. Any opposite situation can also be resolved. Fatigue can lead to muscle soreness.
Avoid wearing light green color
Lucky days: Tuesday
Lucky color: Red
5. Weekly Numerology for Number 5 (MERCURY): Those born on the 5th, 14th and 23rd in any month
You may not be able to spend time at home due to overwork, but you will be able to complete most of your important work on time. If you are planning for an investment at this time, it will be auspicious for you. The atmosphere of the house will be pleasant. Control temperament like anger.
Avoid wearing white
Lucky days: Sunday
Lucky color: Purple
6. Weekly Numerology for Number 6 (VENUS): Those born on the 6th, 15th and 24th in any month
At the social level, you can gain a new identity. Don't overestimate your success. There may be some good news from the children. Spend some time with your spouse and family. Your systematic routine and proper eating habits will keep you healthy and active.
Avoid wearing golden color
Lucky days: Sunday
Lucky color: Orange
7. Weekly Numerology for Number 7 (NEPTUNE): Those born on the 7th, 16th and 25th in any month
Collaborating with a relative in times of need will give you heartfelt happiness. Your humble nature will be praised at home and in society. You may also be interested in some of the unknown disciplines. Do not do any health-related negligence due to the current environment.
Avoid wearing magenta color
Lucky days: Thursday
Lucky color: Blonde
8. Weekly Numerology for Number 8 (SATURN): Those born on the 8th, 17th and 26th in any month
Spend some time for self-observation apart from your daily routine. Try to take every task seriously in the business place. Any of your confusing problems will be answered. Relationships can also be formed with distant relatives and friends. Stay away from eating out.
Avoid wearing orange
Lucky days: Monday
Lucky Color: Blue
9. Weekly Numerology for Number 9 (MARS): Those born on the 9th, 18th and 27th in any month
This week's expenses will be higher. At the same time, the source of income will also increase. Focusing on children's studies will bring peace of mind. The time is right to get back any trapped money. Don't let the mind wander. Focus on your actions. There will be a feeling like a sore throat and fever.
Avoid wearing gray
Lucky days: Friday
Lucky Color: Sky Blue
Celebrities of the week :
June 25 – Karishma Kapoor
June 26 – Arjun Kapoor
June 27 – P T Usha
June 28 – Elon Musk
July 1 – Venkaiah Naidu
July 1 – Akhilesh Yadav
For more such updates, stay hooked on to The Live Mirror.
Also Read:  Weekly Numerology Predictions From June 18 To June 24, 2021