Weekly Numerology Predictions: November 5 to 11, 2021
Check out weekly numerology predictions (November 5 to 11, 2021) by renowned astrologer and business strategist, Hirav Shah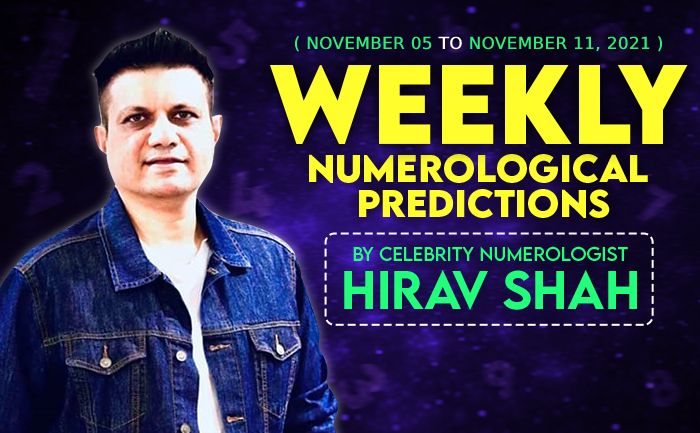 Numerologists specifically study the birthdates and timings to make such predictions. The numerology study includes an analysis of specific numbers to find the magical relationship between humans and the universe. Renowned astrologer and numerologist, Hirav Shah make interesting numerology predictions for this week. Check out the weekly numerology prediction from November 5 to 11, 2021
Weekly Numerology for Number 1 (SUN)
(Those born on the 1st, 10th, 19th, and 28th in any month)
You always want to be the number 1. You always want to lead. This time, be a good coach and empower your team members. Help them build their own leadership skills. Push them to achieve success. Provide encouragement when things go wrong or if your team member needs a confidence boost.
You understand that the only way to grow your businesses is to formulate strategies. Formulate bulletproof strategies. It's high time. Be prepared to travel extensively for your meetings, conferences, and conventions. Health will be fine, but don't stress yourself out and let negative thoughts dominate you.
Avoid wearing Dark Shades
Lucky Days: Friday
Lucky Color: Sky Blue
Weekly Numerology for Number 2 (MOON)
(Those born on the 2nd, 11th, 20th, and 29th in any month)
It's time to develop and be aware of your personal brand. Using this powerful tool to differentiate yourself in your business development and sales strategy will increase market exposure and client opportunities.
Profitability will grow massively when your message resonates with your target consumer and they choose to develop long-term relationships with both your business and your personal brand.
You will focus on maintaining proper order and discipline in your business and you will also be successful in that. Try to learn some anger management techniques. You can also do yoga in the morning which can substantially reduce your stress and anger.
Avoid wearing Pink
Lucky Days: Saturday
Lucky Color: Off White
Weekly Numerology for Number 3 (JUPITER)
(Those born on the 3rd, 12th, 21st, and 30th in any month)
You will be able to bring some important achievements for your business around this time. All important work-related stuff will be done easily. Proper coordination will be maintained in your setup with the support of your staff and colleagues.
It's time to network. Effective networking takes a lot of trial and error before getting it right, and you are never really done learning. That being said, there's a lot that you can do to stack the deck in your favor. Try to do away with oily food and refined sugar if you want to stay away from high bp and diabetes.
Avoid wearing Gray
Lucky Days: Monday
Lucky Color: Blue
Weekly Numerology for Number 4 (URANUS)
(Those born on the 4th, 13th, 22nd, and 31st in any month)
It's time for outsourcing. Outsourcing is essential so you can focus on the core of your business. If technology isn't the foundation of your product or service, it's best to outsource it rather than build something custom, especially when that money can be put into sales and marketing.
Reach customers in more ways than one. Customer is the king, remember !! You might end up signing a lot of contracts this week. So, be ready for that. Meditate every day so that your mind can make correct decisions for your business's prosperity. Healthwise, things will be fine.
Avoid wearing Navy Blue
Lucky Days: Thursday
Lucky Color: Golden
Weekly Numerology for Number 5 (MERCURY)
(Those born on the 5th, 14th, and 23rd in any month)
Avoid debts. Debt is not always a bad thing when operating your business. However, this week, taking on too much debt can be a major hassle. Not only does debt increase your overall stress in life, but it can also reduce your cash flow. Remember this…
There might be legal complications too, this week and these will settle with time. But try and avoid as many legal issues as possible. Keep a tab on your sales and marketing departments and their performances. Healthwise, things will only be okay, only if you avoid fast food and street food.
Avoid wearing Red
Lucky Days: Sunday
Lucky Color: White
Weekly Numerology for Number 6 (VENUS)
(Those born on the 6th, 15th, and 24th in any month)
Since your customers will probably be more conservative than normal, it's vital to focus on the value your business's products or services provide. How can you prove your return on investment? Whether that's efficiency in software selling or enjoyment from playing a video game, your team needs to spend more time than ever focusing on proof–proof that your company is reliable and worth the cost.
Focus your strategy around the basics of what makes your product desirable and beneficial. Focus on your health too. You can add cycling into your daily routine.
Avoid wearing Purple
Lucky Days: Thursday
Lucky Color: Blue
Weekly Numerology for Number 7 (NEPTUNE)
(Those born on the 7th, 16th, and 25th in any month)
Business activities will be excellent at this time. It will be a profitable week. Your contemporaries will give up on your merits and achievements. Any negative activity done by them or rumor spread by them, will not succeed. Remember, all you gotta do is, focus on your customers' and clients' requirements and not what others say.
Expect to get some new contracts and these will be huge. Traveling for work will get frequent. Add more alkaline foods to your diet if you want to stay fit and healthy.
Avoid wearing Brown
Lucky Days: Wednesday
Lucky Color: Parrot Green
Weekly Numerology for Number 8 (SATURN)
(Those born on the 8th, 17th, and 26th in any month)
The time is right to start all your plans. Success awaits you. Choose the right niche, but… Understood? The selection of the niche is where people often realize they've made a mistake. If you go too broad with a general business, you might struggle to know who your audience is. Knowing your audience/customers is extremely crucial. Healthwise just avoid junk food. And, get proper sound sleep for 7-8 hours.
Avoid wearing Orange
Lucky Days: Tuesday
Lucky Color: Cream
Weekly Numerology for Number 9 (MARS)
(Those born on the 9th, 18th, and 27th in any month)
Empathize with your consumer. When you recognize their frustration as pain from not having their services met, it's easier not to take the insults they hurl at you, personally.
Instead, you can focus on trying to listen to what they say by mirroring the intent behind their words. And eventually, you work on coming to a resolution that meets their needs and leaves your customer feeling heard. It's time to get more repeat customers, got it !! This week your health will be well and good.
Avoid wearing Gray
Lucky Days: Wednesday
Lucky Color: Yellow
Celebrities Of The Week
November 5 – Virat Kohli
November 6 – Yashwant Sinha
November 7 – Kamal Haasan
November 8 – Lal Krishna Advani
November 9 – Prithvi Shaw
November 10 –Ashutosh Rana
November 11– Boney Kapoor
ALSO READ: Weekly Numerology Predictions: October 29 To November 4, 2021