Weekly Numerology Predictions: October 29 To November 4, 2021
Check out weekly numerology predictions (Oct 29 to Nov 4, 2021) by renowned astrologer and business strategist, Hirav Shah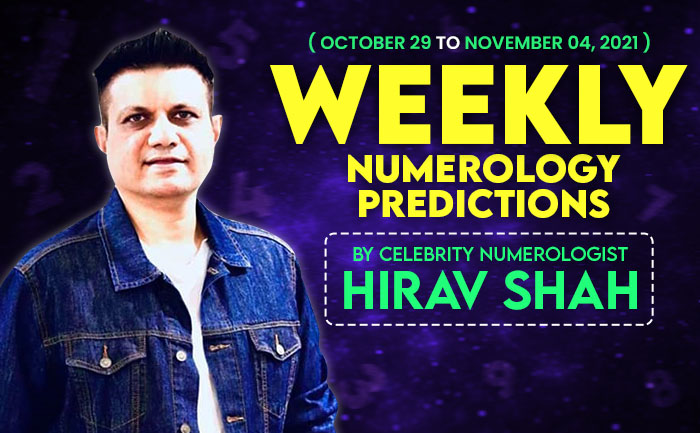 Numerologists specifically study the birthdates and timings to make such predictions. The numerology study includes an analysis of specific numbers to find the magical relationship between humans and the universe. Renowned astrologer and numerologist, Hirav Shah make interesting numerology predictions for this week. Check out the weekly numerology prediction from October 29 to November 4, 2021.
Weekly Numerology Predictions By Hirav Shah:
Weekly Numerology for Number 1 (SUN): Those born on the 1st, 10th, 19th and 28th in any month
It's time to get determined. It's time to get purposeful and serious. Be honest with your intent. Be ready to face your losses with a positive attitude and your wins, humbly. Follow these and your business will certainly have a longer and successful run.
There is no greater privilege than being trusted to lead a business. Make sure, your mind is always calm and composed. Its wise to kickstart your day with yoga and other fitness regimen.
Avoid wearing Black
Lucky days: Sunday
Lucky color: Gold
Weekly Numerology for Number 2 (MOON): Those born on the 2nd, 11th, 20th and 29th in any month
Amidst COVID, have an openness in adopting change. Try not to be headstrong and stubborn when it comes to choosing other options. Change is the only thing that is constant in business, no one can make any profits on age old methods.
You also got to focus and try. It's important to state from the outset that there is no magic bullet that can transform you into a rich and successful businessman overnight. Yes, it's time to strategize too. It's highly recommended to consult a business strategist, if the need be. Healthwise, don't do strenuous jobs or else backaches will trouble you, throughout the week.
Avoid wearing Brown
Lucky days: Monday
Lucky Color: Golden
Weekly Numerology for Number 3 (JUPITER): Those born on the 3rd, 12th, 21st and 30th in any month
Working every waking minute of the day isn't going to automatically make you a successful businessman. This approach would mean that you are responsible for doing everything, like the old adage, "If you want something done right, do it yourself."
That approach may work occasionally, but the majority of people aren't capable of sustaining such a grueling pace for a long period of time. It's time to work smarter. Yes, "smarter". Upgrade your skills and train your staff, so that they also upgrade. And so, they are also on the same page. Don't overstress yourself. Don't overwork. Overworking leads to fatigue, which leads to errors.
Avoid wearing Orange
Lucky days: Friday
Lucky Color: Green
Weekly Numerology for Number 4 (URANUS): Those born on the 4th, 13th, 22nd and 31st in any month
Trust your gut instinct. Don't get totally engrossed in your spreadsheets and your data. However, in the real world of business it's never quite as black and white.
In some cases, your gut instinct and heart are still your very best guide for decision-making. Ultimately, no-one knows as much about your business as you do. Moving on, be very careful while signing new contracts. Check all sides, including legal implications. If you focus properly, the rest shall be taken care of. Avoid fast food or else you might get hyperacidity.
Avoid wearing Cream
Lucky days: Wednesday
Lucky color: Silver
Weekly Numerology for Number 5 (MERCURY): Those born on the 5th, 14th and 23rd in any month
It is not an ego trip, if you want to be successful. You should desire to grow and provide better products and services, for your customers and consumers. Learn new things and don't let complacency set in. Be competitive and don't let your contemporaries overtake you. Have that "winning spirit" within you. Yes, you may expect some business trips to other countries. These trips will add value to your business, since most of them would be constructive ones. Healthwise, things shall be fine.
Avoid wearing Black
Lucky days: Sunday
Lucky Color: Gray
Weekly Numerology for Number 6 (VENUS): Those born on the 6th, 15th and 24th in any month
No matter how many knock-backs and refusals you may receive, just be prepared to dust them down and find an alternative route to the summit. It's this kind of tenacity which is required to take your business idea from the realms of your mind and transform it into a profitable venture.
Fear of failure is one reason that many businesses fall by the wayside. Don't fear. Fear is a strict "No, No". There are chances that you may sign some massive contracts. Yes, healthwise, add meditation to your routine. This will help you calm your mind.
Avoid wearing Red
Lucky days: Saturday
Lucky color: Light Blue
Weekly Numerology for Number 7 (NEPTUNE): Those born on the 7th, 16th and 25th in any month
Change your marketing strategy. It's high time. Know that, making necessary changes to your marketing strategy is about improving your business.
Take one step at a time and focus. Don't hurry up to just compete in the market and your competitors. Legal issues are likely to crop up, but they will all be resolved in due course. You may take the advice or consultation or guidance from any bona fide business strategist. Health is wealth, so make sure you add cycling to your daily routine as well.
Avoid wearing Yellow
Lucky days: Thursday
Lucky Color: Light Blue
Weekly Numerology for Number 8 (SATURN): Those born on the 8th, 17th and 26th in any month
Induction programs can be conducted for entry level employees, also for the middle management. Try to adapt newer strategies but don't copy your contemporaries. Monitor if everyone is following the business's code of conduct. If someone is not, it's wise to replace that staff at the earliest.
Motivate your sales and marketing team and push them, so that they go that extra mile to get business for you. Keep away from junk food and coffee. There is no point inviting acidity unnecessarily, right?
Avoid wearing Chocolate Brown
Lucky days: Monday
Lucky color: Violet
Weekly Numerology for Number 9 (MARS): Those born on the 9th, 18th and 27th in any month
Honour opinions of your colleagues and subordinates. Some of their opinions will turnout to be really useful for your business. Try and strengthen your relationship with your permanent clients even more.
This week will turn out to be a productive one. Travelling for business meetings and discussions can be expected. Most meetings shall materialize into something constructive. Healthwise, all will be well.
Avoid wearing Red
Lucky days: Tuesday
Lucky color: Yellow
Celebrities of the week:
October 29 – Vijender Singh
October 30 – Homi J. Bhabha
October 31 – Vallabhbhai Patel
November 1 – Nita Ambani
November 2– Shah Rukh Khan
November 3– Aishwarya Rai
For more such updates, stay hooked on to The Live Mirror.
Also Read: Weekly Numerology Predictions: October 15 To October 21, 2021