When 'Rishi Kapoor' misbehaved with Salman's sister-in-law Seema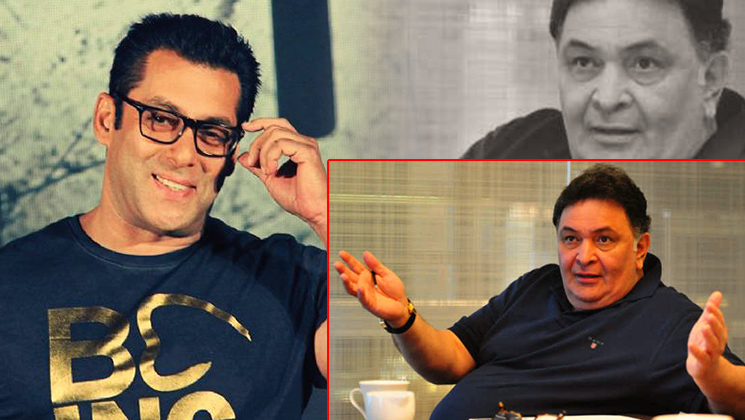 The 52 year old- actor had an image makeover and we got a new Salman. As he was considered to be the bad boy of the industry back then but now the things are a bit different.
He has a significant following in Asia and the Indian diaspora worldwide, and is cited in the media as one of the most commercially successful actors of Indian cinema.
Recently, everyone is aware of the fact that Rishi Kapoor is snapping out anyone on Twitter to shaming a woman, the actor has done it all. And guess what, he does not pay a heed to the ones who try to correct him.
Talking about a very recent case of Mr Kapoor's temperament, the actor vented out his not-so needed anger on Salman Khan's sister-in-law Seema Khan. This happened during Sonam-Anand's grand reception, wherein Rishi was angry over the fact that Salman did not greet him properly. And instead of walking up to Salman and sorting it out, the veteran actor went to Khan's sister-in-law to express his anger.
By the time, Seema informed this to Salman Khan, Sr Kapoor had left the venue. But someone had to make up for it, and Neetu Singh apologised to Seema on behalf of her husband. Now, If you are thinking that the matter is over, then you are mistaken.
Now, "do you really think that Salman Khan didnt take a dig at Rishi Kapoor?". Well during the recent promotions of 'Race 3', Salman Khan in an interview to DNA said, "I don't have enemies. It's just that I don't like a few people. It's very obvious because I make no bones about it. Just because someone is born a few years before me, it's no reason for me to respect him. If that person keeps on disrespecting me or any member of my family, I refuse to give him due regard. There are one or two families from whom I have not got that respect and love. That's where it ends. Some people from the industry will never be welcomed in my home."
Further he went on saying, "I definitely believe that whether someone is a senior or a junior, you shouldn't be disrespectful to them. Especially, if you are working with them. However, if that person is taking you for an idiot and is being disrespectful, then that's not done."