When Sonam wed Anand: Exclusive pictures from their photoshoot with Vogue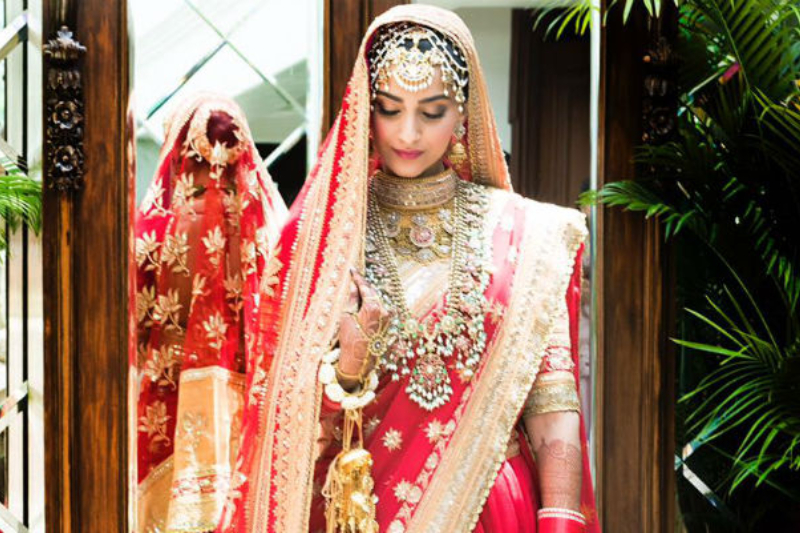 Sonam Kapoor Ahuja seems blissfully in love with her beau Anand Ahuja after their wedding which was a star-studded affair. After the 'Virushka' wedding which was a hush-hush affair, the Sonam-Anand wedding seemed to be a pompous occassion. A special photoshoot had been done for Vogue India, where Sonam and her husband Anand Ahuja (now Anand S Ahuja) appeared together in their wedding finery.From Shah Rukh Khan-Salman Khan to daddy Anil Kapoor and even Ranveer Singh gave us memorable moments at Sonam Kapoor's wedding. The three-day celebration of their 'everyday phenomenal' love story caught everyone's attention.
Sonam recently took to Instagram and shared the magazine's covers: one which has Anand and her in their wedding costumes, complete with Sonam's chuda (special red and white bangles worn by Punjabi brides) and kaleere (another Punjabi wedding regular) while Anand is in a sherwani and pagdi (turban). In another photo Sonam is wearing a cream-coloured lehenga choli, a beautifully embroidered work, worn by her during one of her pre-wedding functions.
She extended her warm thank you to the people behind the breathtaking Vogue edition and posted a picture from the magazine with the caption "I want to take a minute here to say thank you to my dear and amazing friend Anaita! I'm literally speechless! Love you so much."
The next post was an extremely romantic picture of them both and the caption was dedicated to the writer Shalini, "Thank you Shalini for this beautifully written piece. I love the way you've articulated our journey and we are forever grateful to you and the entire Vogue team.
"This picture also shows the ring tattoo on Anand's left hand. Sonam's conversation with Vogue revealed that he can't wear rings all the time as he is he is a basketball player. So, a New York-based tattoo artist got him a version of the wedding ring as a tattoo on his finger.
The fashionista also posted a picture which was captained "I was apparently wearing the worst sneakers he had ever seen. I keep telling him that he fell in love with me despite my bad sneaker game… That day, walking and talking in London, I knew he was the love of my life."
Anand Ahuja was recollecting memories about how he first conversed with Sonam Kapoor on Snapchat without even knowing that she and Anil Kapoor were related. He said, "The first time we met, we talked about our respective work. I was just struck by the fact that I could speak to her so openly about everything. We were chatting on Snapchat one night and she said, 'Stop texting, just call me.' And we spoke for two hours that night… Our friendship started over superficial things like vegan chocolates and sneakers but soon we were having deeper conversations."
Also Read:Revealed: The reason Sonam's hubby wore sneakers at their reception
Anand Ahuja also had the most beautiful things to say about his star wife. He told Vogue India, "She gives me a lot of confidence. Sonam's very black and white. She knows what's wrong and what's right and is not afraid to say it. I can see both sides of a story, but I often get stuck in the grey zone. I sometimes need to be able to say no, and Sonam gives me the confidence to do that, she supports me. She's intuitive and patient, I second-guess."