Why Ali Zafar invitation to Aamir Khan exposes Bollywood's hypocrisy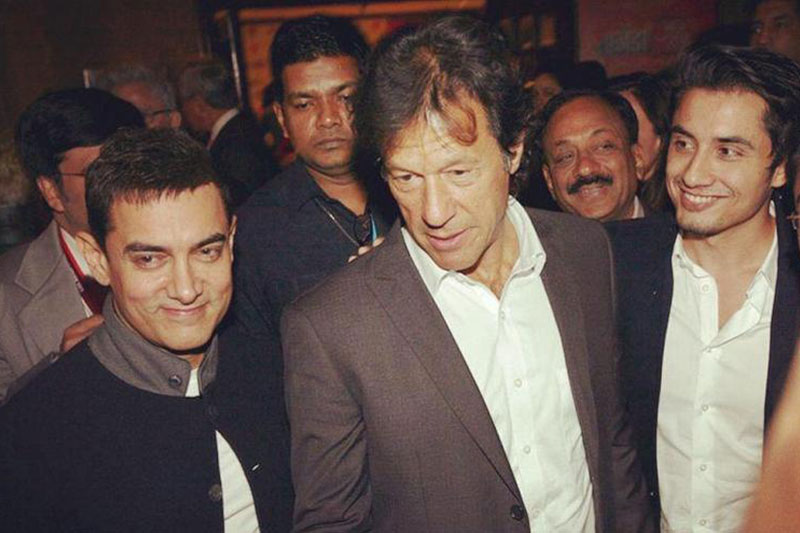 Imran Khan, a Pakistani politician and former cricketer the current chairman of the Pakistan Tehreek-e-Insaf, is the leading candidate for the  Prime Ministerial post of Pakistan in the 2018 general elections.  Khan, soon if successful in gathering majority will participate in the oath ceremony. He is leading with 119 seats and promising several developments, including the relations between India and Pakistan.
With the hopes on development in India and Pakistan relations, even the artists have started sharing their views through comments. Most recent one was Pakistan actor Ali Zafar reminded the so called genuine Khan of industry 'Aamir Khan of his visit to their country ie Pakistan.
Let's dig up into the history of this story, in late 2012, during a media event Imran Khan was told publicly by Aamir khan that he would be visiting Pakistan soon to celebrate his political victory. Aamir khan was quoted by media, saying "When you win the election, I will definitely come (to Pakistan) to celebrate your victory. And I will bring lots of Indians with me."
Also Read: Abhishek Bachchan: No-nonsense please, over family life rumours
Aamir Khan didn't hesitate in expressing his admiration towards cricketer and now politician Imran Khan in front of media, where he expressed that "I really like the idealism and the dream in you. I wish you succeed in fulfilling your dream. I wish Pakistan gets a government that can really solve its problems, a party that is determined to bring prosperity to Pakistan. It will be good not just for Pakistan but for everyone else. My heart tells me that you will succeed because you have been doing this for years. When you started out, you faced numerous challenges. Yet, you remain firm in your convictions and you are still at it", addressing Imran.
Considering such comments even the fans of the Bollywood celebrities in Pakistan started urging their celebrities who share healthy relations with Indian celebrities, to request them to come and visit Pakistan. And even Ali Zafar posted a tweet. To which he responded by reminding Aamir of his promise back then in 2012.
@aamir_khan I think it's time :). https://t.co/EF0t5mPkf5

— Ali Zafar (@AliZafarsays) July 26, 2018
But the article doesn't end here, because we have a different angle to this story, let's continue the story with ban on Pakistani artists working in India. In 2016, the film workers association of Raj Thackeray's party had given a 48-hour period to all Pakistani artistes to leave their country otherwise they said they'd do it themselves, forcefully.
Amey Khopkar, MNS Chitrapat Sena said "We gave a 48 hour deadline to Pakistani actors and artists to leave India or MNS will push them out."
While Pakistani artists like Fawad Khan were earning crores of rupees by bagging meaty projects in Bollywood, at the same time lot of people were losing their lives in Kashmir. While Qawwali singer Rahat Fateh Ali Khan was busy charging crores for his concerts in India, civilians in Kashmir were only listening to gun shots. Not just limited to these two but many Pakistani actors like Mahira Khan, Ali Zafar and musicians like Ustad Ghulam Ali etc have gained recognition from India. At least once, where these artist reported multiple times for their contribution towards betterment of relations between India and Pakistan over Kashmir issue or contributing towards improvement of civilians whether it's Pakistan or India, who are crushed worst than trash in the war.
More over, artists like Ali Zafar who are reminding Indian artist to visit in Pakistan are been accused of sexual harassment. Yes, fellow singer Meesha Shafi accused Zafar of sexual harassment, stating on Twitter, "Ali is someone I have known for many years and someone I have shared a stage with. I feel betrayed by his behavior and his attitude and I know that I am not alone." A day later, several other women came forward with their allegations against Zafar. Applause to Mr. Ali Zafar on tweeting Aamir Khan whose contribution in building his own nation is way to far ahead.
Sharing this because I believe that by speaking out about my own experience of sexual harassment, I will break the culture of silence that permeates through our society. It is not easy to speak out.. but it is harder to stay silent. My conscience will not allow it anymore #MeToo pic.twitter.com/iwex7e1NLZ

— MEESHA SHAFI (@itsmeeshashafi) April 19, 2018
We do not want to give out message that there will be always a rift between India and Pakistan but instead we are extremely disappointed at artist's point of view towards the whole issue. Because even Bollywood celebrities like Swara Bhasker or many others who talk and tweet or interview regarding their stand on feminism, never take a principled stand, on any  relevant political issue. Thus Bollywood fails to prove it's not hypocritical.
Also Read: Does Jayalalithaa have a secret daughter? Read on to know more