Sabarimala: Women devotees reach temple, sent back by protesters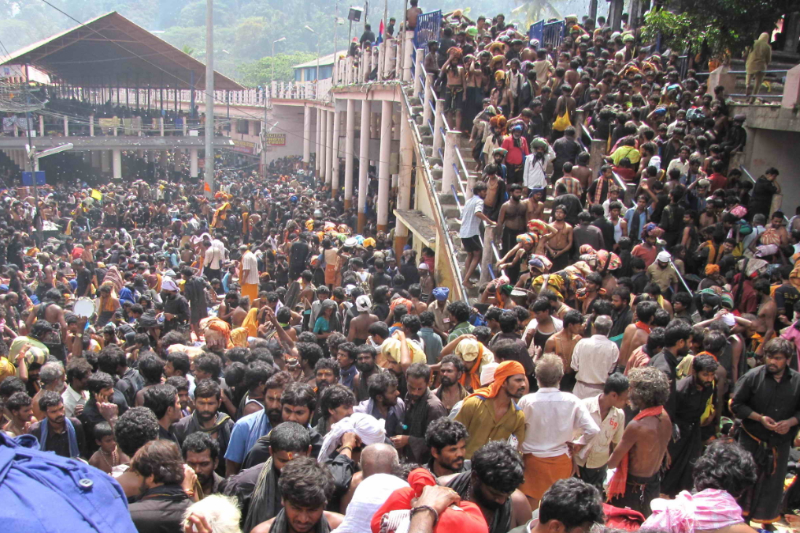 Security has been beefed up around Kerala's Sabarimala Temple today as it opens to devotees for the very first time after the Supreme Court's 28 September verdict, allowing women of all ages to visit the Sabarimala Temple.
According to the report, Two women, one from Kerala and another from Andhra were among the first to begin their trek to the Sabarimala temple on its opening day stopped by protesters. They also alleged that they only managed to walk only a few hundred metres.
The police have arrested seven protesters, amid reports of college students and women journalist being stopped.
On October 16, devotees screened buses and made an effort to prevent girls and women from proceeding to the hilltop shrine dedicated to the deity Ayyappa. Women were reportedly pushed, manhandled and violently turned away from the base camp at Nilakkal, around 20 km from the temple.
After yesterday's violence, almost 1,000 police, including women have been posted around Sabarimala and at the two base camps along the route. Protests continue at Nilakkal, the main access point before the temple nestled in the Western Ghats.
A top police officer named Manoj Abraham told NDTV, "We were taken by surprise yesterday, but from today we are fully equipped to handle the situation. Every devotee will be allowed safe passage."
The hilltop shrine will remain open only for 127 days in a year and can only be accessed through a forest. It will close down again on Monday.
The Sabarimala temple's head priest, Kandaru Rajeevaru seemed to have disappointed by apex court's order but accepted it.  The Travancore Devaswom Board, which runs the temple had said that the top court should steer clear of judging sensitive religious matters.
Addressing a one-hour public meeting on Tuesday, which was part of the LDF campaign on Sabarimala, Kerala Chief Minister Pinarayi Vijayan said that there has been a deliberate attempt to weaken the secular mindset of the state by marshalling the faithful to fight against the Supreme Court verdict. He also lauded the long history of state's renaissance movement.
"There is an attempt to create a misconception among the faithful. They are trying to convince the people that the LDF government has committed a great crime. The LDF and its government have always stood for the rights of the faithful to live according to their beliefs. The government has adopted the same stand on Sabarimala also,'' Vijayan said.
One of the BJP supporters and actor Kollam Thulasi had said that "women who go to Sabarimala temple defying the custom should be ripped apart". A case has been filed against the actor.
Also read: Telangana: BJP promises free transport to Sabarimala, if voted to power