World Autism Awareness Day 2019: Symptoms, Tests And Signs To Diagnose ASD
World Autism Awareness Day 2019: Symptoms, Tests And Signs To Diagnose Autism Spectrum Disorder.The theme Of This Year's Autism Awareness Day Is 'Assistive Technologies, Active Participation'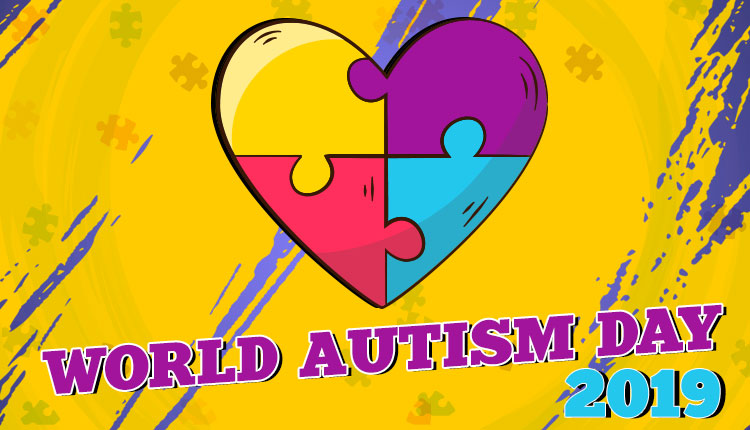 The United Nations General Assembly unanimously declared April 2 as World Autism Awareness Day in 2018. The theme of this year's Autism Awareness Day is 'Assistive Technologies, Active Participation'. This day will be observed in India on 2 April (Tuesday), as elsewhere around the world. The observance of World Autism Day at UN headquarters is organized by the UN Department of Global Communications and the Department of Economic and Social Affairs, in close cooperation with persons with autism and their representative organizations.
Autism awareness is now widely observed around the globe. On the occasion of this day, the entire world turns blue in an honour. Which is a part of Light it Up Blue, a campaign spearheaded by the autism community aiming to foster understanding and acceptance for those who are suffering from Autism?
According to the United Nations,  the right of persons with disabilities, including people with autism, as enshrined in the Convention on the Rights of Persons with Disabilities (CRPD), are an integral part of its mandate.
In 2015, the world leaders have adopted an Agenda for Sustainable development, in which they had pledged that no would be left behind by 2030. The global community had reaffirmed its strong commitment to inclusive, accessible and sustainable development.
In September 2018, the UN Secretary-General launched a new Strategy on New Technologies aiming to define how the United Nations system will support the use of these technologies to accelerate the achievement of the 2030 Sustainable Development Agenda. The Strategy is also intended to facilitate the alignment of these technologies with the values enshrined in the UN Charter and the Universal Declaration of Human Rights, and the norms and standards of International Law, including the CRPD and other human rights conventions. These values include equality and equity, inclusion and transparency. Design and use of new technologies, according to the Strategy, should be guided by a rights-based and ethical perspective.
On the occasion of 2019 World Autism Awareness Day, there are several topics to be addressed through discussions with self-advocates and experts include:
The Internet and digital communities: Leveling the playing field
Independent living: Smart home technology and more
Education and employment: Communication and executive functioning
Telemedicine: Opening the doors to healthcare
The right to be heard: Political participation and advocacy
What is autism?
Autism is a neurodevelopment disorder which has been characterised by deficits in social and verbal communication, as well as repetitive behaviours. According to the Centers for Disease Control, autism affects an estimated 1 in 59 children in the United States today.
It has been divided into many subtypes, most influenced by a combination of genetic and environmental factors.
As we all know that Autism is a spectrum disorder, each person with autism has a distinct set of strengths and challenges.
In this disorder, a person with autism learn, 

think and problem-solve can range from highly skilled to severely challenged.

Many people with ASD are required significant support in their daily lives, while others need less support and, in some cases, live entirely independently.

Some are greatly impaired in their cognitive thinking while others are extremely gifted
According to the 2011 Census of India, there are 7,862,921 children with disability below the 19 year age group, among which 595,089 have an intellectual disability.
The study also stated that one in 66 children were autistic in India
On World Autism Awareness Day: Lights the world blue
On April 2 this year, the world will turn blue in honour of World Autism Awareness Day.
It's a part of a campaign spearheaded by the autism community which aims to foster .understanding and acceptance for those with autism.
On the occasion of this day, supporters are requested to wear blue clothing and post to social media using the hashtag #LightItUpBlue to create an awareness among the people.
There are certain landmarks including Niagara Falls, the United Nations, the Empire State Building, the White House and state government buildings are just a few of the landmarks to turn blue on April 2 in years past.
On World Autism Awareness Day and throughout April, which is Autism Awareness Month, local organizations hold a variety of events and educational activities to help the public learn more about autism spectrum disorder.
Autism Spectrum Disorder Signs and Symptoms
Possible "Red Flags" for a person with ASD might:
Unlikely to respond to their name by 12 months of age
Not play "pretend" games (pretend to "feed" a doll) by 18 months
Avoid eye contact and want to be alone
Have trouble understanding other people's feelings and unable to express their own feelings
Have delayed speech and language skills
Use the same words or sentence again again
Give unrelated answers to questions
Get upset by minor changes
Autism Spectrum Disorder Tests
There are two ways or test to diagnose ASD. One is Developmental Screening and the other is Comprehensive Diagnostic Evaluation.
The first one is a short test to tell if children are learning basic skills when they should or if they might have delayed. In this test, doctors ask some questions to their parents and play with them to identify how much time children take to learn, speaks behaves and moved for a particular task. Notably, a delay in any of these areas could be a sign of a problem. If the doctor notices any signs of a problem, a comprehensive diagnostic evaluation is needed.
In this way, doctors review the child's behaviour and development and interview children's parents. Sometimes, this test may include a hearing and vision screening, genetic testing, neurological testing, and other medical testing.
In some cases, doctors refer to the child some experts doctors to consult for the further process. Specialists who can do this type of evaluation include:
Developmental Pediatricians (doctors who have special training in child development and children with special needs)
Child Neurologists (doctors who work on the brain, spine, and nerves)
Child Psychologists or Psychiatrists (doctors who know about the human mind)