World Cup 2018 Live Updates: Croatia beat england 2-1 to qualify for their maiden final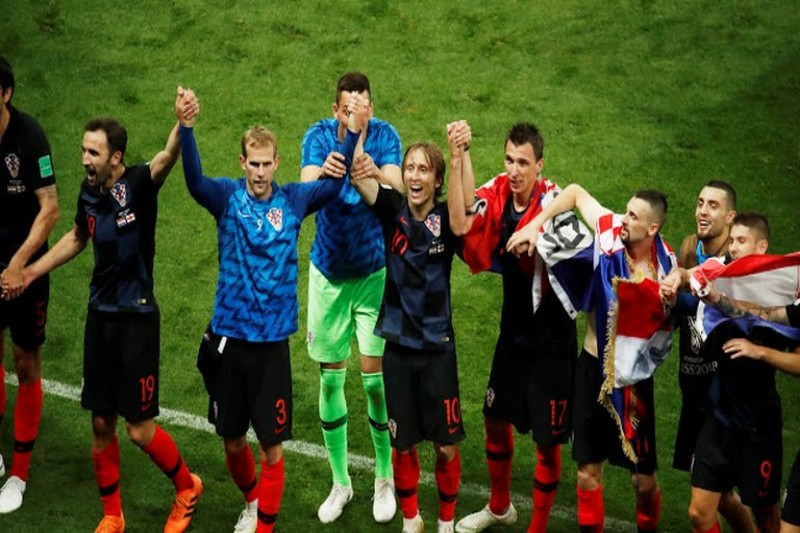 Croatia are into the finals… England go home
The final whistle goes..
Rashford swings the ball in Croatia clear…
England with a last chance…
4 minutes of added time..
115: Mandzukic out Corluka in
One more substitution for England Vardy on for Walker
Enngland defenders goes off to a sleep as Perisic wins a header and mandzukic shots home..
108: ⚽⚽⚽ goal for Croatia.. Mandzukic scored 
106: Perisic earns another corner.. it is hit out again
The second half begins..
1st half of extra-time over and England and Croatia are still ties at 1-1
The corner is taken short and the referee blows the whistle…
105+2: Mandzukic nearly scores but Pickford with a brilliant save. Perisic with a lovely cross but Pickford comes off his line to pull out a bravery save
Two additional minutes..
101: Rebic is replaced by Kramaric
Substitution for Croatia.. 
98: ohh John Stones heads in but Vrsaljko with a goal-line save
Dier immediately with a shot that deflects off for a corner
97: Dier replaces Henderson
Yellow for Rebic
95: Rebic fouls Rose and is booked
93: Strinic has pulled up and he is replaced by Pivaric
Croatia are beginning to feel the burden of playing more minutes.. remember Croatia has played 120+ minutes of football in each of the last three matches.
91: England makes a change.. Danny Rose in for Ashley Young 
Ivan Perisic has now scored four goals are the World Cup for Croatia, only Davour Suker has scored more (6).
The first 15 minutes of extra-time to begin 
The final whistle blows.. it still is 1-1
90: Rakitic fouls Rashford outside their own box and Emgland have a free-kick. Trippier takes it but Kane heads the ball out from an open chance
Three minutes of added time..
83: Modric finds Mandzukic with a cross, but the latter's shot from close range is straight into Pickford who clears..
77: Kane plays the ball to Lingard, whose cross goes out untouched..
73: Substitution for England Sterling is off for Marcus Rashford
Croatia are attacking now… they earn a corner but it is cleared..
71: Ohh Perisic hits the post… He holds onto a loose ball from the English defence and fires it to the right
This game is back alive…
68: Perisic puts out a high boot and cinencts to a wonderfup cross from Vrsaljko leaving Pickford with no chance..
⚽⚽⚽Goal…. Perisic levels for Croatia…
Modric fouls Kane and the attack dies out..
64: Vrsaljko and Modric combine well, the latter's cross is cleared by Maguire, the ball falls to Perisic whose first-time shot is straight into walker.
62: Lingard finds Sterling from a throw-in who takes a tumble in the box and the ball is cleared.
60: Perisic's cross is cleared by Trippier but it falls for Rakitic, who takes a shot that is way high and above..
The corner is cleared but Trippier swings another ball in for Kane which Vida clear..
55: Pickford finds Kane, who heads to Sterling, he finds Lingard, whose shit deflects for a corner.
They earn a corner eventually but it comes to nothing..
53: Walker booked for holding the ball for too long.. Croatia have a throw-in
52: Croatia build up an attack but Rebic's cross is way above Perisic
The booking was for Mandzukic for kicking the ball away after Rebic's foul
47: Yellow card to Rebic for elbowing Walker
Croatia gets the ball moving..
The second-half is about to begin.. 
By the way Kieran Trippier is the first Englishman to score from a direct free-kick since David Beckham in 2006.
England meanwhile could have made it 2-0 or 3-0 but Subasic has kept Croatia alive
A brilliant free-kick by Trippier 5 minutes into the match separates the two sides. Croatia have created some chances too but have so far failed to trouble Pickford at goal..
Meanwhile VAR is checking for a penalty appeal.. Harry Maguire seemed to have pushed Lovren down during a corner but nothing is given..
The half-time whistle blows.. England 1 Croatia 0
45: A slight misunderstanding between Walker and Stones sees Pickford clear but Strinic sends the ball back to Rakitic, who is brilliantly blocked by the combined English defence..
43: Šime Vrsaljko with a shot into the stands..
41: Young pulls out a great tackle on Rebic but the winger runs back and fouls him… Free-kick to England
35: Lingard… Another miss. Kane finds Alli who lays the ball for Lingard, but he shoots wide..
Lingard finds kane with a lovely pass but the striker's shot is weak and Subasic saves.. Kane misses again in the rebound , the fall was up anyway…
30: Harry Kaneee…. That should have been 2-0
Young takes the free-kick and Subasic clears…
27: Young clears a misjuged pass and finds Alli, who lays it into Sterling and the Man City winger once again breaks through with pace before Lovren fouls him…
24: Sterling uses his pace to break through again but Vida clears the ball… Croatia certainly look languished… Drained…
21: Strinic has given the ball away to Sterling but he finds Kane who is off-side
Yellow for the Liverpool defender
20: Rebic fires but Maguire blocks it and England attack through Kane who is pushed to the ground by Lovren..
17: Vrsaljko commits a foul on Kane as the Tottenham striker runs past him…
15: Walker fouls Mandzukic band Croatia have a free-kick it again comes to nothing..
Maguire connects but the ball sails wide just wide…
13: Alli finds Trippier , whose low cross is selected out for a corner.
Croatia seems to lost it.. fouls all around
7: Young concedes a corner after failing to chest down Perisic's cross into the box. The corner comes to nothing…
6: Modric immediately sets off to attack but miscues the ball straight to Pickford, who collects and sends a long ball to Sterling straight into Subasic
Kieran Trippier curls the free-kick above the wall and into the net. What a debut goal to have
5 ⚽⚽⚽: Goallll!!!! So early and so fast 
Ligard finds Alli's run outside the Croatia box, but Modric pulls the latter down. Free-kick to England.
Henderson fouled by Mandzukic and England have a free-kick
1: Croatia win a free-living inside their own half
England in their Whites, Croatia in Dark Blue..
Harry Kane with the ball
Luka Modric has created 14 chances for Croatia.. the.sit for his nation at the 2018 World Cup
The match is about to begin…
ongland are competing in their third semi-final. They beat Portugal 2-1 in 1966 enroute to their World Cup victory but lost on Penalties to Germany in 1990
ENG XI: Pickford; Walker, Stones, Maguire; Trippier, Henderson, Young; Lingard, Dele; Sterling; Kane.
CRO XI: Subasic; Vrsaljko, Vida, Lovren, Strinic; Rakitic, Modric; Rebic, Brozovic, Perisic; Mandzukic.
The Team line-ups are out…
Both of Croatia's knockout wins have come through shootouts..
Both the teams have played wonderfully throughout the tournament to reach this stage. While Croatia beat Denmark in the last-16 and hosts Russia in the quarter-finals to reach their first ever semi-final since 1998, England overcame Colombia in the last-16 through penalties and then put up a convincing 2-0 victory over Sweden in the quarters.
Hello and Welcome to the live coverage of the second semi-final between England and Croatia…