World Cup 2018: Suarez's strike pushes Uruguay into knockouts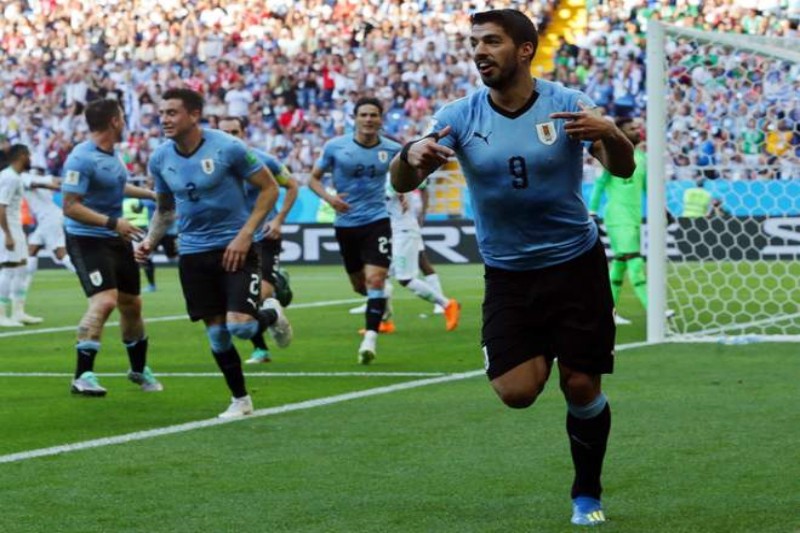 Luis Suarez in his 100th game for Uruguay found the net  as 'La Celeste' sailed into the round of 16 after defeating Saudi Arabia 1-0 at the Rostov-on Don Arena on Wednesday.
The Barcelona striker scored a dummy in the 23rd minute after goalkeeper Mohammed Al-Owais failed to collect the ball from a corner but apart from that Uruguay were forced to labour all evening just like they did in the 1-0 victory over Egypt.
Saudi Arabia ran the show despite going behind, playing some eye-catching football but lacked the finishing, often losing numbers in the final third and it was the lack of quality in that area which hurt them the most with striker Hattan Bahebri missing the best chance. Yasser Al-Shahrani, the Asian side's best player in the pitch swunged a teasing cross into the box that Diego Godin completely misjudged, while Bahebri skied it from six yards out.
That was in the 29th minute and similar to one from which Suarez scored and although the 'Green Falcons' came close on a number of occasions later, they failed to muster a shot on target, managing just two in over 90 minutes.
Uruguay in contrast, could have added another five minutes before the final whistle when Edison Cavani beat two defenders with some clever skills but Arabian custodian Al-Owais earned some reprive for his earlier mistake, keeping the resulting shot away with his leg.
It wasn't to be however for the Asian boys and they became the third team after Morocco and Egypt to be knocked out of the competition. Mohamed Salah's Egypt will also head home after their final match against Saudi Arabia on June 25, with both Russia and Uruguay making it to the next round from Group A. Both face each other on the same day and the winner will qualify on top.
Oscar Tabarez creates a new record
Leading a nation of over three million people to three successive knockout rounds at the World Cup isn't a easy task, but Oscar Tabarez or the 'El Maestro'-as they affectionately call him-created a new record leading 'La Celeste' once again to the ground of 16, this time with a game to spare.
Unable to walk without a help because of the rare Guillain-Barre syndrome that he suffers, Tabarez a former teacher has been a revolutionary figure in Uruguayan football. In fact in the four World Cups that he has managed, Uruguay has made it to the second round, starting from 1990, his first stint as the national coach.
He left after Uruguay lost to hosts Italy in the round of 16 and then returned in 2006 after the two-time champions had failed to qualify for three of the four preceding World Cups.
This time around Uruguay are not as flamboyant as he would want them to be but getting the job done has always been his main motive and although Uruguay beat both Egypt and Saudi Arabia in second gears it won't matter as long as they keep on doing what the Professor wants – grind out a win.