World Cup 2018: VAR favours France in their 2-1 win over Australia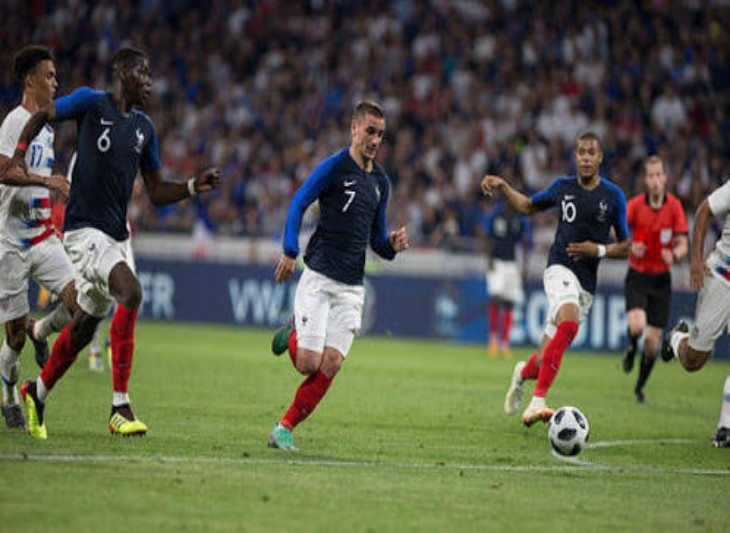 As controversial as it may seem, the VAR (Video Assistant Referee) however came to an young France's rescue, aiding the 'Les Bleus' twice in their 2-1 victory over Australia in Group C fixture at the Kazan Arena on Saturday.
Antoine Griezmann broke the deadlock after 58 minutes of barren period before Michael Jedinak equalised for the Socceroos four minutes later. Both the goals came from penalties, but it was Paul Pogba's stunner in the 80th minute that ensured France all three points.
That VAR will have a massive impact this World Cup was a phenomenon known to most, but when it would was the question. It did today and France was on the right side, requiring the assistance for both of its goals. Australia though will consider themselves unlucky after giving away a soft penalty, the first indication of which looked a near perfect tackle.
Pogba's threaded pass was well received by Griezmann, whose run was halted by Josh Risdon from behind and although the referee at first called no foul, he changed the decision after referring to the VAR. The 27-year-old stood up and made no mistake calmly sending the ball into the right top corner.
If the Socceroos had managed to keep the star studded France at bay until then, the goal seemed to have broken through it and the 1998 champions should have scored another, minutes later. Griezmann was again at the center of things but after doing all the hard work of breaching the opposition defence, he let himself down with a tame shot.
Australia were soon gifted an equaliser when Samuel Umtiti handled the ball in the 60th minute. Jedinak stood up and send Hugo Lloris the wrong way.
It was all but left to Pogba then. The Manchester United star often tipped for greatness stood up for his team, scoring the winner 10 minutes before the final hoot. His flick over Australian keeper Matthew Ryan took a big deflection before hitting the crossbar and bouncing out. The VAR was referred again and France needed not to bother for it ensured them a win.
Earlier France coach Didier Deschamps started with the youngest France team in 88 years. The 1930 World Cup was the last time, France had such a young team. But with an average age of 24 years and six months this was the youngest French side to start a World Cup fixture since their encounter against Mexico in 1930, Uruguay.
To keep such a star-studded team at bay for a whole 90 minutes was a majestic task and Australia nearly stood up to it, at least for 58 minutes before going down. It is however not the end and they take on Denmark on June 21, while France play Peru later on the same day in Group C fixture.