World's strongest storm in 2020 makes landfall in the Philippines
World's Strongest Super Typhoon Goni makes landfall in Philippines; millions evacuated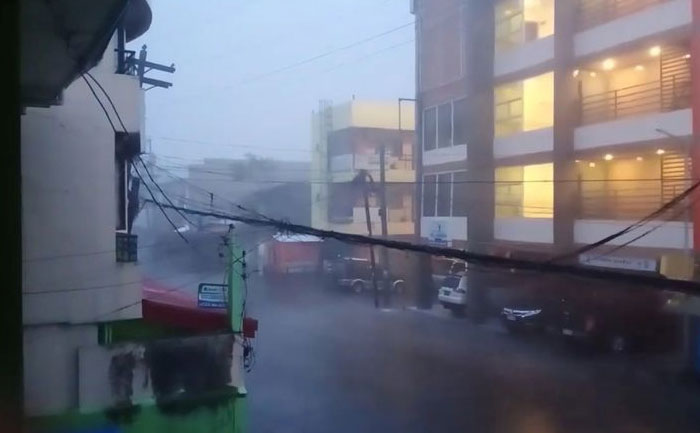 Worlds strongest storm has made landfall in the Philippines. A million residents in the southern part of the Philippines' main island of Luzon were evacuated. The category 5 storm with landfall on Sunday. It carried wind speed of 215 kph (133 miles)and gusts of up to 265 kph (164 mph).
#SuperTyphoonGoni (Category 5) One of the strongest tropical cyclones of 2020 makes landfall in #Philippines with 195mhp sustained winds. #Goni#RollyPH #TyphoonRolly #TyphoonGoni
(Video -Jxsiat) pic.twitter.com/Cm5ZiAmqhd

— SitamMoharana_ANI (@SitamMoharana) November 1, 2020
It is among the strongest typhoons to hit the Philippines since Haiyan, which killed more than 6,300 people in 2013.
From Mayon's slopes daw. https://t.co/8FotYvKuCt pic.twitter.com/a0axc4bv5V

— Mahar Lagmay (@nababaha) November 1, 2020
As reported by the weather bureau, Super Typhoon Goni first hit land before dawn Sunday over Catanduanes province.It subsequently pummeled Albay. The typhoon is expected to cross the southern Luzon and Metro Manila area from the afternoon before exiting land this evening or Monday, bringing "intense" rain to the capital.
AFTERMATH LOOK: Centro Ligao City, Albay, Philippines 🙁#RollyPH #TyphoonRollyPH #TyphoonGoni
📷 Ji Velarde pic.twitter.com/RN8GxuIW16

— Rich Dayandante (@ChaDayandante) November 1, 2020
"Goni is the strongest landfalling tropical cyclone" in history, said Jeff Masters, a meteorologist with Yale Climate Connections and co-founder of Weather Underground.
The cyclone comes days after Typhoon Molave lashed the Southeast Asian nation, leaving at least 22 dead and causing a minimum of 1.81 billion pesos ($37.4 million) of damage to crops.
Another typhoon, Atsani, is gaining strength just outside the Philippines.
Also Read: Expect rains or thunderstorms today in Delhi, predicts IMD