WWE Puts Jeff Hardy In A DWI Storyline, Fans Not Impressed
The wrestler has struggled with substance abuse in the past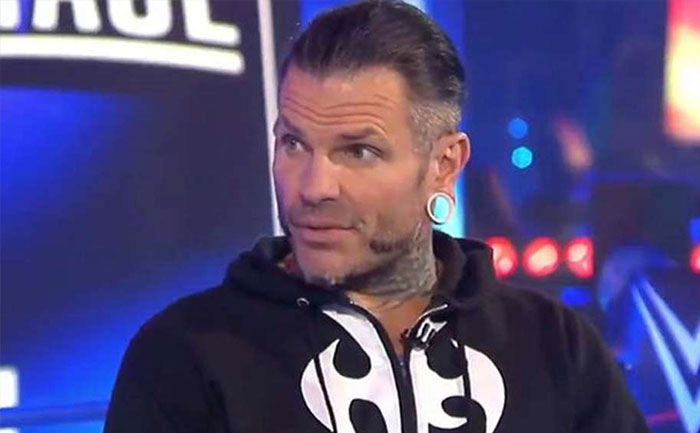 The enigmatic Jeff Hardy has been put in a new DWI storyline on WWE Smackdown and it is making some fans quite uncomfortable. The high flyer's real-life struggle with substance abuse is well-documented. However, WWE has now used the angle for a storyline involving Jeff Hardy and Elias.
WWE Friday Night Smackdown started when a supposed hit-and-run landed Elias in a hospital. Renee Young reported from the scene. Meanwhile, the vehicle in question was identified to belong to Jeff Hardy who was then arrested. To make matters worse, Jeff Hardy seemed to be under the influence as he was stumbling and smelled of alcohol.
The wrestler has struggled with substance abuse in the past. He has faced multiple arrests involving charges of trafficking in controlled prescription pills and possession of anabolic steroids. In addition, Jeff Hardy has also been arrested for public intoxication and DWI.
While Matt Hardy did not comment directly on the company, he made sure to tweet that he was happy to be working for AEW now.
Matt Hardy is no stranger to WWE using wrestlers' real-life demons to create fictionalized storylines around. His personal life was also put on display by WWE when he was put in a love triangle with Edge and Lita. In real life, Matt and Lita had been dating when she cheated on him with Edge leading to their breakup. What should have been a private matter was put on display by WWE through a story angle.
However, it is not just Matt who has reacted to the news. WWE fans are not amused that WWE is exploiting the real-life struggles of Jeff Hardy by putting him in a DWI storyline.
Here are some of the fan reactions:
This storyline will be about Drunken Jeff Hardy and his recent DUI 😂😂😂wtf??? #smackdown https://t.co/Vh3ku0u7Xr

— T H E B I G D O G 1 1 1 #QuarantineDays (@phenomenalsvg) May 30, 2020
Yep, they really got Jeff Hardy being arrested on tv, this is really bad timing with everything that's happening in the country yo #Smackdown pic.twitter.com/Qy0FS6QEOI

— Dwiggit (@AyeMrRager) May 30, 2020
Are WWE REALLY doing a wrongful arrest / detaining angle this week… really… fuck sake #Smackdown

— Liam* (@Allez_LesRouges) May 30, 2020
Im sorry but this drink driving isnt funny. I know its a storyline but wtf. I honestly feel for Jeff who had to do this fucking stupid storyline. Have some respect @WWE

— Jane (@JanexTweets) May 30, 2020