WWE Survivor Series 2019: Matches, Date, Location, Rumors, and start time
Everything you need to know ahead of the WWE Survivor Series 2019 event in Chicago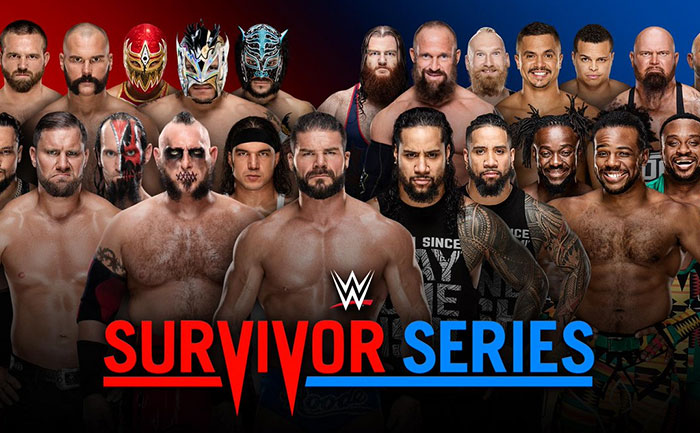 WWE Survivor Series 2019 is upon us and the excitement surrounding the pay per view is high. This is in part due to WWE's developmental brand NXT stepping up and joining the traditional RAW vs SmackDown brawl. The three brand collision could potentially end up being the show-stealer.
WWE Survivor Series will be held in Allstate Arena, Illinois on November 24. The show will be streaming live on WWE Network and the main show will kick off at 7 p.m. ET.
WWE Survivor Series matches
WWE Championship
Brock Lesnar (c) vs. Rey Mysterio
This David vs Goliath face-off has been building up since Lesnar attacked Mysterio and his son Dominick. Cain Velasquez, the former two-time UFC heavyweight champion, attempted to get revenge for Mysterio to no avail. Brock Lesnar not only beat up Dominick again, but he also defeated Velazquez at Crown Jewel in a dominant fashion. Mysterio beat up Lesnar with a chair after that match and attacked him again with a pipe on the next RAW. He then challenged Brock Lesnar for a WWE Championship match which is scheduled for Survivor Series.
Women's Champion vs. Champion vs. Champion
Becky Lynch (Raw) vs. Bayley (SmackDown) vs. Shayna Baszler (NXT)
This three-way women's champion vs. champion vs. champion Triple threat match between the three brand champions will be an intriguing watch. All three participants are brilliantly talented and have their own jar of brutality in store for this match. Former MMA fighter Shayna Baszler is a brutal competitor and is in her second reign as the NXT Women's  Champion. She is the first woman to hold the title twice. Becky Lynch has taken over WWE as 'The Man' battling through rigged odds. Bayley's new ruthless heel persona is also winning favor with the fans. It is a fresh take on the bubbly, child-friendly Bayley character and fans are supporting it unabashedly.
This match will be held a night away from Shayna Baszler's WarGames showdown at NXT TakeOver.
Men's Champion vs. Champion vs. Champion
AJ Styles (U.S.) vs. Shinsuke Nakamura (Intercontinental) vs. Roderick Strong (North American)
These three men are sure to put up one hell of a show. Talented in the extreme, these men are a guarantee for a match viewers will look back upon fondly. AJ Styles and Shinsuke Nakamura have locked horns in the past. Those matches were always entertaining and with enough technical in-ring skills to satisfy the puritans. It will be interesting what The Undisputed Era member Roderick Strong will bring to the equation.
Men's Tag Team Champions
The Viking Raiders (Raw) vs. The New Day (SmackDown) vs. Undisputed Era (NXT)
The tag team champions for the three brands collide in this Men's tag team champions three-way match. The original plan was to have The Revival come in for SmackDown. However, Kofi Kingston and Big E beat Scott Dawson and Dash Wilder to become the SmackDown Tag Team titles for the fifth time.
Men's Survivor Series Elimination Match
Team Raw vs. Team Smackdown vs. Team NXT
The traditional Survivor Series match now has the added element of the NXT brand talent. The RAW team was announced on November 11 edition and comprised of Seth Rollins, Kevin Owens, Randy Orton, Drew McIntyre & Ricochet. The SmackDown team of Roman Reigns, King Corbin, Ali, Shorty G, and Braun Strowman was announced on the November 12 edition of WWE Backstage. Team NXT has not been reveal as of yet and it will be interesting to see what the newest addition to the Survivor Series will bring to the table.
Women's Survivor Series Elimination Match
Team Raw vs. Team SmackDown vs. Team NXT
The teams haven't been decided for this match as of yet. Only Sasha Banks, Carmella, and Dana Brooke are slated for Team SmackDown. Sasha Banks will be the captain of Team SmackDown. Bianca Belair, Charlotte Flair, Natalya, Lacey Evans, Dakota Kai, Candice LeRae are all rumored to be a part of the teams.
ALSO READ: CM Punk Returns To WWE Television On FS1'S 'Backstage'