Xiaomi Mi Mix 4 Specifications Leaked, Will Have 100W Fast Charging, UFS 3.1 Storage
Xiaomi Mi Mix 4 specs leaked online, to come with UFS 3.1 storage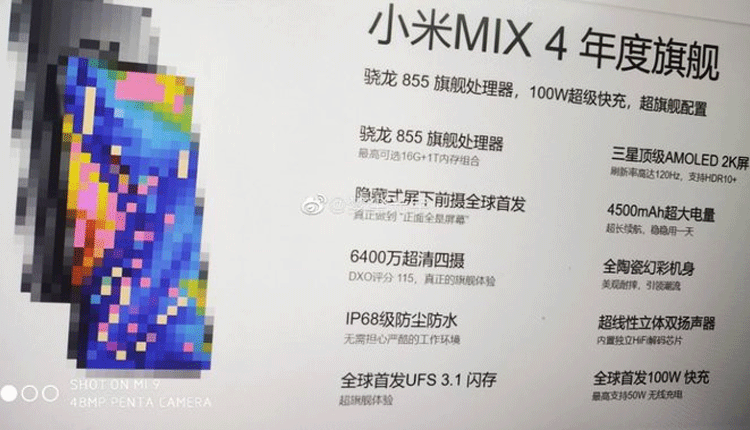 The specification of Xiaomi Mi Mix 4 has been leaked on social media. If the leaked features are true, Mi Mix 4 is going to one the best Android smartphone we ever had. If leaks are anything to believe, this would be the world's first smartphone to have 100W fast charging.
The leaked specification of Xiaomi's Mi Mix 4 has been shared by Soft Skill trainer Mukul Sharma on Twitter. The photo shared on the microblogging site reveals many features but not the clear picture of the device. As per the leaked picture, Mi Mix 4 will be powered by strong Qualcomm Snapdragon 855 processor and will be available in 16 GB of RAM and 1TB of internal storage variant only. The phone will be packed with larger 4500 mAh battery and 2K AMOLED display with a 120Hz refresh rate.
Xiaomi Mi Mix 4 specifications leaked, to come with UFS 3.1 storage https://t.co/7YLX3Rbp6K pic.twitter.com/hB0wdzJAkS

— Mukul Sharma (@stufflistings) May 16, 2019
The earlier reports suggesting that Mi Mix 4 would pack a triple camera system. Again, this isn't a massively cutting edge approach, with multiple vendors already packing such a set-up, including Samsung and Huawei. One more feature we are expecting in the Mi Mix 4 is 5G – or at the very least, there will be a 5G variant of the phone. According to reports, Xiaomi is releasing a 5G version of the Mi Mix 3.
Xiaomi Mi Mix 4 Specifications
Qualcomm Snapdragon 855
UFS 3.1 storage
16GB RAM
1TB internal storage
2K AMOLED display with a 120Hz refresh rate
4500mAh battery
World\'s first 100W fast charging