Yoga is a journey from 'Me' to 'We', says Narendra Modi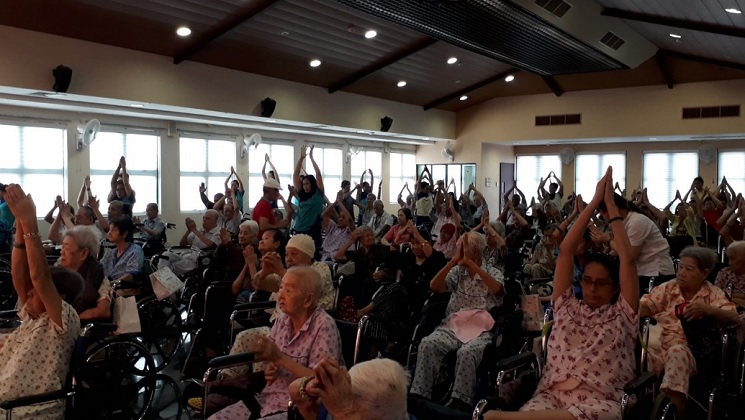 With the fourth International Yoga Day approaching near, Prime Minister Narendra Modi addressed the nation through his twitter handle, in which he reiterated about the importance of yoga in attaining peace for mind, body and soul. In the 6 minutes 5 seconds videos, available both in English and Hindi, the PM stated yoga is passport to the health assurances.
In the video released on Monday night,  Modi said that yoga makes us better individual in thoughts, actions, knowledge and devotion. Here is the full transcribed text:
"All yoga lovers, yoga is one of the most precious gifts given by the ancient sages to the human kind. It is said in the Bhagwad Gita – Samatwam Yoga Ucchte. It means yoga is a state of equilibrium and equanimity. Yoga is not just a set of exercises that keep the body fit, it is a passport to health assurances – a key to fitness and wellness.
Yoga is not what we practice in the morning, doing our day to day activity with diligence and complete awareness is yoga as well. Free from illness, a path to wellness – that is the part of yoga, because it teaches us to see others as ourselves. Yoga makes us better individuals in thoughts, actions, knowledge and devotion. 
Yoga achieves oneness through oneness. It brings about oneness among the mind, body and intellect. We begin to understand ourselves much better which also understand others better. When we understand ourselves, we become ready to form a constructive bond with society at large.  A bond of oneness with our families, with the society we live in, with fellow humans, with all the birds, animals, trees – with whom we share the planet. Thus yoga is journey from me to we – Aham to Vyam. 
The problem of modern lifestyles are well known. We have found ways to control communicable disease, but the focus is now shifting to dealing with non-communicable lifestyle disease.People suffer from stress related ailments and also, lifestyle disease like diabetes and hypertension. Stress and depression have become silent killers. Yoga offers a solution to these ailments.
Practicing yoga helps fight stress and find peace. If a body is a temple of the mind, yoga creates a beautiful temple. Yoga is ideal for relaxation. Many times when you are tired, a cool shower relaxes you. In the same way, practicing yoga truly relax the mind and body. 
Yoga goes beyond boundaries of age, gender, caste, creed, religions, and nations. Yoga does not discriminate between anybody. All you need is willingness to practice it. In a world of excess, yoga promises restraint and balance. In a world of suffering from mental stress, yoga promises calm. In a destructive world, yoga helps focus in a world of fear. Yoga promise hope, strength and courage. Yoga gives peace of mind. 
People who are at peace with themselves, are with peace with others too. Such people build harmonious nations. Such nations build harmonious world.
I am happy that the popularity of yoga is on the rise globally. With more people embracing yoga, the demand for yoga teachers is also rising. Our next challenge is to produce institutionally trained yoga teachers, standard yoga system, who can ignite this flame further, especially among the youth. I wish you all happy yoga practicing."
Yoga is the journey from 'me' to 'we.' It promises balance, calm, helps boost concentration and gives immense strength.

As we approach the #4thYogaDay, I urge people around the world to make Yoga a part of their lives. pic.twitter.com/A4zk3ybNye

— Narendra Modi (@narendramodi) June 18, 2018