Netflix You Season 3: Release date, cast, trailer, plot and everything you need to know
Netflix You Season 3: Everything you need to know about the cast, plot and release date of the third season of You.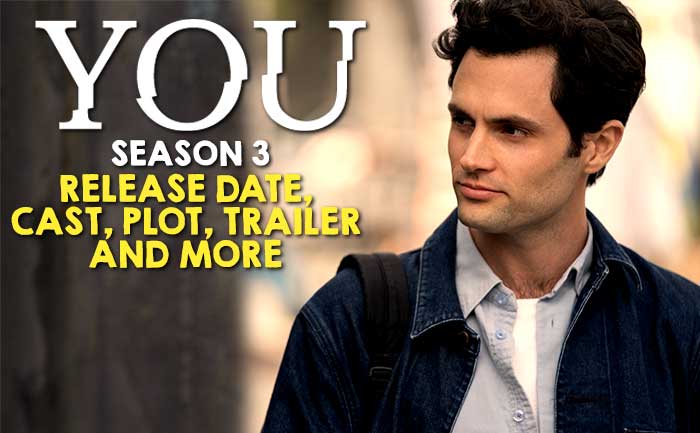 Get obsessed all over again with 'You' on streaming Giant Netflix. YOU is an American psychological thriller TV series that follows the story of Joe Goldberg, a bookstore manager and serial killer (Penn Badgley) who falls in love with one of his customers and soon develops an extreme and delusional obsession. The ending of You Season 2 had come with a shocking twist where viewers were left with a number of questions in their minds.
Well, after the stupendous success of You season 2 based on the novels by Caroline Kepnes. The makers had hinted about a season 3 to the joy of fans. Good News for You fans as the co-creator and showrunner Sera Gamble teased the exciting news on Twitter on 7 February. She wrote, "We've started work on season 3. Just thought you'd want to know." she wrote next to a picture of a 'Hello You' welcome mat.
We've started work on season 3. Just thought you'd want to know. #YouNetflix pic.twitter.com/Ih9MQl9BqU

— Sera Gamble (@serathegamble) February 7, 2020
You Season 3: Everything You Need To Know About Netflix Series
You Season 3 Release Date: When will it out?
You season 3 on Netflix will consist of ten episodes and is set to debut in 2021. Netflix said the series will be back in 2021. You Season 1 premiered on 9 September 2018 and You season 2 was dropped on Boxing Day 2019, so it is likely You Season 3 will be released at the beginning of the year.
You Season 3 Cast: Who will star in season?
The only confirmed cast so far is Penn Badgley as lovesick serial killer Joe Goldberg and Victoria Pedretti as the equally murderous girlfriend Love Quinn. Well, we know Joe and Love Quinn will definitely be back. Joe's new neighbour will also play a big part in the cast of You season 3. Sera had added that Ellie (played by Jenna Ortega) and some of Love's friends might return. She further added that some of the dead characters might also return to the show.
What will happen in You season 3?
You season 2 left us with a lot of questions, including who Joe's next victim will be. The series ended with Joe and pregnant Love (played by Victoria Pedretti) moving to a quiet neighbourhood as they start a new life together, but then Joe's attention turns to the person living next door. The show does seem to hint that the murderous couple tries to become a family unit but fans are sure that some killing will soon take place.
You follows Joe Goldberg (Penn Badgley), who develops dangerous obsessions with young women – in the first season, aspiring writer Beck (Elizabeth Lail) and in the second, aspiring chef Love Quinn (Victoria Pedretti) If the story follows the same wavelength then he might develop the same obsession with his new neighbour.
Where would Season 3 shoot take place?
Season 1 was all about New York, Season 2 saw Joe head to California, and it looks like he's sticking around. So quite possible Season 3 is shot in sunny California.
Both seasons one and two were based on novels written by Caroline Kepnes, but her third book is yet to be released. But Kepnes has confirmed through her Twitter bio that she is writing the third book and will also do a fourth as she is not done yet.
Is there a trailer for You Season 3?
No, the makers of the series have not dropped the trailer of You Season 3 yet. Till then, you can rewatch the second season of You, which is streaming on Netflix.
Also Read: You season 2 streaming on Netflix: How to watch You 2 online & download