20-year-old BJP worker killed in West Bengal's Purulia district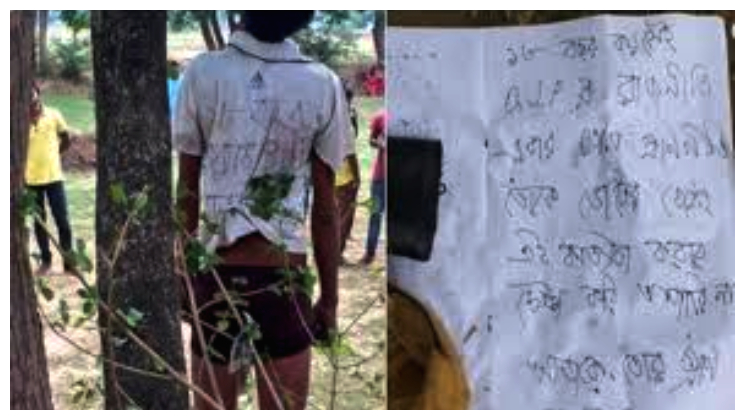 20 year-old BJP worker, Trilochan Mahato, was found hanging not too far away from his home in Supurdih village which is a part of Purulia's Balarampur block, West Bengal according to a report on NDTV.com. Scrawled on the back and front of his white T-Shirt was a chilling message, repeated in a note found on a piece of paper left at his feet dangling just inches from the ground. Roughly translated from Bengali, the messages read, "This is for doing BJP politics from age 18. Been trying to kill you since the vote. Failed. Today you are dead."
#WestBengal: Body of a BJP youth worker was found hanging by a tree in Purulia's Balrampur, yesterday. Other BJP workers allege TMC workers killed him as he was being targeted since Panchayat polls. Police probe underway. pic.twitter.com/7U4h2MnNCv

— ANI (@ANI) May 31, 2018
Trilochan's father Hari Mahato's stated in a police complaint that a broken pen, a broken refill, a mobile, wallet, slippers were found flung around alongside Trilochan's new bicycle. Trilochan's father, in his police complaint, named six men he claimed had fought with his youngest son on 14th May during election at the poll booth in the village and threatened to kill him.
According to The Hindu, members of the political party claim that he was an excessively hardworking member during the recent Panchayat polls in which Chief Minister Mamata Banerjee's Trinamool Congress suffered some setbacks in Purulia.
In Balarampur block where Trilochan's village is located, BJP won majority in seven gram panchayats and the panchayat samiti, snatching them from Trinamool.
BJP president Amit Shah tweeted: "Deeply hurt by the brutal killing of our young karyakarta, Trilochan Mahato in Balarampur, West Bengal. A young life full of possibilities was brutally taken out under state's patronage."
Not shying away from slinging mud at the opposition's political party was a senior Trinamool leader from Purulia, Shrishti Dhar Mahato,who alleged that Trilochan was killed because of infighting within the BJP. "I want a CID (the state-run Criminal Investigation Department) probe into the murder. Today there is so much infighting within the BJP for a chair, I think the BJP killed him," he said.
BJP's Purulia district secretary Vidyasagar Chakraborty alleged Trilochan was murdered by Trinamool Congress men. Trinamool heavyweight and Balarampur MLA Shantiram Mahato, who is also a minister in Mamata Banerjee cabinet, denied the party had anything to do with Trilochan's death. Speculations are being made about the infighting in the ruling Constituency, namely the BJP.
While both the parties of the constituency were busy tarnishing each other's names as conspirers in this adversity, Bharatiya Janata Party (BJP) held protest in Kolkata on Friday against killing of Trilochan Mahato in West Bengal's Purulia.