Ahead of 2019 polls, Chandrababu Naidu meets Deve Gowda for alliance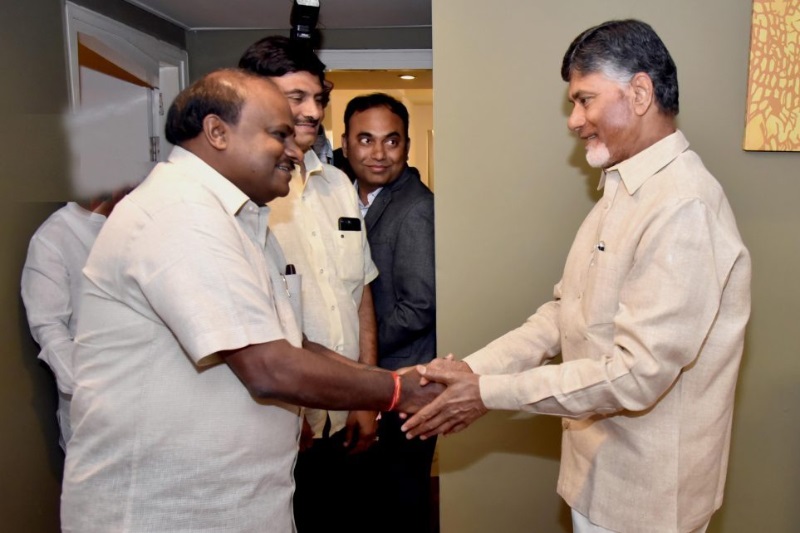 Telugu Desam Party (TDP) chief N Chandrababu Naidu on Thursday stated that country's constitution and democratic institutions can be saved from the BJP only if opposition parties unite against it in the Lok Sabha elections next year. Naidu expressed his opinion after meeting Janata Dal (Secular) president HD Deve Gowda and HD Kumaraswamy in Bengaluru.
The three leader after the meeting opined that all the opposition parties should unite and contest the elections together. Regarding the joint prime ministerial candidate, all the leader maintained that the decision can be taken later. The senior leaders met at Deve Gowda and his son's — Karnataka Chief Minister — residence in Padmanabha Nagar.
Briefing the minutes of the meeting, Naidu said, as reported by NDTV, "It is essential that the Opposition unite to save democracy at a time when national institutions such as the Reserve Bank of India and the Central Bureau of Investigation have been compromised. The investigation agency, which is supposed to be autonomous, is now being used to keep the opposition under control."
Adding on, the Andhra Pradesh Chief Minister criticised the union government's demonetisation move stating that it was 'ill-advised' initiative which slowed down the nation's economy.
Kumaraswamy, while expressing his opinion, stated that with opposition uniting against the Union government, there would be a repeat of 1996 in 2019. Notably, similar situations prevailed in 1996, when Opposition parties united to form an alliance and a government came into existence.
Be it Kumaraswamy or Naidu, both of them refrained to speak on naming Rahul Gandhi as Prime Ministerial candidate. Both the leader opined that as the opposition is concerned about defeating the BJP in 2019 Lok Sabha Elections and 'saving the democracy'.
ALSO READ: Rahul Gandhi: Demonetisation a 'planned controversy' to help PM Modi 'Suited-Booted' friends