How To Make Pasta: 5 Quick And Easy Recipes To Make At Home
What to cook when you run out of time? The answer is pasta, and here 5 yummy and quick pasta recipes you can try at home.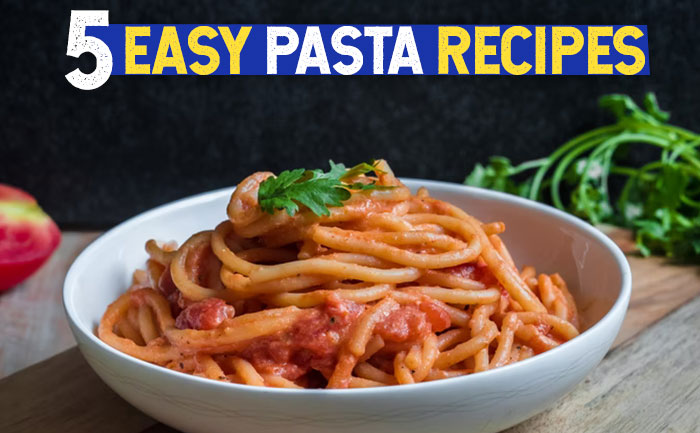 What Is Pasta?
Pasta is a type of food typically made from an unleavened dough of wheat flour mixed with water or eggs and formed into sheets or other shapes, then cooked by boiling or baking. Rice flour, or legumes such as beans or lentils, are sometimes used in place of wheat flour to yield a different taste and texture, or as a gluten-free alternative.
Pasta is a staple food of Italian cuisine. Pasta are divided into two broad categories: dried (pasta secca) and fresh (pasta fresca) Both dried and fresh pasta come in a number of shapes and varieties, with 310 specific forms known by over 1300 documented names. Common forms of pasta include long and short shapes, tubes, flat shapes or sheets, miniature shapes for soup, those meant to be filled or stuffed, and specialty or decorative shapes.
Pasta is very beloved in Italy that individual consumption exceeds the average production of wheat of the country; thus Italy frequently imports wheat for pasta making. In contemporary society pasta is ubiquitous and individuals can find a variety of types in local supermarkets. Pasta is generally served with some type of sauce; the sauce and the type of pasta are usually matched based on consistency and ease of eating.
Plain pasta is composed of 62% water, 31% carbohydrates (26% starch), 6% protein, and 1% fat. A 100-gram (3+1⁄2-ounce) portion of unenriched cooked pasta provides 670 kilojoules (160 kilocalories) of food energy and a moderate level of manganese (15% of the Daily Value), but few other micronutrients. Pasta has a lower glycemic index than many other staple foods in Western cultures, like bread, potatoes, and rice. If you're running out of time and want to cook something quickly, here 5 yummy and quick pasta recipes you can try at home.
Pasta Recipes:
1. White Sauce Pasta
Recipe:
Boil the pasta.
Start by heating 2 tablespoons of butter in a large skillet over medium heat.
Add 1 teaspoon minced garlic and ¼ cup finely chopped onions and cook for a minute.
Saute the veggies until its delicious and crunchy.
Pour 1 cup warm whole milk and whisk continuously.
Add salt, black pepper, dried oregano, and, red pepper flakes.
Add the veggies and the pasta along.
You can add cheddar cheese to your pasta to make it creamy.
Garnish with fresh basil and serve hot.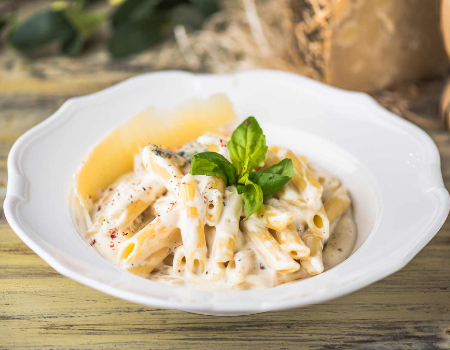 2. Masala Pasta
Recipe:
Boil the pasta for 12-15 minutes. Drain all the excess water and set it aside
Finely chop spring onions, tomatoes, capsicum, garlic cloves, broccoli, green peas, and carrot.
You can either chop the tomatoes or make a puree using them.
Heat 2 tablespoons oil in a pan. Add ⅓ cup the veggies and saute.
Stir and saute on a low to medium flame for 5 minutes.
Now add turmeric, coriander powder, red chili powder, dry mango powder, and garam masala.
Mix the spice powders
Add mixed herbs and cook for 2-4 minutes more.
Add pasta and 2 tbsp tomato sauce.
Mix everything well till the sauce gets coated well.
Once done, add chopped coriander leaves and chopped spring onions greens.
Garnish with some grated cheddar cheese or vegetarian parmesan cheese.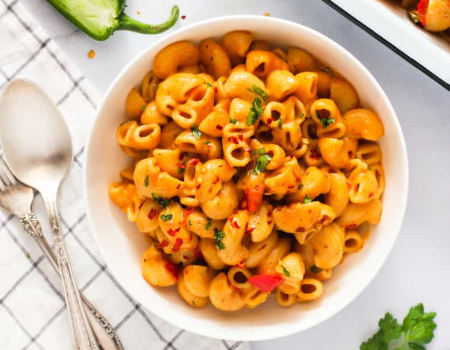 3. Red Sauce Pasta
Recipe:
In a large vessel, boil the tomatoes.
Drain off and peel the skin of tomatoes. Blend the paste.
Boil the pasta in another vessel for 15 minutes. Drain all the excess water and set it aside.
In a pan, add olive oil and add minced garlic along with chopped red chili and red chili flakes.
Add prepared tomato puree, 2 tbsp tomato sauce, and mix well.
Cook for 2-3 minutes more and toss carefully so that each piece is coated with the sauce.
Add basil leaves.
Serve it with garlic bread and relish this delicious pasta.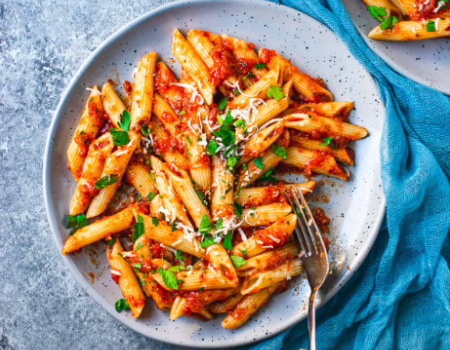 4. Spaghetti Aglio E Olio
Recipe:
Bring a large pot of lightly salted water to a boil. Cook spaghetti in the boiling water.
Once the spaghetti is boiled, strain the excess water and keep the pasta water aside until required.
Add olive oil and garlic to a skillet. Cook and stir until garlic is golden brown.
Add the red pepper flakes and cook for 30 seconds more.
Add black pepper, salt, and basil leaves into the pasta.
Now, add boiled spaghetti to the pan and toss well with the ingredients.
Taste for seasoning and serve warm with some parmesan cheese and olive oil over it.
Enjoy!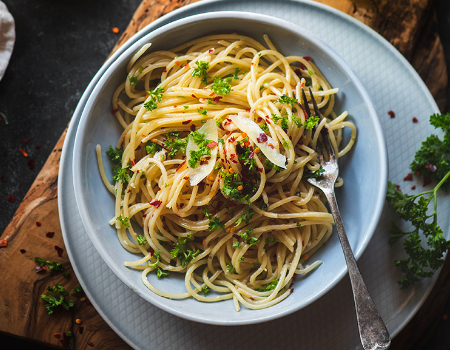 5. Pesto Pasta
Recipe:
Heat olive oil in a pan and add chopped garlic into it.
Cook pasta in a large pot of boiling water until done. Drain.
Add the roughly chopped garlic, toasted pine nuts, and finely grated parmesan cheese to a food processor and process until smooth.
Add the pesto and mix it with the garlic. Also, add salt & pepper.
Toss the hot pasta with the pesto in a large bowl and add cooking water ¼ cup at a time or until saucy.
Sprinkle grated parmesan cheese on top.
Top with the cherry tomatoes.
Serve the pasta with a side of salad/bread.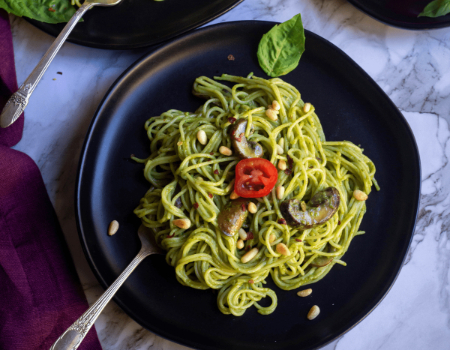 Stay tuned to The Live Mirror for more updates.
ALSO READ: How To Prevent Dengue: Tips And Tricks To Protect Yourself