Amritsar Train Accident Live Updates: Government declares state mourning tomorrow; schools, offices to remian closed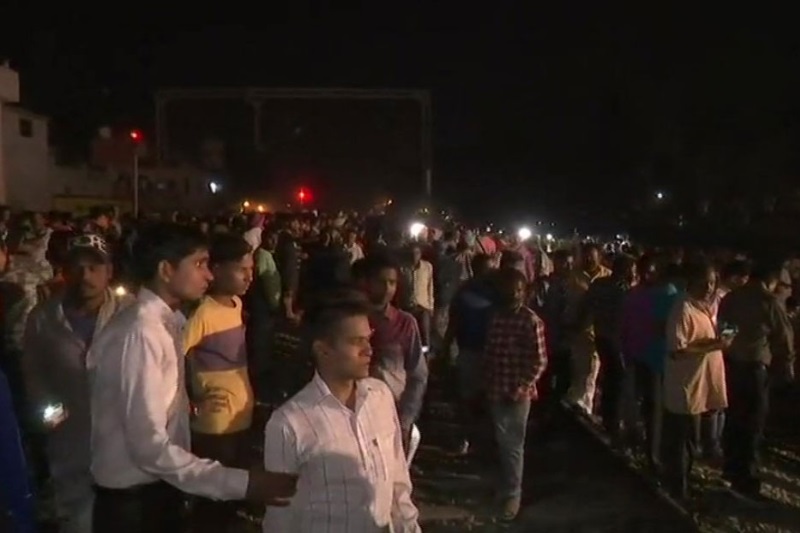 Around 58 people are feared dead after a passenger train ran into a burning Ravan effigy near Choura Bazar in Amritsar on Friday.
Reports state that the train got off track and hit the 500-700 people, who were celebrating Dussehra by burning the Ravan effigy beside the railway track. The train was reportedly running at a speed of 80 to 100 km per hour when it derailed and hit the burning Ravan effigy. The incident took place at around 6:45 pm in the evening.
Watch the live video of the accident here…
Amritsar train accident video pic.twitter.com/hb9Q3f9qL6

— Satinder pal singh (@SATINDER_13) October 19, 2018
12:00 pm: BJP spokesperson Rajesh Honey was present at the event when the accident occured. He says he is the eye witness.
11: 48 pm: 60 people have died, while another 51 have been injured in the Amritsar train accident, confirms Chief Medical Officer of Civil Hospital.
11:10 pm: Around 58 people have died so far, confirms Amritsar Police Commissioner SS Srivastava on
11:00 pm: Over 60 injured people, including children, have been treated till now. Most people have suffered orthopaedic injuries, abrasions, head trauma and eye injuries: said Dr Sandeep, Emergency Medical Officer, Civil Hospital
10:40 pm: Punjab declares state mourning after over 50 people were killed in a devastating train accident in Amritsar. All offices and educational institutions are to be closed.
10:25 pm: Prime Minister Narendra Modi has approved Rs 2 lakhs for the family of the deceased and Rs 50,000 for the injured.
Indian Railways issues helpline numbers for the Amritsar train accident: Helpline telephone numbers are:
Amritsar Railway helpline number: 0183- 2223171 / 0183 2564485.
Manawala Railway station- 73325
BSNL – 0183-2440024
Power Cabin ASR-Rly – 72820
BSNL – 0183-2402927; Vijay Sahota
SSE: 7986897301
Vijay Patel (SSE): 7973657316
9:47 pm: Railways Minister Piyush Goyel is immediately returning back to India from the United States. He has cancelled all engagements there
9:37 pm: Former Punjab CM Parkash Singh Badal has demanded an inquiry into the incident and also asked for severe punishment for those guilty.
9:35 pm: An Indian Railways official says, It is an unfortunate accident. We don't have any confirmation on the numbers who have been impacted by the incident. Accident relief train has reached the site. Minister of State for Railways is also rushing to the spot.
9:32 pm: "The effigy of Ravan was burnt&I had just left the site when the incident happened. Priority is to get the injured treated. Dussehra celebrations are held there every year. People who are doing politics over this incident should be ashamed." Punjab state minister Navjot Singh's wife has said in a statement.
9:25 pm: While Punjab CM Amarinder Singh has informed he will visit tomorrow, Punjab state railways minister Manoj Sinha along with the chairman of Railways Board is rushing to the spot
9:24 pm: Sub Divisional Magistrate Amritsar Rajesh Sharma has said 50 bodies have been found and at least 50 injured have been admitted to a government hospital, reports Times Now.
9:20 pm: Navjot Kaur Sidhu has further stated that "People doing politics on this should be ashamed of themselves"
Also Read: Amritsar train accident: Twitter reacts to devastating accident during festive season
Just In: Navjot Singh Sidhu's wife who was reported to have been presented at the event when the incident took place has issued a statement saying that she had left the event almost 15 minutes prior to the incident.
9:15 pm: Punjab Chief Minister Amarinder Singh will visit the area tomorrow. He has also cancelled his five-day visit to Israel in view of the horrific accident, reports Times Now.
"Shocked and deeply saddened by the tragic train incident that occurred in Amritsar. My heartfelt condolences to the families of the victims. I pray for the injured to recover quickly. Railways are conducting immediate relief and rescue operations," Piyush Goyel.
9:11 pm: Railways Minister Piyush Goyel reacts to the devastating accident.
9:05 pm: Rahul Gandhi on Twitter: The train accident in Punjab in which over 50 people have died is shocking. I urge the state government & Congress workers to provide immediate relief at the accident site. My condolences to the families of those who have died. I pray that the injured make a speedy recovery.
8:57 pm: Extremely sad to hear the unfortunate death of innocent devotees watching Dussehra at Joda Gate in Amritsar by a speeding train. Local organisers and police must answer how the celebrations were allowed to be held near the railway track," Shiromani Akali Dal president and former Punjab deputy chief minister Sukhbir Singh Badal tweeted.
Exact figure is not known but it is definitely more than 50-60. We are still evacuating people: Amritsar Police Commissioner SS Srivastava on #Amritsar train accident pic.twitter.com/6mTGADMILH

— ANI (@ANI) October 19, 2018

Amritsar Police Commissioner SS Srivastava has said that Exact figure is not known but it is definitely more than 50-60. We are still evacuating people.
Cricket turned politician Navjot Singh Sidhu's wife was reported to have been present at the Dussehra event and left immediately after the mishap occurred.
Shocked to hear about the tragedy on rail tracks in Amritsar, Punjab. Understand Indian Railways and local authorities are taking steps to help affected people. Heartfelt condolences to bereaved families #PresidentKovind

— President of India (@rashtrapatibhvn) October 19, 2018

President of India Ramnath Kovind also took to Twitter to share his grief on the accident and assured immediate steps from the railways authorities to help those affected.
Rushing to Amritsar to personally supervise relief & rescue in tragic rail accident on Dussehra in Amritsar. My govt will give Rs 5 lakh to kin of each deceased & free treatment to injured in govt & pvt hospitals. District authorities have been mobilised on war footing.

— Capt.Amarinder Singh (@capt_amarinder) October 19, 2018

Punjab Chief Minister Captain Amarinder Singh has informed that the state government will give Rs 5 lakh each to the deceased and also provide free treatment to all the injured in private and government hospitals. He is also rushing to the incident areas informed Singh via a tweet.
#Punjab: An eyewitness says, a train travelling at a fast speed ran over several people during Dussehra celebrations, in Choura Bazar near Amritsar pic.twitter.com/JziMF03JyS

— ANI (@ANI) October 19, 2018

Reports also state that people began running frantically on realising that the train was nearby and as a result, many fell on the railway track that led to their deaths.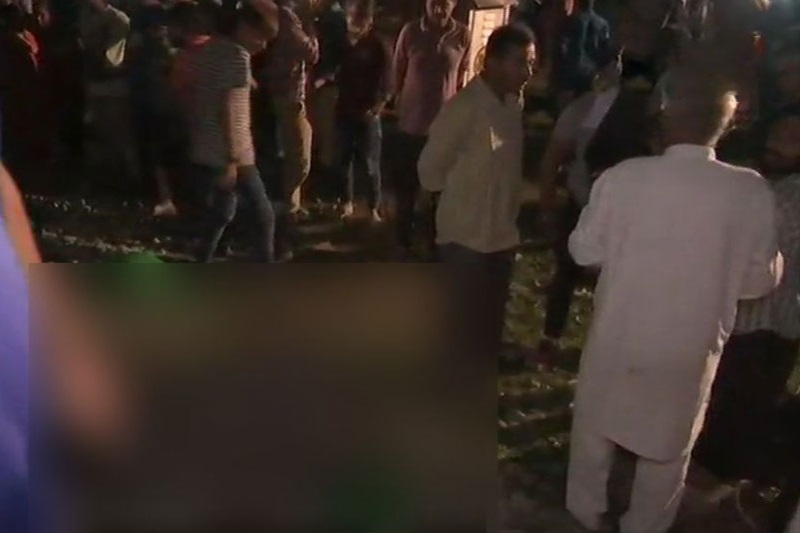 #Punjab: Police says, "There are more than 50 casualties. We are evacuating people, injured taken to the hospital", on accident in which several are feared dead in Choura Bazar near Amritsar pic.twitter.com/ITMeckyIN4

— ANI (@ANI) October 19, 2018

Our first priority is to move the injured people into the hospital," a senior rail police officer was quoted as saying by a national daily.
More To Follow…