'I for India' Fundraiser Concert : Aamir Khan, Kiran Rao And Hrithik Roshan Sing For Frontline Workers
Bollywood Superstars, Aamir Khan And Hrithik Roshan Sing To Raise For Fundraiser Concert 'I for India' To Help COVID-19 Frontline Workers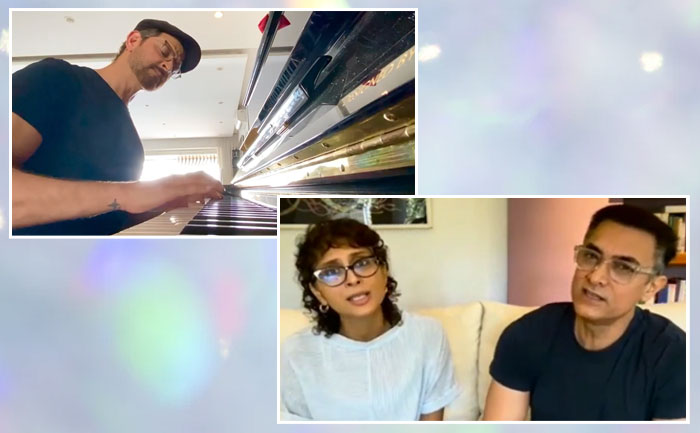 The nation witnessed 85 Indian and global stars come on one platform to raise funds for GiveIndia Covid-19 relief fund for a fundraiser concert which was held live on May 3, 2020. Bollywood celebrities such as Aamir Khan, Kiran Rao and Hrithik Roshan have kickstarted the philanthropic extravaganza by singing classic melodies of hope for the virtual audience.
Sharing heartfelt messages of hope with the audience, Aamir and Kiran made sure to urge everyone to contribute to the fundraiser during their live session. The classic songs they chose were- 'Aa Chal Ke Tujhe' by Kishore Kumar and Raj Kapoor's 'Kisi Ki Muskurahaton Se' from Anari and they both sang them beautifully. Aamir also said that we are passing through a difficult stage and it is important to help the needy and expressed that people should not lose hope. Kiran also said that, everyone should come together in tough times.
Take a look at the video here below:
Hrithik Roshan who was a part of this initiative, as a special sight, the actor sang a song with the accompaniment of a piano. A source close to the event shared, "Hrithik spent over 7 hours practicing the piano and singing. He is neither a professional singer nor a pianist but he put additional efforts and learned the piano notes for this one, on his own."
Take a look at his singing video right here below:
With the nation facing a lockdown to curb the spread of Covid-19, these efforts by personalities like Aamir Khan and Hrithik Roshan inspire many others. Though this is not the first time he has extended his support to help the people affected by the lockdown, the personal touch that Aamir and Kiran gave in order to raise funds is commendable.
For more such updates, stay hooked on to The Live Mirror.
Also Read: Aamir Khan Denies Putting Rs 15,000 In Wheat Bag: It Is Either Fake Or Robin Hood Doesn't Want To Reveal Himself!