Dennis SanSoucie Claims He Was Aaron Hernandez's Gay Lover In High School
Dennis SanSoucie who was a former high school teammate of Hernandez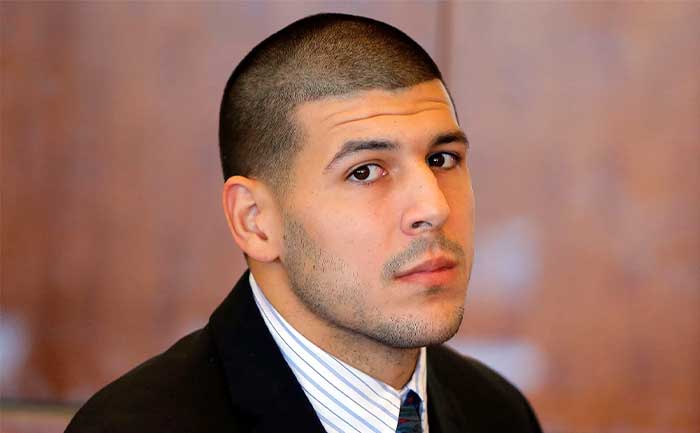 Aaron Hernandez committed suicide over a year ago. However, the details surrounding his troubled life are still emerging years after his suicide. Another detail about the life of the American footballer has now come to light involving an alleged former lover.
Dennis SanSoucie who was a former high school teammate of Hernandez has now come forward revealing that he had a secret gay relationship with Aaron Hernandez throughout high school. SanSoucie revealed this information during an interview with Investigation Discovery. He shared that while they were close friends during childhood, their friendship "progressed to just more than friends," in middle school. SanSoucie also said his relationship with Aaron Hernandez became sexual in middle school. "We didn't want anyone to know. We were just in complete denial of what was really going on."
However, their lives headed into very different directions post-high school. Aaron Hernandez was picked to play for the New England Patriots in the 2010 season. The athlete had a bright career ahead of him but his life went into a downward spiral when he was accused of Odin Llyod's murder in 2013. To add to his troubles, he was indicted for a 2012 double homicide while still under trial. In 2015, Aaron Hernandez was convicted for the murder and sentenced to life without parole. In April 2017, the former athlete committed suicide in his jail cell.
Hernandez suffered from chronic traumatic encephalopathy (CTE). CTE is a condition that forms due to a brain injury and may have had a role to play in Aaron Hernandez's actions.
Netflix is premiering a new Documentary that centers around the life and death of Aaron Hernandez. The documentary is set to release on January 15.
ALSO READ: 2 Million Sign Petition Demanding Removal Of Netflix Gay Jesus Christmas Special