State vs Activists: Top intellectuals compare Modi regime with emergency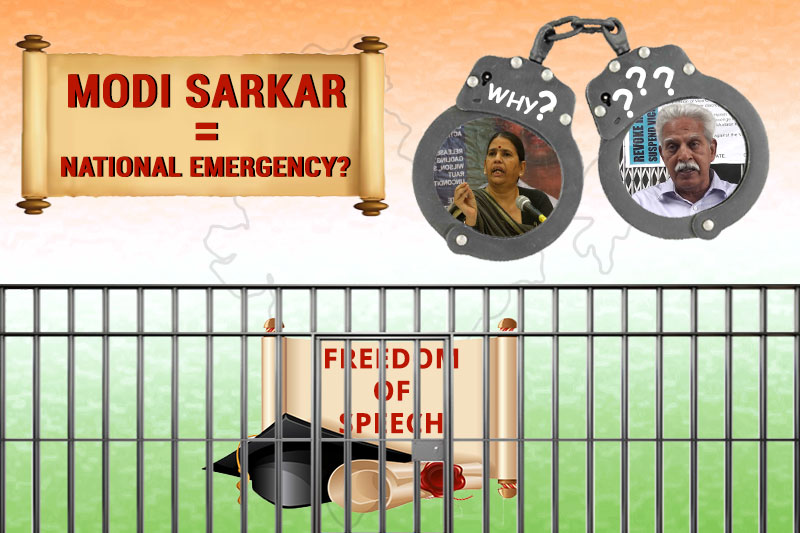 Bharatiya Janata Party (BJP) leader from Karnataka — Basanagouda Patil Yatnal  — advocated that intellectuals be shot down, paid media spread fake stories and now police have been used to raid intellectuals who questioned the government. It's nothing short of a mayhem in the country.
Tuesday was one such day which could be compared with nothing less than a black day in the history of India. Houses of nine social activists and intellectuals in the country were raided by the police, out of which five were arrested.  On the pretext of some allegations or the other of activists and intellectuals being involved in inciting the Bhima Koregaon violence in Maharashtra on January 1. This apart, the intellectuals are also accused of colluding with the Maoists or, for supposedly plotting the murder of Prime Minister Narendra Modi.
Activists charged:
The police are yet to show the grounds on what basis they arrested the renowned activists but this has created a fear among those people who dare to raise their voices against the Union government. Activists whose house have been raided include — journalist Gautam Navlakha in Delhi, writer and activist P Varavara Rao in Hyderabad, civil rights lawyer Sudha Bhardwaj in Faridabad, activists Vernon Gonzalves and Arun Ferreira in Mumbai, Stan Swamy in Ranchi and Anand Teltumbde in Goa.
Miffed with the way activists' houses have been raided, gadgets seized and some of them being arrested too, top intellectuals have compared the situation with the Emergency period. Calling this an attempt to silence the voices raising against the government, intellectuals seek answers. Answers for being harassed on fake charges, answers for being targeted again and again and answers for multiple questions left unheard.
Sceptical towards criticism:
In a recent chat, two eminent journalists Shekhar Gupta and Karan Thapar, the latter had said that no government takes criticism in their stride but this present BJP government is extra cautious and skeptical for any criticism towards them — Big or Small.
"The only explanation I had is that it took them a while to realise that they can control journalists by simply not appearing on their shows," Thapar was quoted as saying by The Print. He added that the government is 'far more conscious of critical opinion and tries hard that it is not easily aired'. Answering a question on the present condition is compared with the emergency, as the website quotes, he said, "What we are going through today, as reprehensible and deeply worrying as it may be, is not tantamount to Emergency."
'Undeclared Emergency'
However, highly-acclaimed author and Pulitzer awardee — Arundhati Roy — did not agree with Thapar on his Emergency quote. She blames the government for specifically targeting intellectuals. She opines that they (BJP) are 'anti-intellectuals' and fear the intellectuals. She stressed the point that the present situation in India is of 'Undeclared Emergency'.
Sharing her opinion with NDTV, Roy said, "That the raids are taking place on the homes of lawyers, poets, writers, Dalit rights activists and intellectuals — instead of on those who make up lynch mobs and murder people in broad daylight, tells us very clearly where India is headed. Murderers will be honoured and celebrated. Anybody who speaks up for justice or against Hindu majoritarianism is made into a criminal."
She was of the view that the government is doing these things as a preparation for the upcoming 2019 Lok Sabha elections. Roy said, "It is in preparation for the coming elections. We cannot allow this to happen. We have to all come together. Otherwise, we will lose every freedom that we cherish. It is as close to a declaration of an Emergency as we are going to get."
Biased media reports:
This might sound weird to the right-wingers, but the fact is that the government is afraid of intellectuals. Sharing her opinion on the recent raids, seizures and arrests, senior professor of Delhi School of Economics and renowned author — Nandini Sundar — alleged that these are all done with the help of biased media houses such as Times Now and Republic Tv.
Sundar, as quoted in The Wire, "The current spectre being created of a vast and ever-expanding 'urban Maoist' network, through an active collaboration between the police and some television channels, feels like a 'fast forward' to fascism. 'Explosive' letters speaking of a 'plot' to kill the prime minister appeared mysteriously first in the hands of Times Now; while purported letters from advocate Sudha Bhardwaj to some Comrade Prakash were breathlessly exposed on Republic TV."
Calling these letters an attempt to defame and create hatred against the democrats and assail the very concept of human rights, Sundar said, as quoted by the website, "The illiteracy and improbability of such letters – which clearly take names, talk about money flows, connect Kashmiri separatists, stone pelters, human rights lawyers, JNU and TISS students, protests against the Unlawful Activities (Prevention) Act, or UAPA, the Congress party and everything else the BJP and the police dislike – really doesn't matter. The purpose is to defame, to intimidate, to polarise and to create hatred against democrats, as well as to assail the very concept of human right."
Charges framed on Sudha Bhardwaj:
With charges put against 'Sudha Bhardwaj — IPC 153A, 505(1)(b), 117, 120B, 34, UAPA 13,16,17,18,18B, 20, 38,39, 40 — anyone might think that she is a proven terrorist but how come one forgets the fact that she is a hugely respected trade unionist, labour lawyer, and visiting professor at the National Law University Delhi!
Other renowned intellectuals who have shared their opinions on these raids and compared this to 'Undeclared Emergency' include — Ramchandra Guha and Teesta Setlawad.
As a biographer of Gandhi, I have no doubt that if the Mahatma was alive today, he would don his lawyer's robes and defend Sudha Bharadwaj in court; that is assuming the Modi Sarkar hadn't yet detained and arrested him too

— Ramachandra Guha (@Ram_Guha) August 28, 2018
Shocking raids in the homes of lawyers, activists and academics. Adv Sudha Bharadwaj reprtdly in.pokuce custody. Shame. Undeclared emergency? Fr Stan Swamy, Anand Teltumbe, etc etc Susan Abraham, Arun Fereira what is going on ? @AIIndia @cjpindia @sabrangindia @ohchr

— Teesta Setalvad (@TeestaSetalvad) August 28, 2018
ALSO READ: CIC refuses to divulge cost of Amit Shah's security cover, rejects RTI!