Advice to Mr Lal: Stop being a 'Halogen Bulb' of politics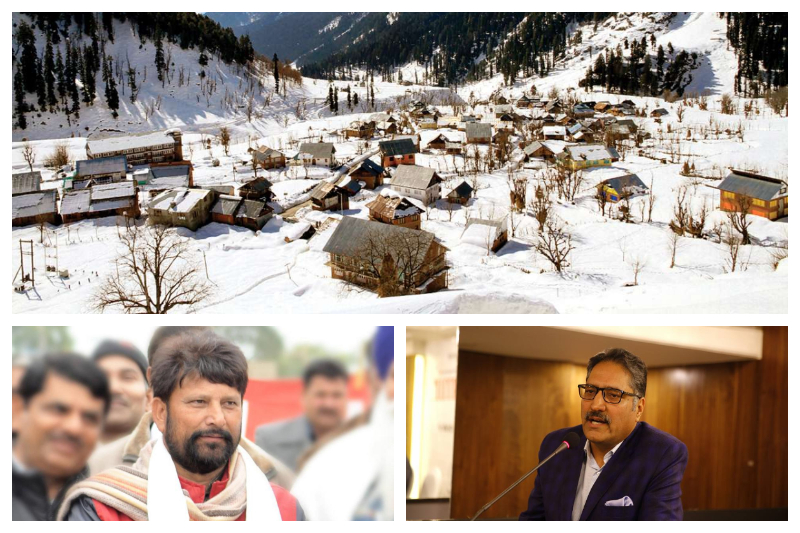 Eminent journalist Shujaat Bukhari was brutally murdered by 'unknown' terrorists a day before 'Eid', this year in the Valley, which is termed as 'Paradise of Earth'. A paradise where 'half widows' are waiting for their husbands; and mothers, whose eyes have no tears left. A paradise where a small child is being brutally raped in Kathua and a BJP leader rallies in favour of accused. Shall I even call this a paradise!
Though that chosen legislator had to resign from the ministerial post following a sea of anger from the people in media, academics and his own political arena, he remains to behave as an adamant foolish child, who has 'big mouth, but small brains'.
My grandmother use to say in Bengali – 'Aolpo bidya bhoyonkori' (Less knowledge is dangerous) – to me often when I commit mistakes and behaved arrogantly. Perhaps this applies to senior BJP leader Choudhary Lal Singh too. Without knowing the repercussions of his statements, he threatened the fellow journalists of Kashmir to 'Draw a Line' and 'Take Care' of themselves to avoid fate like of Rising Kashmir editor-in-chief Shujaat Bukhari. I mean really…who are you Mr. Singh to threaten us? Or had the murderers of Bukhari informed you about their plan?
'Halogen Bulb'
Just in order to be in the news and become the 'halogen bulb' of the political arena, threatening the journalists is not acceptable. Also, commenting on a senior journalist like Bukhari, who sacrificed his life for bringing peace in the Valley and initiating dialogue process between the two 'unfriendly' countries, don't you think it was inappropriate?
However, nothing more can be expected from you, who participates in a rally in January arranged by the Hindu Ekta Manch in Hiranagar area in support of the accused of the Kathua rape. Mr Singh needs to understand this that the situation in Kashmir is not because of media reporting facts, it is due to the negligence of both the State and Central government who do not want to solve issues. Who do not want to sit in with a dialogue will all stakeholders – including the 'separatists'.
If a reporter in the valley is reporting the facts and doing justice to the incident, by bringing out the truth in open, is killing him or her (scribe) an only option? Is threatening them to back down, or putting the 'Pen Down' only option? Will silencing the truth bring peace and prosperity in the Valley? It's a big 'No'.
'Free' from 'Muft'-i
The Bharatiya Janata Party at the centre made a coalition with Mehbooba Mufti's Peoples Democratic Party in February 2015, after a fractured mandate. However, after three years, the saffron woke up from their sleep suddenly, realising that this government cannot run! Party president Amit Shah announced 'Free' from 'Muft'-i.
I want to ask you why did BJP did not break its alliance after Burhan Wani's death rally was organised in Valley? Why did BJP did not break its alliance post 'Surgical Strike'? Why did BJP did not break its alliance after multiple cease fire violations? And why did the BJP did not break its alliance when cases of stone pelters were taken back by Mufti?
It is of no surprise that the Deputy Chief Minister post in the BJP-PDP government in Jammu and Kashmir belonged to BJP only. Along with nine ministers in the coalition government, how can the BJP say that Mufti did not develop the state. Was the power only in the hands of Mufti? Was BJP not involved in budgetary decisions? Were BJP leaders not attending the Assembly sessions?
BJP and its leaders do know their politics well. They just washed their hand off, citing reasons of increasing terrorism in Jammu and Kashmir, non-development of Jammu and Ladakh region and death of Shujaat Bukhari.
But, wait a minute. Who is the BJP and the leaders trying to fool in Jammu and Kashmir? Kashmir is known for its 'Kashmiriyat', where giving respect to others is not only a tradition, but welcoming people is a culture. Where voice is open and democratic and freedom is not curbed. This is Kashmir and 'Kashmiriyat' my friend Lal Singh and threatening the 'whistleblowers' will certainly not help you find a place in real Kashmir.
However, you can try with your fullest attempt which you did while trying to stand for Kathua rape accused in January and then turning sides in April, demanding justice for the little girl. But hey, neither the journalists are afraid, nor the people are fools. So even if you switch your side in this political carom board now, we know what you are upto. Just waiting for it to happen soon.