Afghanistan Mosque Blast: 100 Dead & Several Wounded
Suicide Bomber Kills 100 Wounded Several In Northern Afghanistan Shia Mosque Blast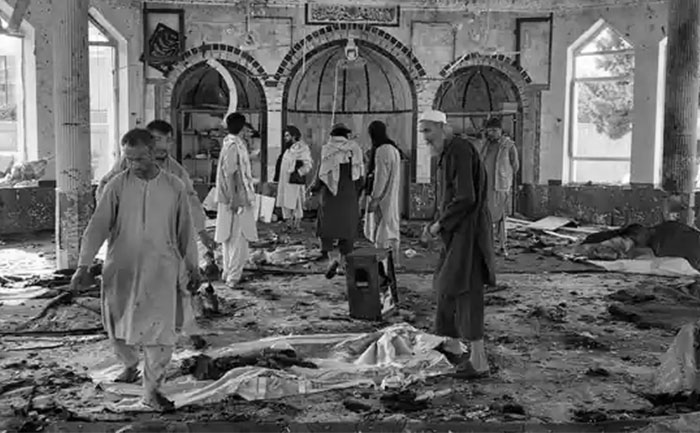 A suicide bomber blew himself up inside a Shia mosque during Friday prayers in Afghanistan's northeastern city of Kunduz. The Afghanistan mosque blast killed at least 100 worshippers and injuring about 150. This is the country's worst attack ever since the Taliban took over control in August.
The explosion tore through the mosque in the city of Kunduz during noon prayers. It blew out windows, charred the ceiling and scattered debris and twisted metal across the floor. Bloodstains covered the front steps as rescuers carried the dead and the wounded out.
Citing preliminary reports, the deputy Taliban police chief of Kunduz province, Dost Mohammad Obaida, said more than 100 people had been killed or wounded in the afghanistan mosque blast.
The worshippers targeted were Hazaras. They have long suffered from double discrimination as an ethnic minority and as followers of Shiite Islam in a majority Sunni country.
The Islamic State in Khorasan Province, ISKP (ISIS-K) claimed responsibility for the attack through its Telegram channels on Friday. It was the latest in a series of IS attacks targeting Afghanistan's new Taliban rulers. The Groups affiliated with the ISIL (ISIS) group have a long history of attacking Afghanistan's Shia Muslims. There have been several attacks, including one at a mosque in Kabul, in recent weeks, some of which have been claimed by ISIS-K.
It seems that the ISIS-K is looking to expand their hold across Afghanistan. Looks like in the near future there will be a face-off between the Taliban and the ISIS-K.
Also Read: Ukraine Evacuation Plane Hijacked In Kabul, Diverted To Iran