Amazon slammed for selling toilet seat covers with images of Hindu Gods
Amazon does it again. This time they are selling toilet seat covers with images of Hindu Gods.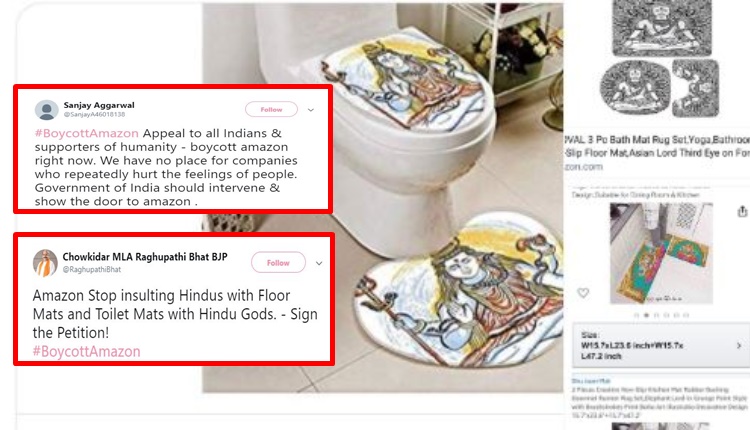 E-commerce companies are like a boon for the people but what if hurt the religious sentiments of people. Amazon has hurt the sentiments, especially of the Hindu community. We wonder why a reputed company like Amazon did this.
Amazon was selling shoes, slippers, rugs, mats and toilet covers with images of Hindu gods on it. This has faced flak on Twitter and now #BoycottAmazon is trending on Twitter. Many Twitter users have slammed the company for hurting the religious sentiments of the Hindus.
Have a look at some of the trolls.
Mistake is a mistake when it is done once or twice

But #Amazon is a repeat offender who seems to enjoy hurting the religious sentiments of #Hindus

Do u have the guts to sell products mocking Islam or Christianity or Hindus are soft targets??

Shame on Amazon#BoycottAmazon pic.twitter.com/Y7mmi2fhzv

— Sushil Dixit (Adv) (@advosushildixit) May 16, 2019
#BoycottAmazon
Show some bloody respect to Indians
Amazon???? pic.twitter.com/RTo3bY35Yf

— Sangem shekar (@SangemShekAR116) May 17, 2019
#BoycottAmazon What are you guys trying to prove? Who are you trying to appease by doing this? What happens to everyone's cultural appropriation when it comes to Hinduism? pic.twitter.com/xLz53zSmrU

— Deepak Nadgir (@deepaknadgir) May 17, 2019
#BoycottAmazon
I am uninstalling the Amazon app, hate to see Indians religious icons on footwear etc, hurting sentiments!
Good bye forever!!https://t.co/3EWF6kdnNO

— Murali Sridhar (@twinmurali) May 17, 2019
#BoycottAmazon
Shame on you Amazon. I am holding couple of items to buy. In a day or 2 if they don't pull out the product and tender an apology, I will move to flipkart.

In the past same treatment met to Snap Deal. So history repeating, beware of this.@amazon @amazonIN

— Chowkidar GoodCitizen (@MyLuckyCityBang) May 17, 2019
This is not for the first time Amazon has done something like this. Earlier in 2017, Amazon was selling the national flag of India online. External Affairs Minister Sushma Swaraj issued a warning of not granting Indian Visa to any Amazon official and asked them to apologize and remove the products. Post this they started selling skateboards with Lord Ganesha's image on it. This was not enough. Again in 2018, it received criticisms from the Sikh community as the image of Golden Temple were put on the doormats, rugs and toilet seat covers and reportedly sold by the company.
In 2019, they did the same by selling floor mats having Islamic scriptures. This has been repeatedly done by Amazon and they have hurt the sentiments of almost all the religions.
Also Read: Apple Could Compete Amazon Echo & Google Home By Acquiring Pullstring