American Rapper Tyga arrives in Mumbai ahead of his Sunburn performance
Rapper Tyga known for his hits like Still Got it, Rack City will be performing in the city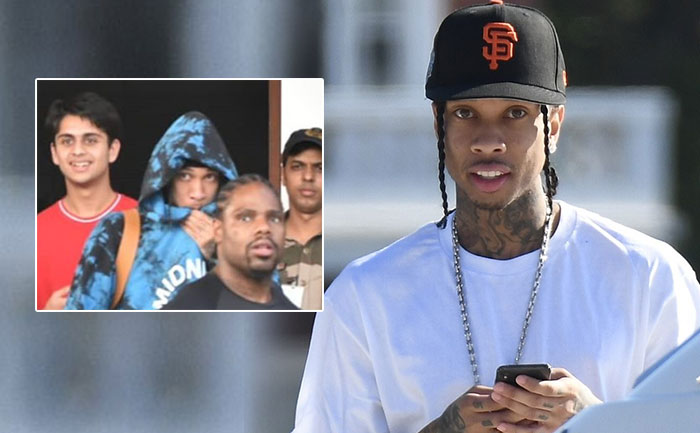 Rapper Tyga arrived in Mumbai ahead of his Sunburn Performance. The American Rapper Tyga is known for hits like Rack City, 'Ayo', and 'Still Got it'. The rapper will be performing in the city's suburbs on Friday. Apparently, Tyga's show is anticipated to be humongous hit.
Meanwhile, Tyga was spotted at private airport exit in the city. The American rapper was seen dressed in a tie-dye blue and black sweatshirt. However, Tyga succeeded in hiding his face for sometime. Also, he concealed his head with a hood. Previously, the rapper made his debut in India last year. Check out the picture below.
In 2018, Tyga made his India debut for a luxury pop-up in New Delhi. Also, the american rapper will be performing in Mumbai for the Sunburn Arena on November 29 at MMRDA, BKC.
"I had a great experience in New Delhi last year. But I always wanted to tour Mumbai. I've heard the hip hop music industry is one to watch out for. I'm really excited to attend the arena concert curated by Sunburn and meet all my fans out there." he said in a statement.
Furthermore, the 30 year old rapper is expected to perform his smash hit tracks like AYO, Rack City, Still Got it, Make it Nasty, Temperature for his debut Mumbai tour. After popular singers Katy Perry and Dua Lipa who performed at One Plus Music festival sometime ago, now it is turn of american rapper Tyga to perform in Mumbai. He will be performing at the 13th season of Sunburn.
Also Read: After Dua Lipa And Katy Perry, Now Tyga To Perform In Mumbai