City district Table Tennis: Amira Jhaveri of DY Patil School annexes U-12 title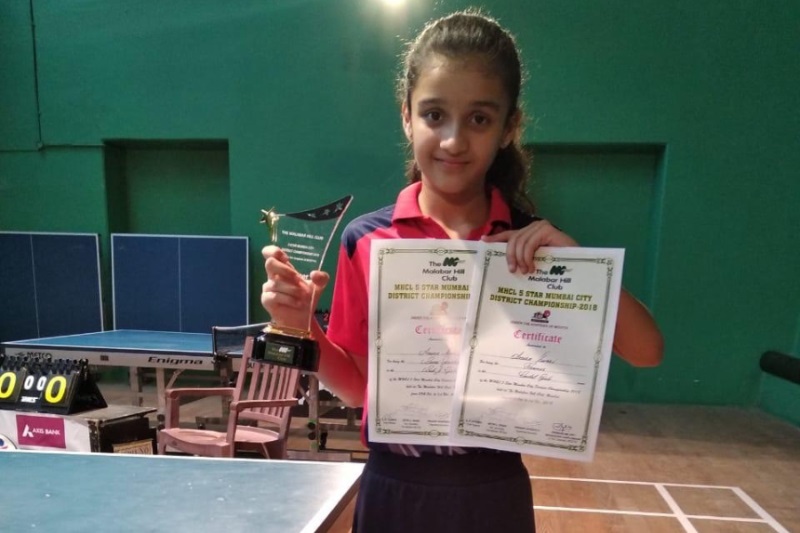 Amira Jhaveri of DY Patil International School exhibited some impressive skills to annex the prestigious Under-12 Cadet girls title in the Malabar Hill Club 5 star Mumbai city district Table Tennis championships 2018 that concluded last week. The tourney was conducted under the auspices of the Mumbai city district table Tennis association (MCDTTA).
The cadet girls singles final saw a seesaw battle with second seed Amira Jhaveri get the better of the top seed Keisha Jhaveri 11-7, 3-11, 11-4, 7-11 and 12-10.
Beginning at the age of 9, Amira improved by leaps and bounds in short span and was already a promise in the U-10 category. Graduating to the U-12 wasn't a difficult one for this child prodigy.
"We are thankful to her coaches Kedas Kasbekar, Narendra Chiiplunkar and dean chill for believing in her and keeping faith in her," said Amira's mother, Aditi.
After winning the city district title, Amira will now set her eyes on the prestigious Maharashtra state level championships to be held in Pune later this month. She will compete in both U-12 and U-15 categories. 
ALSO READ: Anaishaa Nahar defies age to win MSSA U-8 chess title