Amitabh Bachchan Birthday special: Unknown and rare facts of the Shahenshah
Happy Birthday Amitabh Bachchan: Rare facts of the superstar that will stun you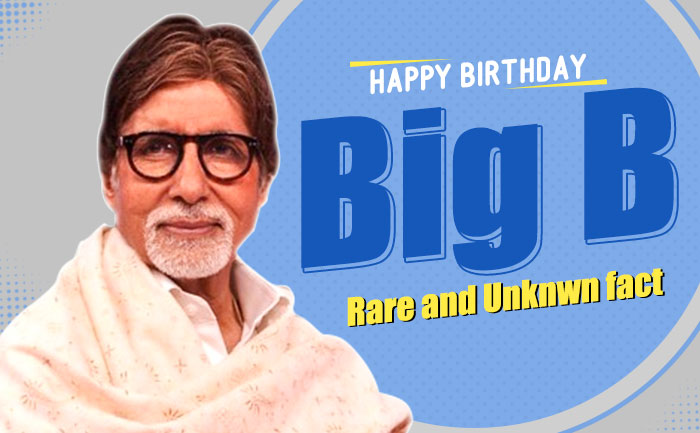 Amitabh Bachchan one of the finest performers on the big screen from the Indian Film Industry. The actor is known for his towering presence and baritone voice. He also has a humongous fan following all over the globe. The megastar will be celebrating his 77th birthday on October 11, 2019. On this special day, we share with his fans some rare and interesting facts about Big B.
Here are some unknown and rare facts of Amitabh Bachchan:
Amitabh Bachchan's real surname is Srivastava. His father had taken up Bachchan as his pen name that was later adopted by the family.
2. He gave 12 consecutive flops and was known as a flop star. But Zanjeer changed his luck and Bollywood got its first Angry Young Man.
3. He is the first Asian actor to have his wax model displayed at Madame Tussauds in London. In 2009 his wax effigies were also placed in New York and Hong Kong.
4. Big B and Sridevi starrer Khuda Gawah is one of the most-watched Indian films in Afghanistan. The movie was shot entirely in the Afghan nation and President Najibullah Ahmedjai had given VIP treatment to Amitabh and had also put their half air force only for his security.
5. He is the only actor who has played a double role in most of the films. From Don, Kasme-Vaade, Sooryavansham, Bade Mian – Chote Mian to Lal Badshah. In'Mahaan' he had even played a triple role.
6. Big B is a big fan of Waheeda Rehman and considers her the most beautiful Bollywood actress. There is a story that during the shoot of Sunil Dutt's Reshma Aur Shera the actress was shooting bare feet in hot sand. A concerned Big B had carried her slippers and ran towards her the moment the director announced a break.
7. He loves collecting hi-end watches and has one for each occasion. His favorite is Longines. Big B also collects Pens and has more than a thousand pens in his collection. German company Mont Blanc gifts him each year on his birthday a special pen.
8. His sense of dressing is par excellence. Amitabh is fond of wearing suits. His favourite brand is 'Gabbana' for the last 30 years. His second favorite brand is Fratelli Rossetti.
9. Amitabh Bachchan met his wife Jaya Bachchan first at Pune's Film and Television Institute. He was shooting for 'Saat Hindustani' while Jaya was studying there. They are the only husband-wife Jodi who has worked together in more than 30 films.
10. When Big B first came to Mumbai he spent many nights at Marine Drive. One of his mentors in the early days of his career was comedian Mehmood in whose house the megastar lived during his initial days.
We wish the megastar a Very Happy Birthday and may he celebrate many more to come.
Also Read: Koffee With Karan Time Machine: A tribute to Amitabh Bachchan & Family