Anushka Sharma's Creepy Smile Has Arjun Kapoor Concerned For Vamika
"Hope you don't smile like this with Vamika around" Arjun Kapoor's Hilarious reaction to Anushka Sharma's Creepy Pack Up smile leaves Ranveer Singh in splits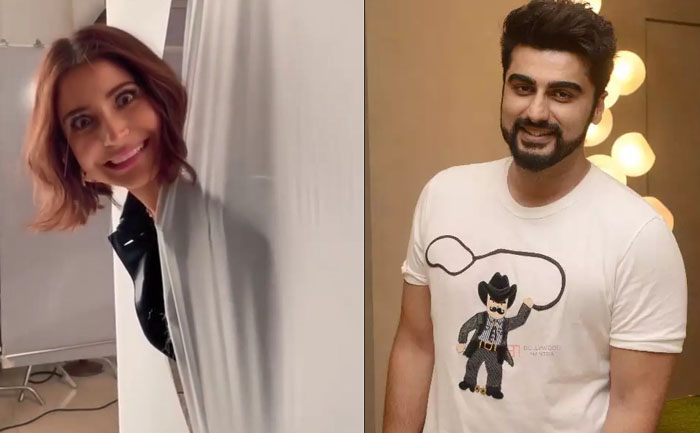 Anushka Sharma is back in the country after a long holiday in the UK. The actress has resumed work once again. Anushka recently shared a BTS video on Instagram that shows her smiling upon hearing pack-up. But Arjun Kapoor found her smile creepy and is concerned for Vamika. He hoped that Virat and Anushka's daughter Vamika does not see it.
Anushka Sharma took to Instagram and shared a picture. It showcased the actress smiling on hearing about pack up. She captioned the post, "Did anyone say pack up (sic)?"
Check out the viral picture here:
View this post on Instagram
In the video, the actress can be seen peeping from between the curtains and then flashing her big smile with her eyes wide open. Good friend Arjun Kapoor took to the comment section and wrote, "Hope you don't smile like this with Vamika around (sic)." Ranveer Singh found Anushka's video hilarious. He wrote, "Hhahaahahahahahahahahaha (sic)." Katrina Kaif complimented Anushka's hair. "Loveeeee the hair," she wrote.
Anushka and Virat welcomed their first child Vamika earlier this year. The mother-daughter duo spent close to three months in the UK, where Virat was playing with the Indian cricket team. Vamika's six-month birthday was celebrated by Virat and Anushka with a picnic in the park.
On the work front, Anushka Sharma's production company, Clean Slate Filmz has backed Pataal Lok for Amazon Prime Video and Bulbbul for Netflix in 2020. They are also backing Irrfan Khan's son Babil Khan's debut project Qila.
Also Read: Alia Bhatt, Vaani Kapoor join Anushka Ranjan's Birthday Bash-Bridal Shower