Apple Event October 2018 Roundup: All Important Features, Announcement & Updates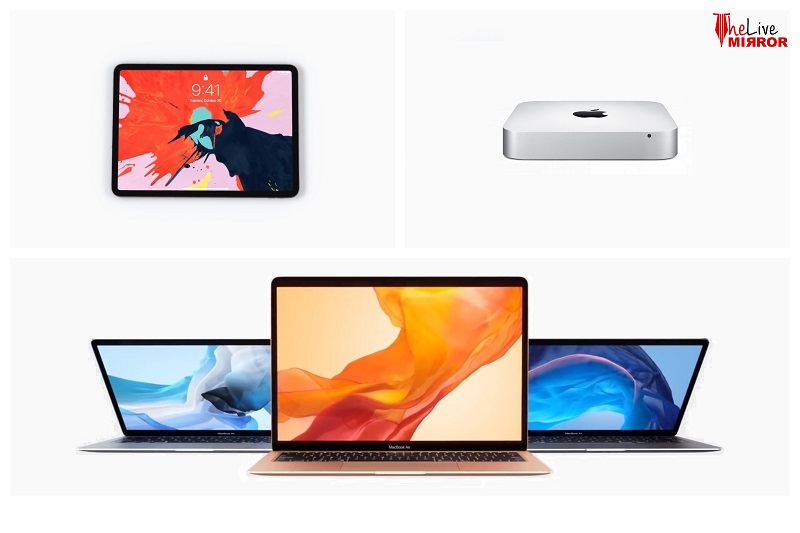 Lightness strikes again. The most loved Apple products are about to make you fall in love all over again. Apple introduced three new devices today in New York, reviving the Mac mini and MacBook Air, and refreshing the iPad Pro with a new Apple Pencil 2 and Smart Keyboard. Here are the details
Apple Special Event October 2018 Roundup:
MacBook Air:
Apple unveiled the new MacBook Air today at an event in Brooklyn. The new model will sport a 13.3-inch, edge-to-edge retina display. It will also offer the company's signature Retina technology along with Touch ID.
The new MacBook Air is now empowered by an 8th-generation Intel Core is processor and also comes with Apple's T2 security chip. It is said to be the more secure boot process of any notebook, and paired with 16GB of RAM and up to a 1.5TB SSD.
This new wonder gadget comes with Apple's new butterfly keyboard which was first introduced on the MacBook Pro. Also including a new trackpad that supports force touches. Its connectivity features include two USB-C ports and a headphone jack as well.
This device is made of 100 percent recycled aluminium and the computer is much lighter. It reduced overall volume by 17 percent. The new MacBook Air weighs 2.75 pounds only, which is comparatively a bit lighter than the previous MacBook Air model that was available for 2.96 pounds.
The MacBook Air 2018 Edition is pegged at $1,199 and will be available to order today and will be available for purchase starting November 7.
Mac Mini:
The updated Mac mini now comes with a massive increase in performance. With the highly functional quad- and 6-core processors, up to 64GB of faster memory and blazing fast all-flash storage, the new Mac mini delivers an insane five times faster performance, making it the most powerful Mac mini ever made. With the Thunderbolt 3 ports, the Apple T2 Security Chip and a 10GB Ethernet option, the new Mac mini is a faster and more capable desktop that can do so much more.
Quad- and 6-core 8th-generation Intel Core processors with Turbo Boost Speeds up to 4.6GHz and Intel UHD graphics, Mac mini delivers up to five times faster performance than the previous generation.
The updated Mac mini now comes And with up to 64GB of 2666 MHz memory, Mac mini can load larger files into memory, run more virtual machines or manipulate even larger data sets. The SSD on Mac mini is up to four times faster because now it sports a capacity up to 2TB, so working with large files and opening apps is quicker than ever.
The software loaded during the boot process will not get tampered because of the upgraded Secure Enclave in T2. T2 also features HEVC video transcoding that's up to an incredible 30 times faster
The News Mac Mini 2018 Edition is priced at USD $799 and would be available from November 7 onwards.
iPad Pro
Apple in New York on Tuesday announced the launch of the much-awaited refresh to its iPad Pro range of premium tablets.
The two new iPad Pro tablets – 11-inch and 12.9-inch – are launched with upgrades including a sleeker design, no home button, thinner bezels, support for Face ID technology with Animoji/ Memoji, a USB Type-C port instead of the proprietary Lightning port, a faster Apple A12X Bionic chip and a 7-core Apple graphics chip.
Notably, it is also the first iOS device to sport the USB Type-C connector port.
Both the iPad Pro variants — 11-inch and 12.9-inch, will be sold in 64GB, 256GB, 512GB, and 1TB storage options.
The iPad Pro models are updated with the A12X Bionic chipset. This 7nm chip that has more than 10 billion transistors, and it has an 8-core CPU that includes four performance cores and four high-efficiency cores. As compared to the previous generation models it delivers twice the graphics performance. These two models are 92% faster than all laptops sold in the past year.
If rumours are to be believed, the new iPad Pro models ditch the proprietary Lightning port in favour of a USB-C port. The USB-C affords, the USB-C port on the iPad Pro provides power and can actually charge accessories. These new models still offer up to 10 hours of usage per charge.
The starting price of the 11-inch model is $799 with 64GB of storage and there are four different size options up to 1TB.
While the 12.9-inch model gets a starting price of $999.
Booking orders open today and the iPad Pro will be available in stores on November 7th. Though the current 10.5-inch iPad Pro will remain available for purchase.
Second-Gen Apple Pencil
The new Apple Pencil which is launched today, attaches magnetically to the new iPad Pro. Other than that, it pairs automatically and charges wirelessly anytime it's attached to an iPad Pro.
It has a new easy to grip octagonal design and a bunch of nifty new features. Such as, a double-tap on the new Pencil lets one change modes, like from writing to erasing.
Smart Keyboard Folio
In the mean time, Apple Inc has also announced a new keyboard accessory that attaches to the 2018 iPad Pro models. This new Smart Keyboard Folio includes a full size keyboard as well as a kickstand on the back that props the iPad up like a laptop screen.
Also Read: OnePlus 6T Price in India, Specs and Feature