Kashmir Crisis: What is Article 370? How does it facilitate the people of Kashmir?
Kashmir Crisis: Article 370 decoded and how it facilitates the people of Kashmir valley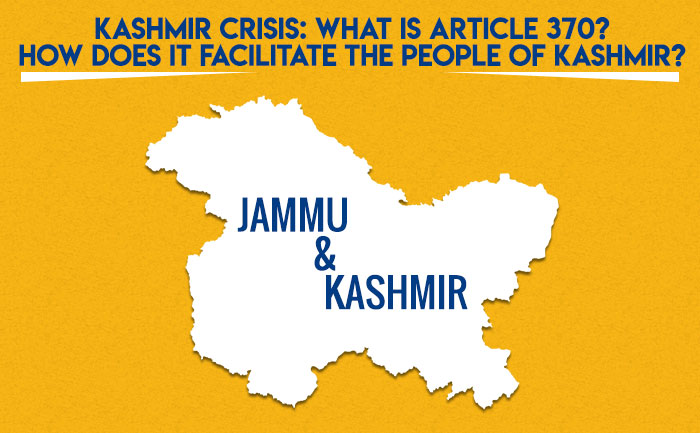 Since the past couple of days, we have been hearing much about Article 370. Ever since the government issued a statement asking pilgrims, tourist and outstation students to leave the Kashmir valley as soon as possible. There have been speculations abounding if Article 370 that lends Kashmir special status is being abolished by the Modi government. From politicians to the common man each has been waiting with bated breath to know all about it.
Finally, the day is here and the Government has abolished the controversial Article 370. Post scrapping of the controversial article 370, The Home Minister Amit Shah has passed that Jammu & Kashmir along with Ladakh will now be considered as Union Territories. The stand taken by the government has caused an uproar in the House, its ripples have spread far and wide.
Article 370: Everything you should know about it
According to the Constitution of India, Article 370 provides temporary provisions to the state of Jammu and Kashmir, granting it special autonomy.
As per the Constitution, Article 370 gives special privileges to Jammu and Kashmir.
Article 370 allows the state its own constitution, a separate flag and independence over all matters except foreign affairs, defence and communications.
This Article specifies that except for Defence, Foreign Affairs, Communications and ancillary matters, the Indian Parliament needs the state government's concurrence for applying all other laws.
Under Article 370, the Indian Parliament cannot increase or reduce the borders of the state.
It permits the state to draft its own Constitution.
The state's residents lived under a separate set of laws, including those related to citizenship, ownership of property, and fundamental rights.
Non-Residents of the State cannot own or buy property in J&K under the provision.
This provision of the Constitution allows the Jammu & Kashmir state Assembly to define who is and is not a "permanent resident" of the state.
Also Read: Centre Scraps Article 370 from Jammu & Kashmir: Amit Shah in RS