Asia Champions Trophy: India begin title defence 11-0 win over Oman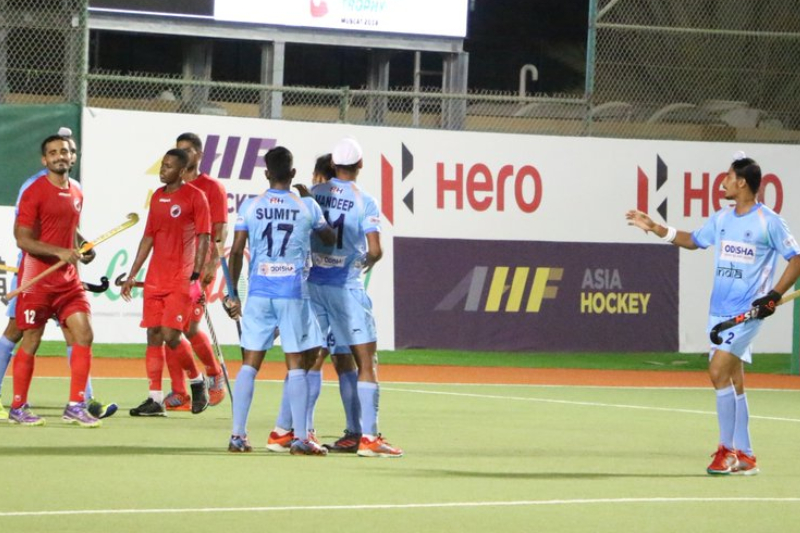 Striker Dilpreet Singh scored a hat-trick as India thrashed hosts Oman 11-0 to begin their Asian Champions Trophy title defence in style in Muscat.
Dilpreet scored three (41st, 55th and 57th minute), while Lalit Upadhyay (17th), Hermanpreet Singh (22nd), Nilkanta Sharma (23rd), Akashdeep Singh (27th), Mandeep Singh (30th), Gurjant Singh (37th), Varun Kumar (49th) and Chinglensana Singh (53rd) scored the other goals for India against a hapless Oman.
India played well in the first quarter attacking the opposition goal on numerous occasions but were denied by decision making. That was, however, put behind two minutes into the second quarter when Lalit scored from open play to put India ahead.
Floodgates opened immediately after the goal and by the end of the next 20 minutes, India had added five more to their scoreline, making any chances of comeback already impossible for Oman.
Also Read: Indian captain Virat Kohli on the verge of scoring 10,000 ODI runs
Hermanpreet scored from a drag-flick, while Nilkanta and Mandeep added from some neat play as Oman, who had begun the first quarter promisingly were caught inside their own half for the majority of the match.
Goals continued flooding in the second half with Dilpreet completing his hat-trick, while Gujrant, Varun and Chinglensana also added to the scoreboard. Dilpreet was adjudged the Man of the Match, his fist for the senior team.
"It was not just an individual effort. My teammates created the openings for me to score the goals," he was quoted as saying by news agency PTI following the victory.
Meanwhile, India head coach Harendra Singh with the opening match was their first target. "We are happy to start in this manner, but tougher competition is ahead of us," said Harendra elated with the win.
Oman coach Tahir Zaman though felt that his team let themselves down with multiple defensive errors. "I am not happy at the manner in which we played the first quarter. We have a lot of work to do," said Zaman, a former Pakistan hockey captain.
"We gave away four or five goals that should not have been there. We were playing against Asia's highest-ranked team. Our target was to sustain and absorb the pressure that was expected from India," he added, reports the news agency.
He was happy with his team's confidence but admitted that the gulf in quality was evident after the first quarter, where Oman lost the plot. "Despite the highly skilled opponents, our team did well to create some scoring opportunities in the first quarter. But the difference in quality became evident as the game proceeded."
India takes on Pakistan in their next encounter on Saturday.
Image Source: Twitter