Floods in Assam, Arunachal Pradesh 3 killed, lakhs affected
Brahmaputra leaves trail of destruction in Assam, more than 1.9 lakh people displaced due to floods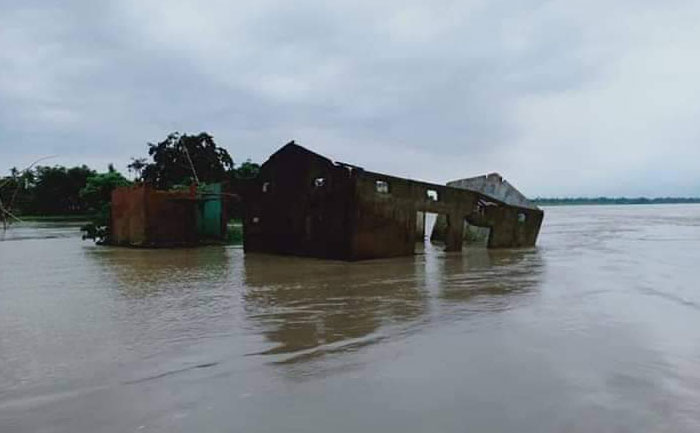 Assam has been hit by the second wave of floods, with 36,707 people affected in four districts. The death toll has risen to 11. One person was killed and more than 1.89 lakh people have been affected in nine districts. The flood situation is worsening with each passing day as new districts are being inundated by the furious Brahmaputra river.
Its continuously raining here for last 4 days….almost incessant rain can say….some area like Dibrugarh Police Reserve, Graham Bazar are almost almost in waist deep water. #AssamFloods https://t.co/0Oi5Y7NWpS

— Oxomiya Jiyori 🇮🇳 (@SouleFacts) June 26, 2020
Around 38,000 people have been affected due to the floods in Dhemaji, Jorhat, Majuli, Sivasagar and Dibrugarh districts. Dhemaji has been the worst-hit with 15,000 affected people, followed by Dibrugarh with 11,000. Sivasagar with 10,000 people is also suffering due to the deluge. Majuli too has been added to the list.
A total of 19,430 hectares of crop area have been submerged by floodwaters. There were reports of damage to roads, embankments, and bridges too in the flood-hit regions.
Assam Chief Minister Sarbananda Sonowal has instructed authorities of all the affected districts to address the needs of the flood-hit people urgently. He added that they should also adhere to Covid-19 safety protocols. This is to ensure there is no spread of the coronavirus disease (Covid-19) among affected people.
Forecast by the meteorological department says, there will be no respite in the next five days. They added that all seven states in the northeastern region will experience rain or thundershowers in most places.
Also Read: Assam Oil Well Fire: 2 Firefighters Dead, 1,600 villagers Evacuated