Astro-Strategist Hirav Shah Reveals The Secret of Thala Ajith's Success
Hirav Shah: Thala Ajith's success is based on hardwork, talent and Luck; Deets here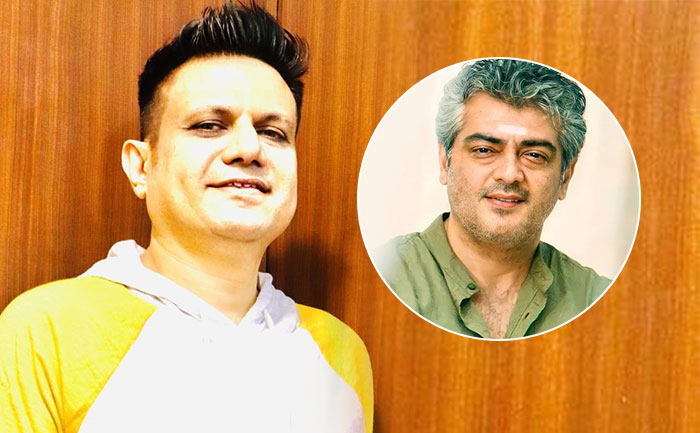 India's top Astro Strategist cum Business Astrologer, Hirav Shah has created a niche for himself in the fields of Corporate Businesses, Politics, Sports, Entertainment industry. Also in Tourism and Hospitality, Real Estate sector and many other areas. This is due to his extraordinary insights in business and command over astrology. He says Success is the combination of Hard work, Preparedness, Talent and Luck.
Shah says, "Success is the combination of Hard work, Preparedness, Talent and Luck and all are multiplied with each other, so if any of these factors are zero, then you will have no success!"
Let's find out whether this holds true for popular superstar Thala Ajith:
Invincible Ajith
With his dashing personality and amazing acting chops, Ajith Kumar is a name to reckon with in South cinema. He is also known as Thala in the industry. He has an enormous fan following,  who just go gaga over him for his killer looks. Among his awards include,  four Vijay Awards, three Cinema Express Awards, Three Filmfare Awards South and three Tamil Nadu State Film Awards.
Early Life:
Ajith Kumar aka Thala Ajith was born on 1st May 1971  to a Palakkad Iyer father and a Sindhi mother in Secunderabad, a city north of Hyderabad. He was brought up in Chennai. After dropping out of Asan Memorial Senior Secondary School in 1986. Ajith took up work as a two-wheeler auto mechanic and got himself a driver's licence to correspond with his interests, that of car/bike racing.
Opportunity Meets Preparation: 
Ajith was always well-prepared and diligent. Even though he had no higher education, he could speak in 5 languages fluently. At 18, Ajith Kumar had to take up a job so that he could meet his expenses for the career he was interested in, which was 'racing'. Joining as an apprentice, he rose to be a merchandiser with a garment export company. He was also doing small-time press ads and TV commercials occasionally. He soon put in a substantial amount of money into racing. The actor used to borrow tyres from his friends when the chains wore out as there was no money in racing at that time.
Following an accident, he was pushed by several agencies into modelling for print-media ads. Finally, he got an opportunity to work in films as an actor, and since he was always well-prepared, hard-working and talented, Opportunity had to come to him !! And Ajith has never looked back ever since!
 Film and Racing Career:
Ajith Kumar made his debut with Prema Pusthakam (Telugu) and his first Tamil film was "Amaravathi", directed by then-newcomer Selva. It has been a rollercoaster ride for the actor and today, he is one of the biggest Tamil stars in the industry without having any godfather in the industry.
However, the road to success was definitely not an easy one but he proved himself with every role he played on the big screen. In 1993, Ajith suffered a fall, injuring his back and underwent three major surgeries. He was on bed rest for one and a half years.
In 1995, after a supporting role in the Vijay starrer Rajavin Parvaiyile, Ajith appeared in his first major success, Aasai. Overall he acted in 50 films, of which 33 are Hits.
Ajith has also been a keen race car driver and has driven in circuits around India in places such as Mumbai, Chennai and Delhi. Ajith is one among very few Indians to race in an international arena and only Indian actor to compete in Formula Championships. He has also been abroad for various races, including Germany and Malaysia. He drove in the 2003 Formula Asia BMW Championships. Ajith raced in the 2010 Formula 2 Championship along with two other Indians, Armaan Ebrahim and Parthiva Sureshwaren. Thala Ajith is the only actor who has a license for flying.
 Ajith's life can change dramatically, why can't others' lives too!
"Well, firstly, you need to have CLARITY on where you want to go," says  Hirav Shah.
So, is this enough since times are very difficult today?
"No, there's more"…, adds Shah.
"You need GUIDELINES on what are the CHANCES of REACHING there and ASTRO-STRATEGY only can GUIDE and HELP  you conquer all obstacles to become INVINCIBLE, thereby changing your life DRAMATICALLY.
Also Read:  Numerological Predictions for the week ( October 30 To November 05, 2020 ) by Celebrity Numerologist Hirav Shah