7.0 Magnitude Earthquake hits Greece and Turkey
7.0 Magnitude Aegean Sea earthquake strikes Turkey, rattles Greek Island, kills 22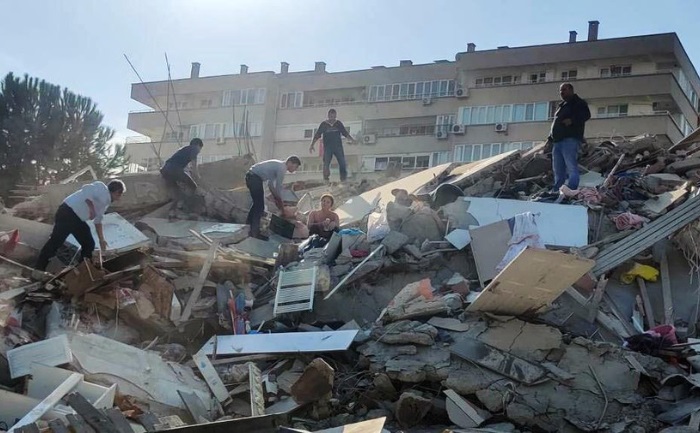 A powerful earthquake of 7.0 magnitude has struck off Turkey's Aegean coast and north of the Greek island of Samos. As a result of the earthquake, a small tsunami struck the Seferihisar district south of Izmir province, causing floods in the area. The powerful earthquake levelled buildings and caused flooding. It has killed at least 22 people and injured more than 700 in Turkey and Greece.
A 7.0 magnitude earthquake has rocked #Greece & #Turkey
The epicentre was off the Turkey's #Aegean coast & north of Greece island of #Samos . At least 22 people are dead & over 35 injured #GreeceEarthquake #TurkeyEarthquake

— The World Reviews (@tworldreviews) October 31, 2020
As per news agency AFP, the disaster relief agency last reported 20 deaths and nearly 800 injuries. I Greece two teenagers died while on their way home from school on Samos when a wall collapsed. Much of the damage occurred in and around Turkey's Aegean resort city of Izmir, which has three million residents and is filled with high-rise apartment blocks. – AFP
In a normal world we would have seen this in the news cycle.#GreeceEarthquake #TurkeyEarthquake #turkeytsunami pic.twitter.com/lWSRVugjee

— Juli 🆘💙🇺🇸 (@JuliIndica) October 30, 2020
Health Minister Fahrettin Koca tweeted that 38 ambulances, two ambulance helicopters and 35 medical rescue teams were working in the city of Izmir.
A 7.0 magnitude earthquake has struck in the Aegean Sea btw the Turkish coast and the Greek island of Samos, killing 14people injured hundreds, and triggering a small tsunami. The quake was felt in Athens, Istanbul, Bulgaria. #GreeceEarthquake #TurkeyEarthquake #earthquake pic.twitter.com/enVsQlYud3

— MANISHA MOHANTY (@MANISHA95450820) October 30, 2020
Also Read: Alaska: 7.5 magnitude earthquake near Sand Point prompts tsunami fears