Atal Bihari Vajpayee critical Updates: Former PM and Bharat Ratna awardee, on life support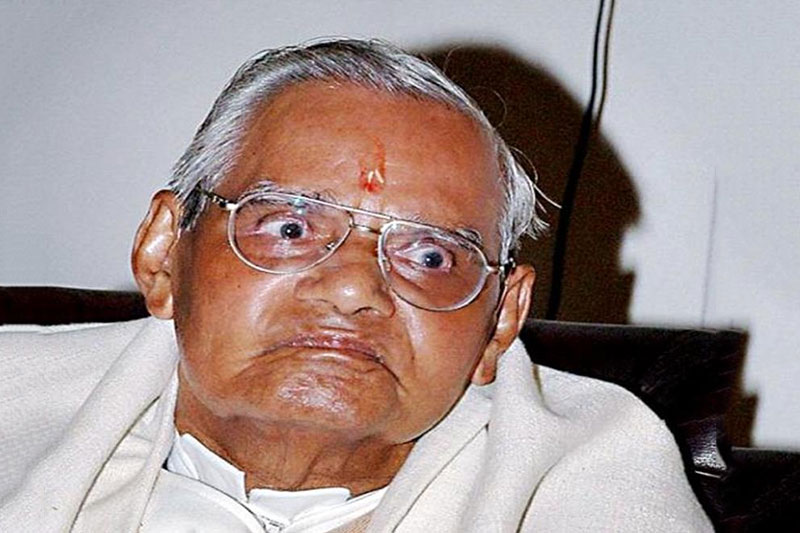 Country's most respected politician and former prime minister Atal Bihari Vajpayee's health condition has deteriorated severely since Tuesday and he has been kept on life support system. Ailing with age-related issues and multiple organs failure, the Bharat Ratna Awardee is admitted in the neuro-cardiac department of AIIMS in New Delhi.
AIIMS on Thursday released a statement which said that the condition of Atal Bihari Vajpayee is still critical and there is no improvement.
Former Prime Minister Atal Bihari Vajpayee's condition continues to remain the same. He is critical and on life support systems: AIIMS statement pic.twitter.com/OJKHHcTDSn

— ANI (@ANI) August 16, 2018

Earlier on Wednesday, the AIIMS's statement said that the BJP stalwart is suffering from kidney tract infection and chest congestion. He is also a diabetic patient. In addition, his urine output is on the lower side. The hospital had also said that former PM is extremely critical and it is difficult to retrieve him.
Vajpayee, now 93, has been admitted in the hospital for the last nine weeks and is undergoing a treatment. He is under the supervision of Dr Randeep Guleria, a pulmonologist and currently the Director of AIIMS. Guleria has served as personal physician to Vajpayee for over three decades.
Prime Minister Narendra Modi visited him late on Wednesday evening. Also, Vice President M Venkaiah Naidu too visited the hospital and enquired about Vajpayee's health. It is also known that other prominent Union Ministers like Piyush Goyal, Smriti Irani, Rajnath Singh, Suresh Prabhu J P Nadda, Mahesh Sharma, BJP president Amit Shah and BJP lawmaker Meenakshi Lekhi visited him.
Praying for his speedy recovery, senior party leaders from opposition too visited him. West Bengal Chief Minister Mamata Banerjee visited the hospital on Thursday morning. Other than Banerjee, senior leaders from Congress have prayed for Vajpayee's speedy recovery.
Sharing his thoughts, Congress' Shashi Tharoor took to Twitter and wrote:
Concerned to hear about former Prime Minister Vajpayee's health. @narendramodi 's hospital visit is worrying. Seems serious. Let us pray for the great man's recovery.

— Shashi Tharoor (@ShashiTharoor) August 15, 2018
RJD's Tejashwi Yadav wrote:
Praying for speedy recovery of former PM Sh. #AtalBihariVajpayee Ji.

— Tejashwi Yadav (@yadavtejashwi) August 15, 2018
EAM Sushma Swaraj and Union Minister Radha Mohan Singh paid a visit to the hospital.
EAM Sushma Swaraj and Agriculture Minister Radha Mohan Singh arrive at All India Institute of Medical Sciences where former Prime Minister Atal Bihari Vajpayee is admitted. Vajpayee is on life support system. pic.twitter.com/5tyeZYuR5k

— ANI (@ANI) August 16, 2018
Other leaders like PDP's Mehbooba Mufti, NC's Omar Abdullah, AP CM N Chandrababu Naidu, MP CM Shivraj Singh Chouhan, Bihar CM Nitish Kumar and Punjab CM Amarinder Singh expressed their concern and prayed for Vajpayee's speedy recovery.
Saddened to hear about the critical health condition of Atal Bihari Vajpayee ji. Praying for his speedy recovery.

— N Chandrababu Naidu (@ncbn) August 16, 2018
Worried about Former PM Vajpayee jis health. He and his family are in my thoughts and prayers. Can never forget the love and affection he showered upon me every time we met.

— Mehbooba Mufti (@MehboobaMufti) August 16, 2018
He is our idol. With just his presence we got inspiration and encouragement, we pray for his health, no one can ever be like Atal Ji, campaigning for him was an honour for me: Madhya Pradesh CM, Shivraj Singh Chouhan #AtalBihariVaajpayee pic.twitter.com/na70A1UDnv

— ANI (@ANI) August 16, 2018
पूर्व प्रधानमंत्री श्री अटल बिहारी वाजपेयी जी के स्वास्थ्य की स्थिति अत्यंत नाजुक होने की सूचना प्राप्त हो रही है। ईश्वर से प्रार्थना है कि उनके स्वास्थ्य में सुधार हो। (1/2)#AtalBihariVajpayee

— Nitish Kumar (@NitishKumar) August 16, 2018
मुझे व्यक्तिगत रुप से हमेशा अटल जी का विशेष स्नेह एवं मार्गदर्शन प्राप्त होता रहा है तथा उनसे सार्वजनिक जीवन की बारीकियों को समझने का मौका मिला है । वे मेरे लिए अभिभावक समान है। मैं उनके शीघ्र स्वस्थ होने की कामना करता हूँ। (2/2) #AtalBihariVajpayee

— Nitish Kumar (@NitishKumar) August 16, 2018
Join the country in praying for the health of Former Prime Minister Atal Bihari Vajpayee ji.

— Capt.Amarinder Singh (@capt_amarinder) August 16, 2018
At a time when the who's who of Delhi is making a beeline for #AIIMS spare a thought for Vajpayee Sahib's family who probably want nothing more than to left alone with their prayers & their thoughts yet have to deal with a steady stream of visitors.

— Omar Abdullah (@OmarAbdullah) August 15, 2018