Former PM and Bharat Ratna awardee Atal Bihari Vajpayee passes away at 93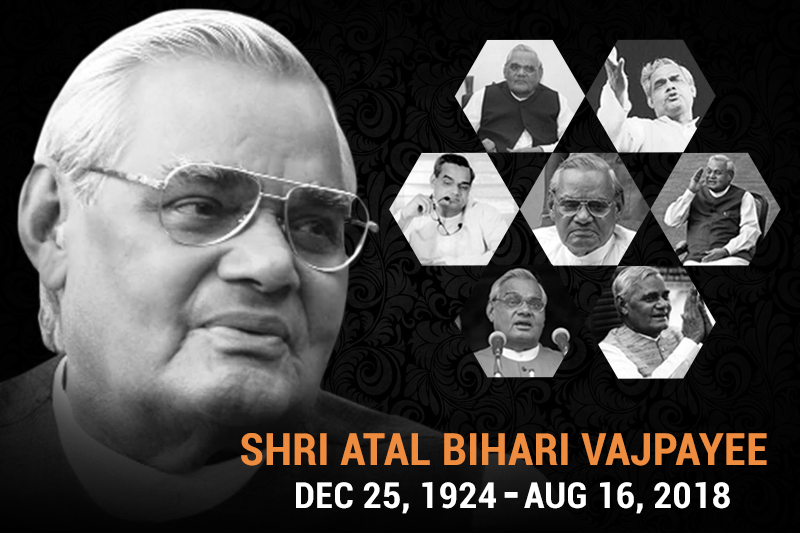 One of India's most respected political leaders and former Prime Minister Atal Bihari Vajpayee passed away at the age of 93 due to age-related ailments. He was admitted to AIIMS, New Delhi, for the last nine weeks. Apart from age-related issues, Vajpayee also suffered multi-organ failure, along with kidney tract infection and chest congestion. He was also a diabetic patient. In addition, his urine output was on the lower side.
The Bharat Ratna awardee breathed his last at 5:05 pm at AIIMS in the national capital on August 16.
AIIMS on Thursday released a statement which said that the condition of Atal Bihari Vajpayee was still critical and there was no improvement. Soon after that, prominent leaders arrived to visit him. The dignitaries included- Prime Minister Narendra Modi, Vice-President M Venkaiah Naidu, Delhi Chief Minister Arvind Kejriwal, senior BJP leader LK Advani, External Minister of Affairs Sushma Swaraj, Home Minister Rajnath Singh, Union Ministers Piyush Goyal, Smriti Irani, Suresh Prabhu, Rajasthan Chief Minister Vasundhara Raje, West Bengal Chief Minister Mamata Banerjee, BJP president Amit Shah and BJP lawmaker Meenakshi Lekhi.
Atal Bihari Vajpayee was an Indian politician who was the 10th Prime Minister of India, whose first term lasted for 13 days in 1996 and then he served from 1998 to 2004. A senior leader of the Bharatiya Janata Party (BJP), he was the first non-Indian National Congress Prime Minister to serve a full five-year term. At age 93, Vajpayee was the oldest living former Indian Prime Minister.
A parliamentarian for over four decades, Vajpayee was elected to the Lok Sabha (the lower house of the Parliament of India) ten times and twice to the Rajya Sabha (upper house). He also served as the Member of Parliament for Lucknow, Uttar Pradesh, until 2009, whereafter he retired from active politics due to health concerns. Vajpayee was one amongst the founder members of erstwhile Bharatiya Jana Sangh, which he also headed. He was also the Minister of External Affairs in the cabinet of Morarji Desai. When Janata government collapsed, Vajpayee restarted the Jana Sangh as the Bharatiya Janata Party in 1980.
On 25 December 2014, the office of the President of India awarded the Bharat Ratna award, India's highest civilian honour to Vajpayee. The President of India conferred Bharat Ratna to Atal Bihari Vajpayee at his residence on 27 March 2015. His birthday, 25 December, was declared 'Good Governance Day'.
Check the Live Updates and Reactions.