Avengers Endgame Have Inspired THESE Hialrious Memes So Far
Avenger Endgame memes are going viral and it's all thanks to MCU's latest film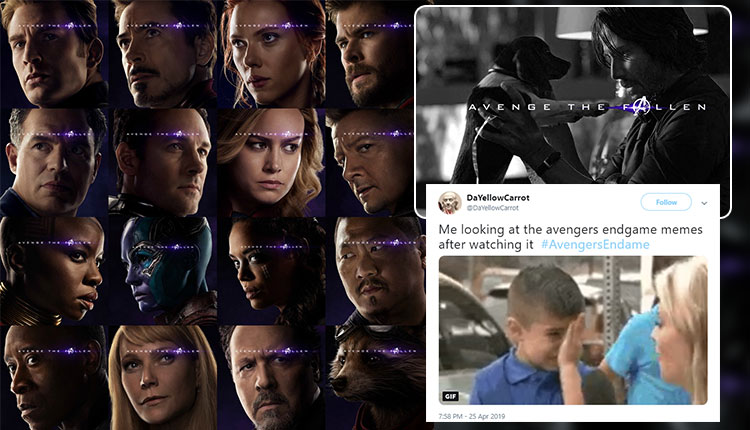 Finally Avengers: Endgame has been released in some regions across the globe including India, today on April 26. The film has opened to positive at the box office window and getting rave reviews from both audience and critics alike. However, there are people who are making Avengers Endgame memes on Twitter and these memes are taking the internet by storm.
The memes of Avengers: Endgame, have been doing the round on social media ever since the makers had unveiled all the character from MCU's last film. The moment when Marvel dropped the Avengers Endgame character poster, the internet did what it does best and RAN with this concept, creating a whole bunch of OTHER "Avenge the Fallen" posters for their favourite lost characters in pop culture.
The Avengers memes range from tear-inducing to hilarious, but they're all awesome and are making everyone even more excited for Avengers: Endgame! we have scoured the internet and collected just a few of the best "Avengers Endgame" memes.
Here are Avengers: Endgame best & Hilarious memes as of now
JUst dropping a tiny meme on Fortnite Endgame. I hope everyone enjoys #AvengersEndgame #AvengersEngame #Avengers #FortniteXAvengers #Fortnite https://t.co/XXIFcDi9Nv pic.twitter.com/EEtHoW6sTl

— Melman1101 (@melman1101) April 25, 2019
0

I made this memes. pt1#avengethefallen pic.twitter.com/jbVEGEntfd

— ?? Kazumi Yoshizawa ?? (@NaotoraStrike) March 28, 2019
#AvengeTheFallen #WhateverItTakes pic.twitter.com/D3hCCaCDpT

— Professor Snape (@_Snape_) March 27, 2019
#AvengeTheFallen pic.twitter.com/rI7awo7Vg9

— Benjamin Bailey (@BenHBailey) March 26, 2019
You're welcome. pic.twitter.com/YeHB1tbip4

— Keith ONeil (@ThatKeithONeil) March 26, 2019
#avengethefallen pic.twitter.com/CU10VwjicN

— UPROXX (@UPROXX) March 26, 2019
Did I meme correctly #AvengeTheFallen #ForTheThrone pic.twitter.com/fXQXglDMFp

— ??Lord Jeremiah of House Stark?? (@1nfamousJer) March 28, 2019
Some memes are asinine and some are on point. This one is good. #AvengeTheFallen pic.twitter.com/cKHceaFshj

— Will (@Sand2Stone) March 27, 2019
Son of a bench. I can't believe it took me this long to think of this one. #AvengeTheFallen pic.twitter.com/CLhc0dkTGA

— Keir Hansen (@keirhansen) March 29, 2019
#AvengeTheFallen pic.twitter.com/lztpBacSMF

— ??? ??????' ???????? (@salmattos) March 26, 2019
#AvengeTheFallen #LifeAlert pic.twitter.com/ASfYrkK184

— Smosh (@smosh) March 26, 2019
whoever made this, I thank you pic.twitter.com/dd4KtgftQA

— jen yamato (@jenyamato) March 26, 2019
Avengers Endgame Review in Meme
#AvengersEndgame review in meme form: pic.twitter.com/TTQcIdIgfE

— Desmon (@lifeofdes06) April 26, 2019
Avengers Endgame Spoiler in Meme
#AvengersEndgame review in meme form: pic.twitter.com/TTQcIdIgfE

— Desmon (@lifeofdes06) April 26, 2019
Me looking at the avengers endgame memes after watching it #AvengersEndame pic.twitter.com/jJcWlOXAoL

— DaYellowCarrot (@DaYellowCarrot) April 26, 2019
Me looking at the avengers endgame memes after watching it #AvengersEndame pic.twitter.com/jJcWlOXAoL

— DaYellowCarrot (@DaYellowCarrot) April 26, 2019
Also Read: Avengers Endgame: Fan Sets STRICT Rules For His GF To Watch MCU Film, Check Out Fans Reaction