Avian Flu: Districts In Karnataka Put On High Alert Due To Bird Flu
Karnataka's border districts adjoining Kerala on high alert due to bird flu fears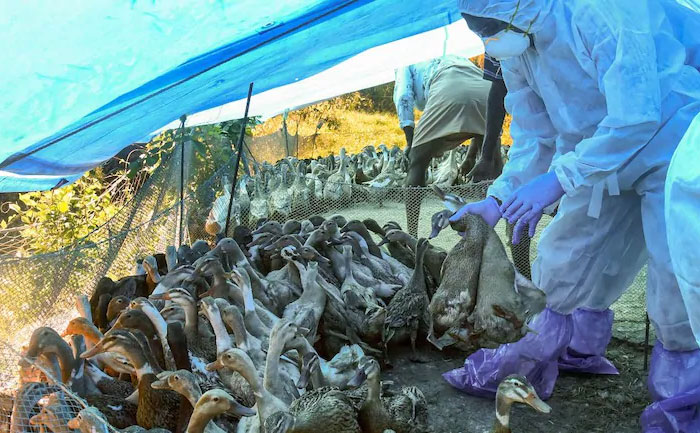 Lakhs of birds, mostly migratory, have died across India in the last 10 days. Bird Flu or Avian Flu has hit many states in India. Some of the affected states have started culling birds and regulating poultry sales too. One of them is Kerala.
After the Kerala government declared the outbreak of bird flu in Kottayam and Alappuzha as a state disaster. Neighbouring state Karnataka has put four bordering districts on high alert.
The Karnataka government has ordered all the districts bordering Kerala including Mysuru, Kodagu, Dakshina Kannada and Chamrajnagar to be on high alert. Border checkpoints have been set up in all these districts. This is to prevent infected birds along with poultry from being brought in from the neighbouring state. Sanitisation measures have also been put in place.
Karnataka Animal Husbandry minister Prabhu Chavan has asked officials to ensure that the Centre's protocols are strictly adhered to.
The official said, "We are taking all precautionary measures though there have been no reports of wild birds having been infected till now. All the guidelines and protocols outlined by the Centre in its advisory are being strictly implemented."
Avian Flu has hit the states of Himachal Pradesh, Madhya Pradesh, Kerala and Rajasthan, where 12 epicentres have been identified. To contain the spread the central government have issued advisory and also set up a control room in New Delhi to monitor the situation.
Recently some birds were found dead in Thane district of Maharashtra. The carcasses have been sent for testing to know if it is bird flu.
Also Read: Maharashtra Bird Flu Scare: 15 Pond Herons Found Dead In Thane