Ayodhya verdict announced, Section 144 imposed in Mumbai
Section 144 Imposed in Mumbai as Ayodhya Verdict is announced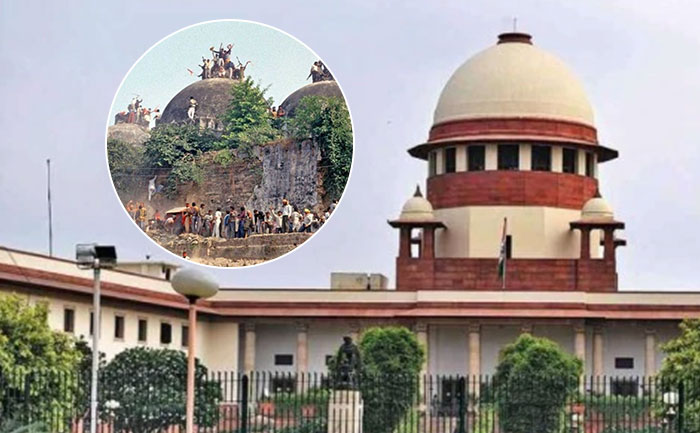 Supreme Court has passed a judgment in the Ayodhya land dispute case. The verdict clears the way for the construction of a Ram Temple at the disputed site in Ayodhya while a 5-acre alternate plot will be allocated to the Sunni Waqf Board to build a mosque, reports TOI.
Section 144 has been implemented in Mumbai in light of the Supreme Court Ayodhya land dispute case verdict. An assembly of five or more people has been curtailed under the prohibitory order. Schools, colleges and other educational institutes have also been closed in Madhya Pradesh, Uttar Pradesh, Jammu and Kashmir, Karnataka and Delhi due to the verdict.
"It is apprehended that there is likelihood breach of peace and disturbance of public tranquility and also there is grave danger to human lives and loss of properties and the undersigned in the capacity of executive magistrate is fully satisfied that there is reasons grounds for posing prohibitory order under section 144. Prohibitory order of restricting movement and unlawful assembly of five or more persons for preventive of breach of peace, disturbance to public tranquility and danger to human lives and loss of properties," Mumbai Police said in a statement.
Maharashtra Police also Twitted, appealing citizens to maintain peace and unity.
Peace and unity are our biggest assets & priority. We appeal to all the citizens to avoid forwarding any objectionable, unverified messages circulating on social media. #Dial100 or reach out to your nearest police station to report any such instances #AyodhyaVerdict

— Maharashtra Police (@DGPMaharashtra) November 9, 2019
Earlier, Pranay Ashok, PRO Mumbai Police told ANI, "We're taking the situation very seriously. We'll make complete use of the 40,000 strong Mumbai police. We have RCP (Riot Control Police), Law&Order reserves, special forces like SRPF, RAF, they'll be deployed at strategic locations."
"We're continuously monitoring social media, we'll ensure that rumours aren't spread. Internet services haven't been suspended, further decision will be taken as per situation. More than 5000 cameras are already installed for city surveillance, we will monitor with the help of the feed coming in at our control room. We will also deploy our drone units as per the situation," Pranay Ashok further added.
Section 144 will be in effect till 11 am tomorrow as security tightens around the city to curtail any disturbances in public peace.
ALSO READ: Section 144 Imposed In Ayodhya Till December 10 Ahead Of Verdict