Lok Sabha Polls 2019: Babul Supriyo's car vandalised in Asansol
Union Minister and BJP candidate Babul Supriyo's car was vandalised today in Asansol, Kolkata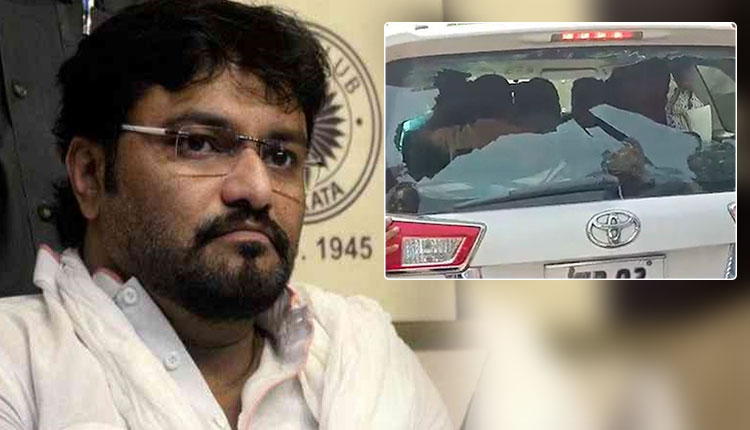 Singer Babul Supriyo's car was vandalised today. He is a Union Minister and BJP candidate from Asansol, Kolkata. There was an argument inside the voting booth number 199 in Asansol between Mr. Supriyo and polling officials followed by the attack by Trinamool Congress supporters. As per the report by news agency IANS, the attack took place after he went inside a polling booth to make sure that his party agents were allowed inside. The rear windshield of his car was smashed.
Supriyo told the media:
"They are trying to stop me. But they won't be able to stop me like this. I will move to ensure that BJP agents are allowed. These men have attacked my car but said I was resorting to hooliganism. It is a ploy to confine me at a place but I will move."
He further said:
"Central force can take charge of the booths but the agents are not able to come out from their houses. I will try to go to as many places as possible and help them. This is the modus operandi of the ruling party."
He is contesting against Trinamool Congress' actor-turned-politician Moon Moon Sen in the Lok Sabha Elections 2019.
Babul Supriyo also tweeted giving the live update of the 'violence and brutal intimidation' by Chief Minister, Mamata Banerjee's party members.
Live Update of #MamtaBanerjee's #TMchhi 's Violence & brutal intimidation:

1. Damra (Asansol Korth)
All booth agents chased out by Mayor Jitender tiwari *Raniganj*
Booth Nos. 169, 113, 218
Captured

2. Chittaranjan
Booth no. 20, 21, 22, 35, 36
Booth agents ko bahar nikal diya.

— Chowkidar Babul Supriyo (@SuPriyoBabul) April 29, 2019
For the latest updates on this, keep reading our space.
Also Read: Lok Sabha Elections 2019: Salman Khan, Kareena Kapoor And Others Step Out To Vote