Bigg Boss 13: Arti Singh's Brother Krushna Abhishek wants her to stop Talking to Sidharth Shukla
"Arti should stop talking to Sidharth Shukla, woh zyada kuch usko bolti nahi hai." Krishna Abhishek's advice to his sister Arti Singh.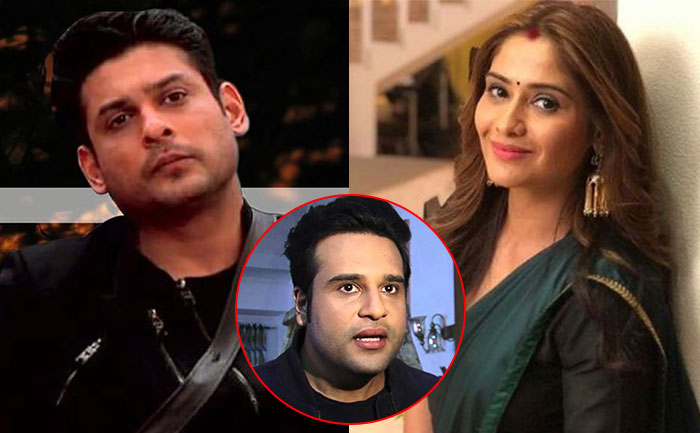 Arti Singh's brother and actor, comedian Krushna Abhishek reacted to Sidharth Shukla's behavior towards his sister in the house. He has advised his sister to stop talking to Shukla.
It is known that Arti and Shukla were friends even before they entered Bigg Boss.  Arti has been slammed by the housemates for blindly supporting him and not taking a stand. Arti and Shukla's bond in the house seemed unbreakable but since the past few days, there are been differences amongst the two and Arti is seen voicing her opposition to Shukla.
Talking about Shukla's behavior in the house, Krushna told News18 while promoting his debut production Marrne Bhi Do Yaaron, "He (Sidharth) doesn't speak to women in a decent manner. He should be careful about that. He is very harsh, not just with Arti but with all women on the show. She should stop talking to him, woh zyada kuch usko bolti nahi hai. He's been fighting both verbally and physically, which is not good for an actor. He also has an image and a fan following."
Further adding, "I don't know him very well, but I think he is a nice guy. Situations become such in the Bigg Boss house that you react in such a manner. I also have a temper, but I control myself. He should also learn to control, that's my suggestion for him."
Krushna's wife Kashmera Shah, also said, "If I was inside, jo jawab main usko deti, I would probably have been removed from the show. He can't talk to anyone like that, definitely not to a member of my family."
In the latest episode of BB13, Sidharth was seen telling Shefali, Himanshi, and Asim that Arti had switched sides. Later, Arti also told Shefali separately that she does not want to talk to Sidharth after he said she shadows him and thus, she was hurt by his statement.
ALSO READ: Jennifer Aniston Admits To Isolating Herself