Friends: Courteney Cox shares a selfie with Mathew Perry
Could we be any more happy?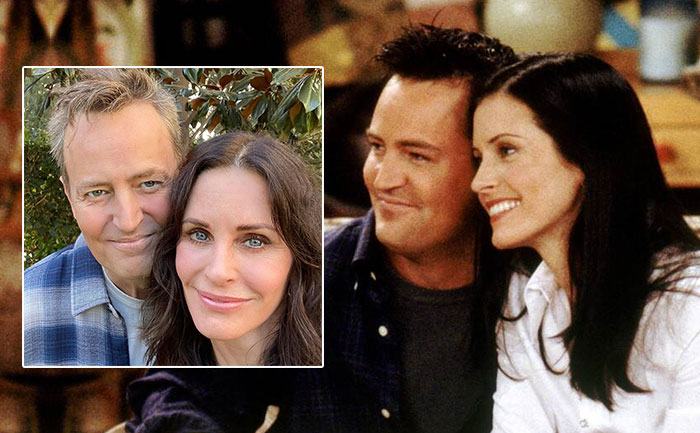 Recently, Jennifer Aniston joined Instagram and broke the internet as she shared the first post with a reunion picture with her Friends co-stars and today, Courtney Cox who depicted the role of Monica took to her Instagram handle and shared a selfie with her co-star Mathew Perry who played the role of Chandler and the selfie got all the #Mondler fans excited and nostalgic.
Sharing the photo Courteney wrote, " Guess who I had lunch with today…I KNOW!! Could I BE any happier? #realfriends"
Check out Courteney's post here:
The selfie, not just left her fans but also got Jennifer Aniston aka Rachel and Lisa Kudrow aka Phoebe screaming with enthusiasm. Aniston commented, "MATTY!! ❤️❤️❤️ I LOVE YOU, GUYS"  and Kudrow commented "Lucky lucky. #beautifulpeople"
Recently, Cox posted a photo with the soccer legend David Beckham in a hot tub. Cox and Beckham will be playing themselves for an early 2020 episode of the hit comedy series Modern Family titled The Prescott in 2020.
Recently, Aniston appeared on 'The Ellen DeGeneres Show' talking about the Friend reunion, Jennifer said that the cast might reunite, however for a different project, she hinted saying that 'something is happening.' 
Aniston appearing on 'The Late Show' with Stephen Colbert on 29 October and said "Something is happening. But we don't know what that something is."
To date, Friends is still widely watched and loved around the world. Friends ran for 10 seasons from 1994 to 2004.
ALSO READ: Friends: 25 Best Episodes To Binge-Watch As The Show Turned 25