Bigg Boss 14, Oct 29, Written Update: Kavita-Eijaz at loggerheads; accuses him of using her
Here's all that happened on October 29th's episode of 'Bigg Boss 14.'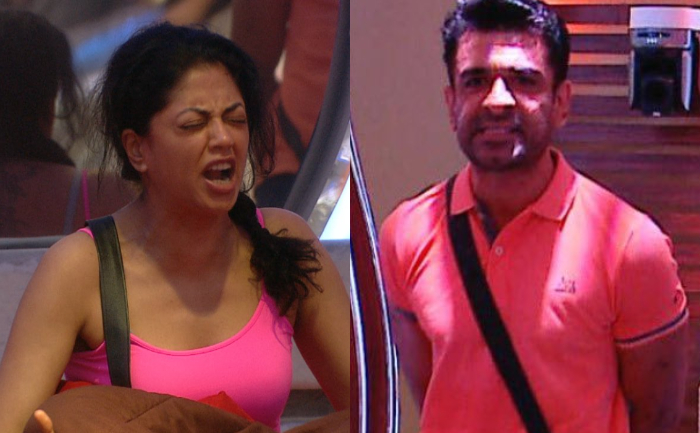 The episode begins with sanchalak Naina disqualifies Nikki from the captaincy task. Nikki refuses to listen to her. Rahul snatches Eijaz's bag, but, he does not throw the bag inside the red zone. Pavitra and Shardul get violent and she manages to steal his bag. Rahul goes to Abhinav to steal his bag, but, Naina says he can't snatch another bag. Rahul refuses to listen. Rahul tells Naina that the deal is to put the bag inside the red-zone. Naina loses it on Rahul and protects Abhinav's bag. Bigg Boss interferes and tells her that she can't make up her own rules, nor, she can participate in the task. Pavitra and Rahul try to steal from Abhinav, things go south. Rubina accuses Punia of becoming violent, this irks her.  Bigg Boss asks Pavitra, Rahul, and Abhi to stop as someone could get hurt.  Bigg Boss says that the bag should be protected in the basket only.
Rahul apologized to Jaan over his nepotism remark. Jasmin says she is frightened because of Rahul. Rubina consoles her. Eijaz wins the task and becomes the captain of the house. Pavitra, Jaan, Nikki, and Rahul hug Eijaz. The captain distributes the tasks. Naina gets emotional and says that she came across as partial, whereas, she was not. Nikki tells Kavita that Punia has a big crush on Eijaz. Kavita says Eijaz ignored her after becoming a captain, however, they sort it out
Kavita gets mad at Eijaz for interrupting her every time, she calls him an over-enthusiastic person. She tells Eijaz that because of him she didn't bond with anyone in the house as none likes him. Kavita also tells him that he calls her his call close friend but they are not close friends and that he is just using her name to win the game, this leaves Eijaz in shock. Kavita says that she did a favor of him as soon as she became a captain. Punia gets frustrated because of Kavita's behavior towards Eijaz. Shardul tells Abhinav that Kavita is doing drama. Abhinav tells Rubina that Kavita's fight with Eijaz seems staged. Shradul tells Pavitra that the reason she gave him while eliminating during the task was illogical. Pavitra and Shardul sort their misunderstanding.
Kavita tells Eijaz to leave her alone and to stop pretending to be friends, she sits with Rubina, Abhinav, and others in the garden area. Kavita tells him that they are not friends in real life. Later, at night, Kavita talks to Rubina about her relationship with Eijaz and says she helped him during the lockdown.
It's the next day, the contestants wake up to Zingaat. Naina tells Shardul and Kavita to become friends again and they hug it out.  Eijaz urges the red zone contestant to stay united. Jasmin talks to Shardul and tells him that she is not able to get over the incident that happened with Rahul, she tells him that she can't bear to see his face anymore. Abhinav tells Kavita how Eijaz says he is playing alone but keeps plotting with the red zone contestants. The green zone contestants become against Eijaz.
Bigg Boss announces a new task and says ab scene paltega and announces the 'Tabadla'  task, in which the red zone contestants vs green zone. The captain gets the authority to send or welcome any contestant from the green zone to the red zone. The task begins, it's Kavita vs Nikki, both the ladies give their valid reasons. Eijaz chose Nikki and she enters the green zone whereas, Kavita in the red zone. Eijaz reveals that he is hurt by Kavita's words. . Kavita tells Abhinav that she did not do her research about Eijaz, and trusted him blindly.
(Episode ends)
ALSO READ: Bigg Boss, Oct 28, Written Update: Pavitra And Rahul Gang Up Against Abhinav